Wood-look tiles should become popular. It's practical, more affordable, and offers a wide range of textures, colors, and tones to choose from. Thanks to its low maintenance, it can be used anywhere from the kitchen to the bathroom, in places where wood won't last long.
Effect and color options are literally unlimited and offer a sophisticated parquet finish and a look with a regained wood structure. All you have to do is decide what to look for.
Tiles in natural wood look
Tiles in honey maple wood look by Karndean Design Flooring
Although most wood-look tiles are made from porcelain and ceramic, sometimes they look so natural and compelling that it can be difficult to tell whether they are real or not.
If you are trying to create a warm, inviting, traditional living room interior, this is the effect you want. As close to reality as possible.
Karndean Design Flooring tiles in ebony look
Dark, light, brown and red tiles with a wood look are available in all possible colors and shades. However, dark and lighter tones are best for modern interiors.
These floor tiles add an elegant and stylish aesthetic to any room and contrast with the neutral color schemes of modern spaces.
Legend Gray 8 × 48 porcelain wood tiles by JC Floors Plus
A little more texture in the tile design in wood look and your contemporary room gets more dimension and detail. Lines, grain and tone gradation make wooden floors so interesting.
A fascinating but subtle wood structure, no matter how natural it is, can bring a lot into the interior.
Texture options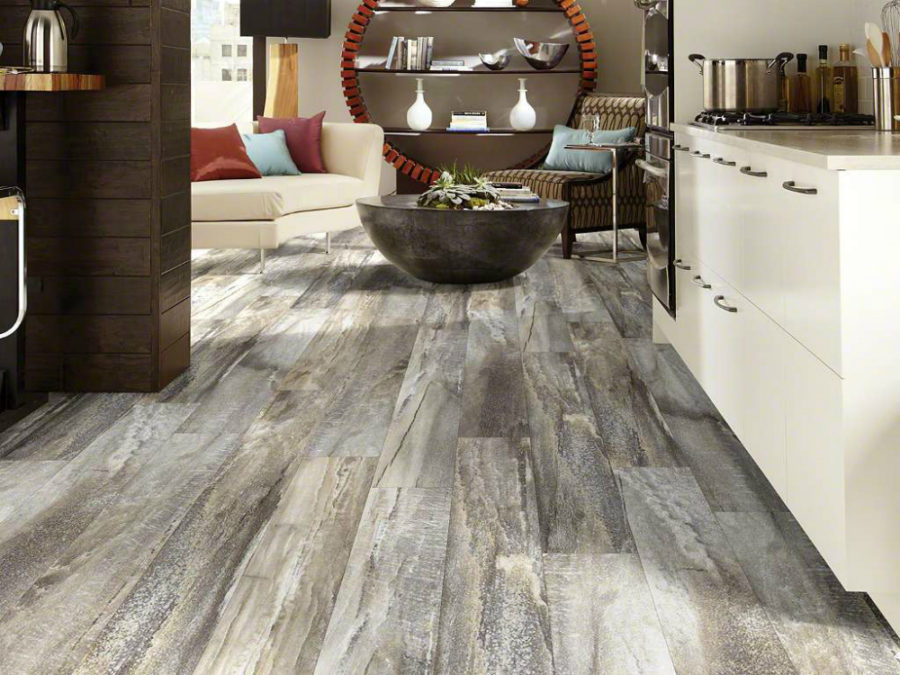 Shaw Floors Five Spice Stone Wood Look Tiles
Check out this modern living room. It would look a lot more predictable even on hardwood floors without a lot of texture or discoloration.
With these stone tiles that are supposed to imitate the wood structure, it suddenly looks unusual and unexpected.
Urban Wood Look tiles by Imperial Tile & Stone
Surprisingly, wood-look tiles can be made from stone, which sometimes has a vague resemblance to gray wood. Of course, if you choose it, you have to forego the warmth that only wood can bring both aesthetically and tangibly.
Granite is sometimes used in bathroom design to achieve this wood texture look, but despite its luxury and beauty, it adds finishing costs for remodeling.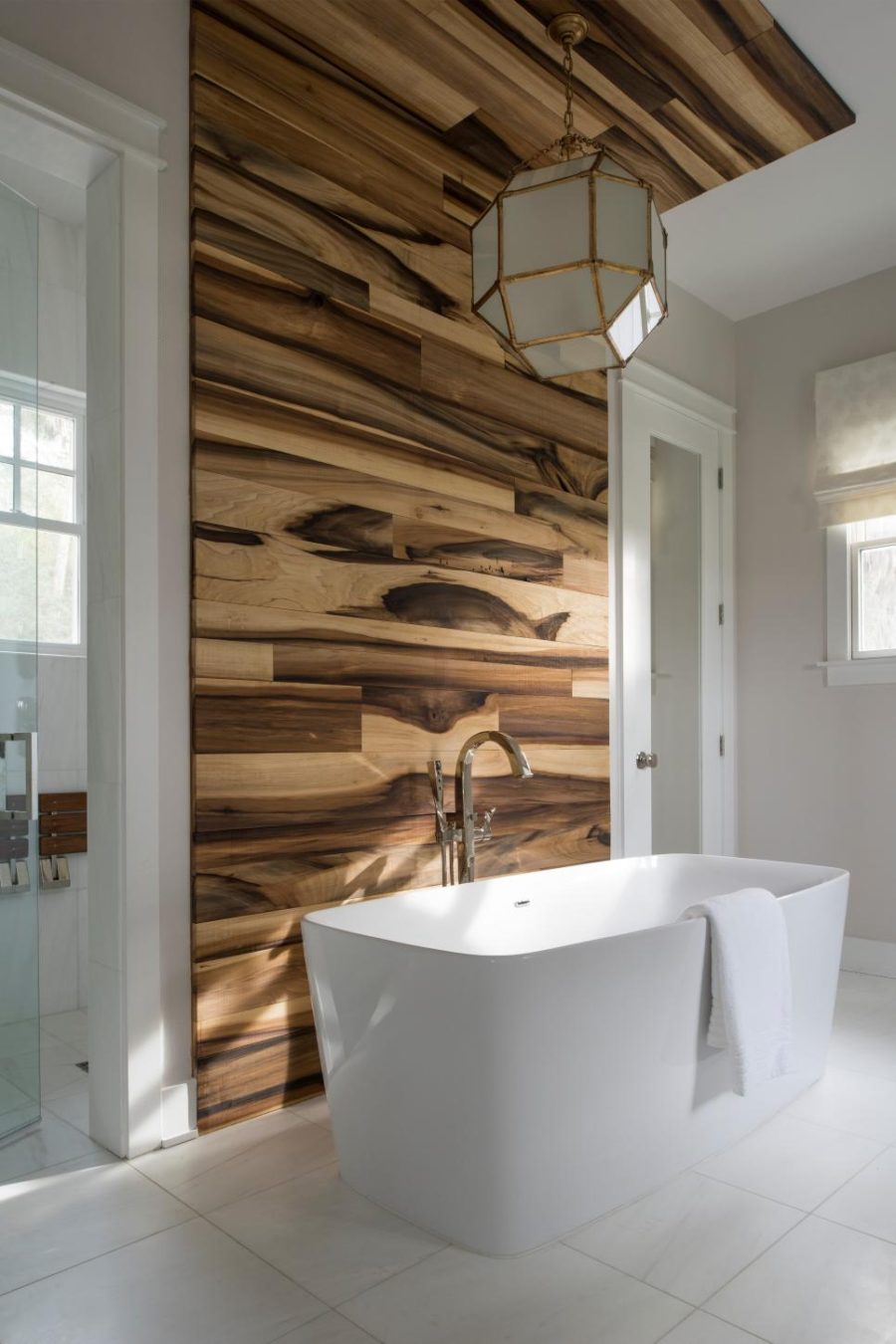 John McClain Design used wood-look tiles in this bathroom accent wall
What can be more luxurious than a bathroom made of wood? Wall coverings and floor tiles are widely used for anyone who wants to mimic the look without splurging. Also, having real wood near damp, water-polluting areas is not very practical.
Tiles that look like wood are also helpful for setting accents and marking walls. This neutral bathroom got instantly more exciting, with a textured backsplash that extends to the ceiling to highlight a pendant light.
Refin Larix natural porcelain tiles by Royal Stone & Tile
A wooden bathroom has an inexplicable yet undeniable charm, regardless of the finish. The look of polished wood looks a bit more luxurious than the rustic atmosphere of old wood.
Walls, floors, and even ceilings can be clad with wood-look tiles, and any combination in between will always look beautiful.
Old wood Living Cherry Brown wood tiles from Imperial Tile & Stone
When we say that there are a lot of wood surfaces in the wood look tile market, we are even talking about old wood.
The stained and discolored look made of old reclaimed wood is perfect for industrial lofts and conversions, as the rough aesthetics of the place are preserved.
Pale wood
HWS Sand Dunes matt porcelain tiles for indoors and outdoors by Cercan Tile
Painting wooden floors is not an easy task. In fact, nothing about reworking wood is easy. So why not choose the wood look tile instead?
Fresh, airy and incredibly luxurious, it can stretch out in the open air, connecting indoor and outdoor areas in a beautiful way.
Kerrie Kellys wood look tile bathroom accent wall
Light wood surfaces feel luxurious no matter how and where they are used. Take this Kerrie Kelly bathroom design for example.
She brought the light wood-look tiles to this accent wall / backsplash and turned a simple neutral bathroom into a chic looking bathroom.
In wood maple wood look tiles by Porcelaingres
Light wooden floors look great in any room. Somehow they look particularly luxurious in the bathroom.
Even the old wooden beams and a table washbasin made of reclaimed wood cannot impair the luxury of this bathroom, which is created by light-colored tiles in wood look and a free-standing bathtub.
Wood backsplash
Shower tiles in wood look from LG Commerciale
The backsplash is the last place you want to use real wood. But how cool does wood look like tiles, especially with all available surfaces?
The wall with a shower function is the perfect place to try out your wood-look tiles. The result is unexpected and fresh.
Wood look tile backsplash by Lauren Levant Bland
Ceramic tile works best in a kitchen, but with any other design it just becomes predictable.
Sure, wood-look tiles wouldn't work with every style (would they?), But if you want something different, you have to give it a try.
Bathroom accent wall in wood look tiles by Gin Braverman
Since wood works with many other materials, it enables a world of design possibilities. You should just try to imagine it.
Gin Braverman decided to combine this wooden tile backsplash bath to make it more interesting and it turned out to be a brilliant idea.
Wood look tile for kitchen floors
Noble kitchen with tiled floors in wood look by Lindross Remodeling
Kitchen floors probably have the worst when it comes to spillage, traffic, and dirt. So it's understandable if you don't want to invest in hardwood or stone floors just to ruin them.
Here, too, porcelain or ceramic tiles that are supposed to imitate wood can be useful for your next kitchen remodeling.
Dark kitchen design by Jordan Iverson
Opt for realistic wood-look tiles that complement your white kitchen interior, or contrast your dark cabinets with tiles that look like light wood.
Jordan Iverson chose to complement the dark kitchen cabinets in his stylish modern kitchen design.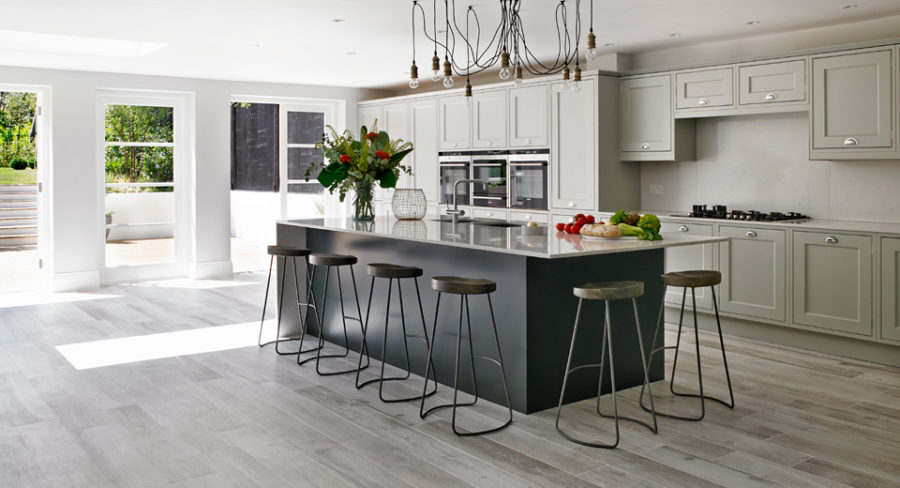 Surbiton kitchen equipment from Leivars
In this Leivars kitchen, the cabinets contrast with the dark kitchen island, but match the tiled floors with an ash wood look.
Although light colors show stains and smudges better than darker ones, the smooth, easy-to-wash surface of porcelain and ceramic tiles is a real problem.
Tile floors in herringbone look by Barbara Gilbert
Wood goes well with any other material. it just looks better. Here it is stainless steel and glass as well as mosaic ceramic tiles.
In a small room like this, light wood is the best choice for flooring as it makes the narrow space more airy.
Tile type for every room
In Wood Durmast wood look floor tiles by Porcelaingres
Wood look tiles not only look realistic and come in a variety of designs, but they can also be arranged in different patterns.
Put them in straight rows or arrange them in a stylish, on-trend herringbone pattern. Arrange tiles with different textures and colors together. The possibilities are limitless.
Powder room in wood look tiles by Wendy Labrum
Wendy Labrum advocates the use of stone tiles that imitate real wood. The walls blur the line between stone and wood and seem almost alien. The impression that is strongly reinforced by the organic frame of the mirror.
Brass fittings perfectly match the color of the stone and bring us back to earth.
Sextant real wood tile pattern by Jamie Beckwith
If you are looking for real wood tile, there is a collection that will make your heart beat faster. Designed by Jamie Beckwith, the luxurious tiles are available in lotus, puzzle, hexagon and many other exciting shapes as well as numerous types of wood and stains.
While wood-look tiles have many advantages, there is likely no material that can match the natural warmth and intricate texture of wood. Even so, some of these designs look really compelling, don't you think?