Vinyl Institute To Accelerate Post-Consumer PVC Recycling With Industry-First Recycling Grant Program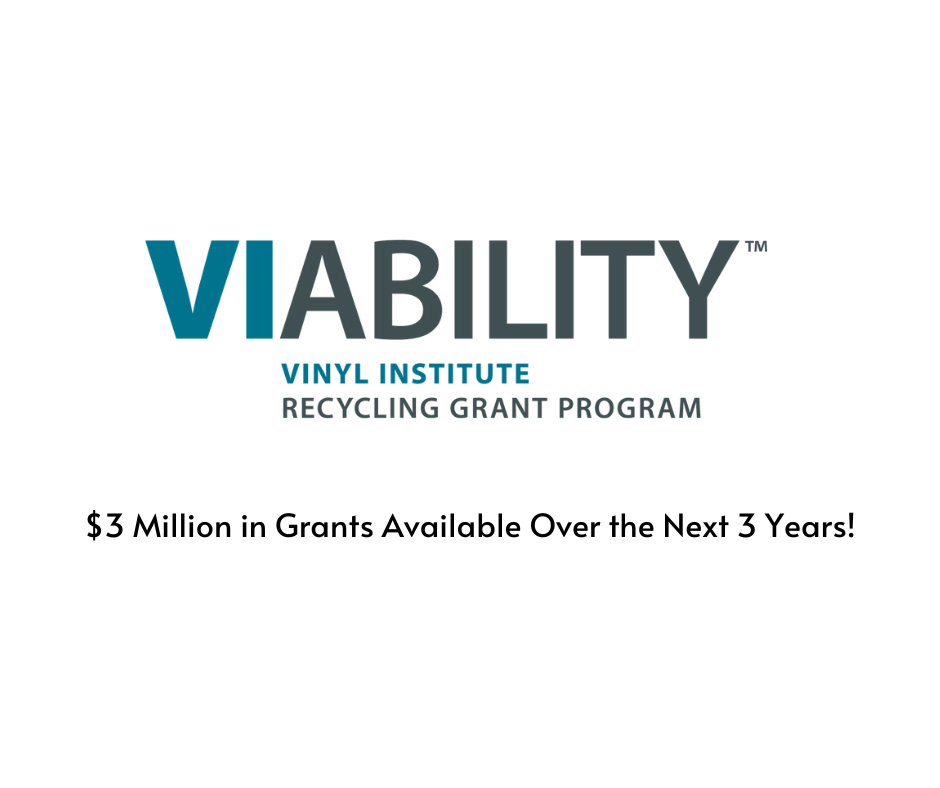 Published 01-18-23
Submitted by Vinyl Sustainability Council
January 18, 2023 /CSRwire/ – The Vinyl Institute (VI), a US trade association representing the leading manufacturers of vinyl, announced today the formation of VIABILITY, a first-of-its-kind, industry-wide recycling grant program aimed at accelerating post-consumer PVC recycling across the country. The grant program will make available up to $1 million in funds each year over the next three years from four PVC resin manufacturers in the US (Formosa, Oxy, Shintech, and Westlake).
"Each year, more than 1.1 billion pounds of vinyl material is recycled in the US and Canada. However, post-consumer material accounts for less than a fifth of that total," said Ned Monroe, president and CEO of the Vinyl Institute. "We can do better, and we will. With VIABILITY, we are demonstrating VI's commitment to help the industry reach its goal of increasing post-consumer recycling volume to 160 million pounds by 2025."
Individual grants issued through VIABILITY are available to qualifying industry collaborations such as trade associations, material recovery facilities, construction and demolition waste facilities, recyclers, or colleges and universities in amounts up to $500,000. The funds may be used for the purchase of equipment, process investments, research and development, educational programs, and program management that supports long-lasting and sustainable recycling of vinyl products. A seven-member grant committee of the Vinyl Institute will choose recipients of the grants.
The first round of grant applications is due on March 1, 2023. The Vinyl Institute will announce the awarding of grants no later than 60 days after a grant application deadline.
"Vinyl has and continues to be an integral part of our daily lives – from the pipes that deliver clean drinking water in our communities, to the windows and siding on our homes, to the floors in our kitchen, to the cars we drive and the packaging for the food we buy at the grocery store," Monroe added. "It is our responsibility to identify pathways to grow PVC recycling. VIABILITY is a deliberate and compelling step in that direction. We are eager to identify worthy vinyl recycling programs."
For more information on viability, visit: https://www.vinylinfo.org/recycling/. For more on the Vinyl Institute, visit www.vinylinfo.org.
###
About The Vinyl Institute
The Vinyl Institute (VI), founded in 1982, is a US trade association representing the leading manufacturers of vinyl, vinyl chloride monomer, vinyl additives, and modifiers. The VI works on behalf of its members to promote the benefits of the world's most versatile plastic, used to make everything from PVC piping to flooring, roofing and vinyl siding. The vinyl industry in the United States employs over 350,000 highly skilled employees at nearly 3,000 facilities and generates an economic value of $54 billion. For more information, visit vinylinfo.org.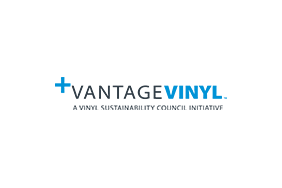 Vinyl Sustainability Council
Vinyl Sustainability Council
The Vinyl Sustainability Council (VSC) is a voluntary membership organization that is taking a leadership role in uniting the industry to advance sustainable performance throughout the vinyl value chain.
The VSC created +Vantage Viny® as a voluntary initiative to advance the US vinyl industry's contribution to sustainable development. It aims to drive continuous improvement across all three sectors of sustainability – environmental, social and economic performance.
Individual company commitments are aligned with voluntary industry sustainability targets that were developed as a result of a materiality assessment. This analysis identified three impact categories, resource efficiency, health & safety and emissions that were aligned with the United Nations Sustainable Development Goals.
An independent verification process provides assurance of achievement of company commitments. Verified companies are awarded the right to use the +Vantage Vinyl trademark as evidence of their commitment to advancing sustainability in the vinyl industry.
More from Vinyl Sustainability Council