THE LITTLE MRS. FGG: Bring the Indoors Outside: Swing into spring with these porch decorating ideas | Living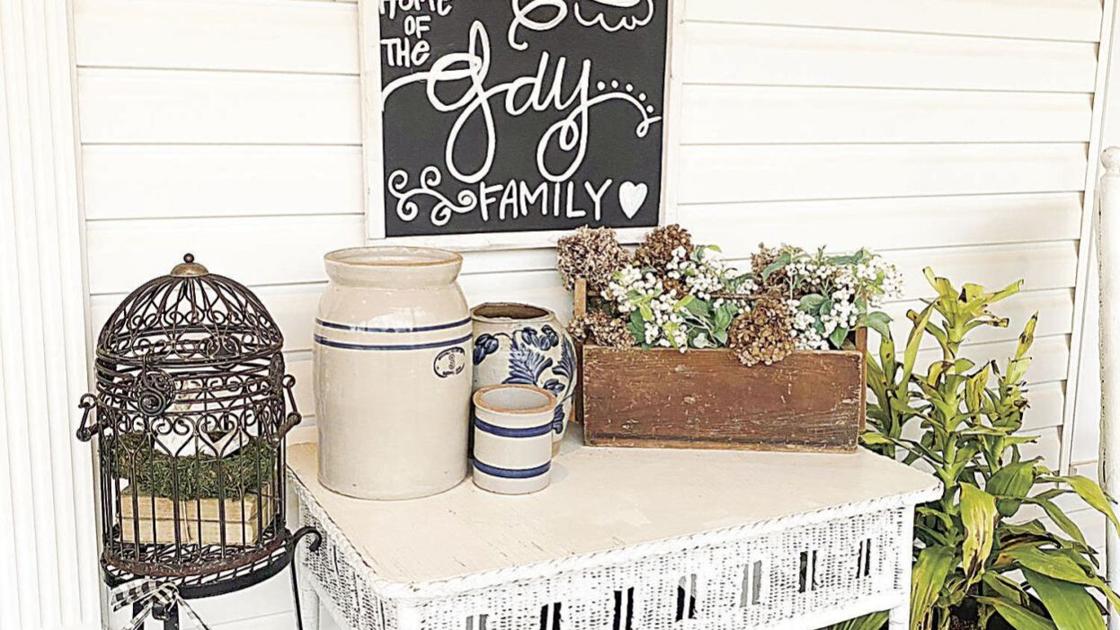 Sometimes you find yourself in the middle of nowhere, and sometimes, in the middle of nowhere, you find yourself.  This has been my experience here in Ripley, the small town with a big heart.  The feel of small-town America is still strong here. Since FGG and I are real estate professionals, we decided that we still like it here in Ripley after living here for nearly a year, it only seemed logical for us to continue to invest in this community. So, we bought another house.
That doesn't mean that we still don't love our ancestral family home on Pine Street.  We do.  That house was the catalyst for us moving here to Ripley. We just saw an opportunity to buy a fully renovated historic dream home and took it, and we are glad we did!  The good thing is there is no urgency on our part to figure it out what we will do with the Pine Street house.  We have some ideas for it and will determine its highest and best use in the coming months.  Right now, we are just enjoying being in our new space.  Our family home on Pine Street is rich with history and memories.  It is a place where love always flourished.  My home is wherever my husband is, and, together, we will build our legacy, wherever we are.  No matter where we live, I would like to think that, more than our address, is what is most important. 
We have begun to refer to the new house as Seersucker Hall, named after our real estate company (Seersucker Properties).  Seersucker Hall is an American Foursquare, built in 1887, and beautifully renovated by the previous owners.  I was smitten with this house from the moment I laid eyes on it, back before we even moved from Florida to Ripley. 
Two of the previous owner's daughters got married here on the park-like grounds.  I could see us hosting events here, too.  My creative juices are already flowing!  I, of course, could not wait to put my personal stamp on Seersucker Hall, so I started with the front porch, which leads me to the topic of this week's column:  how to bring the indoors outside (and, hopefully, on a budget).  Whether your outdoor living space is a sunroom, porch, patio, or slab, spring is the time to start getting out there and enjoying it.  We are blessed that we can enjoy our porches for three seasons here in Mississippi.  Now that COVID restrictions are beginning to ease, you might be ready for a socially distant gathering on the porch, out in the fresh air.  Here are some ideas for getting your spring on and transforming your porch from drab to fab by focusing on these six areas.
The porch should be a welcoming gathering place.  I chuckle to myself when I drive past porches that have a huge "Gather" sign from Hobby Lobby, but there is nowhere to sit!  Ample seating is key.  Outdoor furniture can be pricy brand-new, so shop yard sales, thrift stores, First Monday, and Facebook Marketplace for secondhand outdoor furniture.  Seersucker Hall came with a porch swing and coordinating wicker chair, but I added four antique wicker straight back chairs (that surrounded FGG's boyhood breakfast table), an oval coffee table ($12.99 at Goodwill in Corinth), and Becky, my mother-in-love's, wicker accent table.  When I have guests, I can use the accent table to set up lemonade and cookies, or adult beverages.  I have a little vintage cooler that I use as a display piece, which I can easily fill with ice and beverages when we are entertaining.
Don't forget to have places for people to set their drinking glasses or put their feet up, kick back, and relax.  End tables and coffee tables are key to completing a porch.  On my porch, in addition to the Goodwill coffee table, I also have a distressed blue WWII munitions box that serves as a coffee table in front of my porch swing.  It is low enough that swinging feet won't hit it!
Use furniture intended for the outdoors if it's going to be exposed to the elements, otherwise, you'll have faded or mildewy upholstery (maybe eventually filled with spider eggs).  I'm sorry, but that giant marshmallow recliner that used to be in the living room isn't gonna cut it as porch furniture.  Wicker can be used on a covered porch, but if your outdoor space is not covered, either get a canopy to cover your outdoor furniture or invest in high-quality outdoor furniture that can withstand the elements, with sun-resistant fabric cushions.
Rugs bring warmth and texture to a porch.  Whether you have brick, tile, or concrete slab flooring, the right rug can anchor the space and pull your décor together.  I tend to gravitate toward natural fiber rugs, like the NuLoom sisal rugs I have flanking the conversation areas on either side of my front door.  They are easy to live with and neutral, so as I change out seasonal porch décor, the rugs will work with whatever. They hide dirt well, too. 
If my space was not covered, I would opt for an indoor/outdoor rug that can withstand direct sunlight and rain better.  Dirt Cheap often has such indoor/outdoor rugs, but if you cannot find one there, there's always Amazon. 
The doormat/entry rug on your porch should have some personality.  It's always great to ring someone's doorbell and know that, just by looking down at your feet at the clever, punny doormat, you're going to have a good time once the door is answered.  I have seen adorable doormats that say things like, "Hi, I'm mat." Another favorite of mine is one that says, "Welcome-ish (depends on who you are)." Ha! You can find great doormats like the ones described at Beth's Bungalow in Ripley. 
Layer a larger rug under your doormat that coordinates with your porch pillows.  I especially like a natural doormat with a cute saying on it with a black-and-white striped larger rug underneath it to give it visual weight.  A bigger rug is better on the porch floor.  I decided to take a risk and use an indoor rug as my doormat.  I found this rug, which would normally be over $100, for only $25 at Dirt Cheap.  It's big, it's round, it's different, it has color and pattern (blue and white:  very southern), and it's high quality.  I simply sprayed multiple coats of Scotch Guard on it to weatherproof it. 
I also suggest spraying cat repellent on your cushions and rug if you have neighborhood cats come to visit that you do not want on your furniture, unless you are a fan of the smell of cat urine.  After "Season One" of We Moved to Historic Downtown Ripley, during which a multitude of neighborhood cats lived rent-free on our porch,I learned.  Pet Ag's Boundary Indoor/Outdoor cat repellent will keep cats from scent marking your porch furniture and rugs.  Just keep spraying daily until cats get the message (chewy.com). 
Think: paint and fabric.  You can easily change up the color scheme on your porch by purchasing affordable pillow covers off of Amazon or Etsy.  I suggest getting 12×12 pillows at a thrift store.  It doesn't matter what color they are.  Pillows can be pricey, so the solution is to just zip up a new cover on your thrift store pillows and switch out the pillow covers with the holidays or seasons.  This is a low-cost way to keep the porch feeling fresh and festive. 
If you're feeling frugal, can't sew, and don't want to spend money on covers, you can "fake it 'til you make it" by getting a piece of fabric or tablecloth, wrapping your pillows in it, like a present, and then duct- taping the back to secure the fabric.  I won't tell if you won't!
Add a few throw blankets for color and texture and to cover up cold feet on chilly evenings.  Keep the seat cushions neutral, like the rugs, so that as you switch things out, the key pieces will harmonize with seasonal décor changes and not clash.  I do gravitate toward beige, black, and white for my foundational pieces.  So, what's my favorite color?  Answer: Leopard.  In all seriousness, I consider Leopard print to be a neutral.  Black and white buffalo check is another great option for a neutral base for furniture cushions. 
Walmart in Ripley has cute outdoor cushions in the garden center for only $5/each!  What a deal!
In addition to cushions, you might want to consider adding some outdoor curtains to give your porch panache.  You can have these custom made with fade resistant Sunbrella fabric, or you can do what I opted to do at Pine Street and just buy Walmart curtains, intended for indoors, in a nice, heavy cotton.  I selected a beige, cream, tan, and black floral, and it was around $15 for two panels.  You can also use sheets on curtain clips for your curtains and galvanized pipe from a hardware store as your rod.  You need a heavy-duty curtain rod to withstand the wind.   Get creative!  Believe it or not, my Walmart "outdoor" curtains still look terrific after nearly a year! 
Pro tip:  buy a few extra sets, just in case a few panels start looking shabby, since stores change curtain styles frequently.
Don't miss the opportunity to make a statement on your porch by painting your front door.  Dark grey is the new black.  A great base for adding pops of bolder colors, dark grey adds contrast to light grey hues.  Plum is a muted but courageous choice.  It pairs well with various combinations of grays and earth tones.  Bright colors, such as tangerine and robin's egg blue, are also on trend for 2021.  Coordinate your door with your porch décor.  I'll get into more details about paint colors in a future column.
Plants and flowers add color, texture, and life to a porch.  Hanging ferns are always a good option here in the South!  Begonias do well in partial sun.  If you have a brown thumb, you can always pull in color with silk flowers.  On my porch, I have a mix of plants, flowers, silk flowers, and dried flowers, because I like them all! 
I recently wrote a column about easy container gardening.  Why not bring some of your prettier containers up on the porch for everyone to enjoy?  Think about creative containers for your plants.  I am a reformed plant murder-turned-plant-mom, and I have three begonias planted inside a retro-looking vintage cooler on my porch.  Yes, they are still alive after three days(#winning).  Their pots are just sitting inside the cooler, so I can easily remove them to use the cooler when we have guests. 
It gets buggy here in Mississippi in the summer, so you might want to consider an outdoor lighted fan.  Get that fan spinning to keep the mosquitoes at bay when you are enjoying your porch at night.  You can find these at Walmart or online.  I also suggest accent lighting if you have the space.  I have a floor lamp on my porch, in addition to two ceiling fans with lights.  Strings of solar-powered vintage-style bulbs add charm and ambience to a porch.  Citronella candles add ambience while keeping the pests at bay.  Just do not leave candles unsupervised outside (because of the wind). 
I am in LOVE with LED candles, which are a flameless, safe alternative to outdoor candles.  They mimic the flame of a real candle and many look very realistic.  Some even come with remote controls.  These can be purchased online or at Walmart.  You can buy LED candles in lanterns, or just set them on a tray on your porch coffee table. 
 Wreaths: Coordinate colors from your throw pillows on a wreath with silk flowers and a colorful bow.  You can buy wreaths already made or make your own using Dollar Tree supplies and a grapevine wreath, allowing you to totally customize your color scheme and aesthetic without breaking the bank.  I tend to make all my own wreaths and bows (using my Bowdabra tool).  Search Pinterest for easy and affordable wreath ideas.  Use Command hooks designed for the outdoors to hang wreaths with no damage. 
Signs: Cute porch signs that encourage smiles and hospitality can be found at Beth's Bungalow right here in Ripley.  I've featured Beth's Bungalow here in the column before, with good reason.  Beth is an artist and hand-letters signs and house numbers.  She designs the cutest welcome mats for your front porch!  Beth even does custom work.  I had an old sign that I bought for $5 at Salvation Army.  It was wood, and I liked the size of it, so I spray painted it with chalkboard paint, and then had Beth customize a welcoming sign for Seersucker Hall.  I love it! 
How to hang signs on siding: FGG and I always joke about "the vinyl siding guy."  He must have been a legend in Ripley.  Every time we pass a house with vinyl siding, we say, "the vinyl siding guy got to them."  Nothing against it; both our homes here have vinyl siding.  It can cause issues for would-be decorators, however, if you do not know how to hang décor from the vinyl siding without ruining it, so most people just end up not hanging up anything on their siding.  Well, guess what?  if you have vinyl siding, you do not have to drill into it to hang porch décor.  NACETURE offers 20 packs of vinyl siding clips that lock into the siding strips, allowing you to hang things on your porch with no damage, up to 18 pounds ($8.99 on Amazon). 
Add nostalgia: I like to repurpose rusty, shabby, chippy, and weathered items and integrate them into my décor, and the porch is not excluded from this.  I have FGG's old childhood chair in front of my accent table, holding an antique book (one of my favorite things to decorate with) and a lantern from Aldi!  Nostalgic items add interest and can be great conversation starters.
A southern porch should be a welcoming place, beckoning to friends and family to come sit a spell, chat, laugh, and make memories.  One of the best things about living here is that everyone who drives by waves, even if you don't know them.  If you drive past Seersucker Hall and see FGG and me sitting out on the porch, honk at us!  It's our favorite space, and I hope yours is, too!
By popular demand, I am offering a limited number of porch styling consultations.  Holler at me for details on The Little Mrs. FGG's social media channels (YouTube, Facebook, Instagram, and TikTok).  Maybe I'll feature your porch makeover in a future column.