Perhaps the most visually memorable businesses on Fruitvale Boulevard have been housed in the peaked-roof buildings at the former intersection of the road with the Naches Highway.
When Fruitvale Boulevard continued west at that intersection, the corner was a natural spot for a gas station and hotel and those businesses were housed there, at 2402 Fruitvale Blvd., for decades. Among the more memorable names were the Peaked Roof Service Station and Swiss Motel.
A sketch of the former gas station provided by the properties' current tenants, Energy Wellness Center owners Rob and Heidi Meinecke, was drawn by John G. "Chuck" Naasz, who grew up in Yakima and as a youth worked at businesses on or near Fruitvale Blvd
Naasz, who died in 2015, was a longtime art teacher at Eisenhower High School, retiring in 1992. According to his obituary, he was well-known in the Yakima Valley for his watercolors and pen and ink drawings, including one of the Peaked Roof Service Station and Swiss Motel.
His typed description of the Fruitvale Boulevard business said it was the Swiss Village Service Station, Peaked Roof Signal Station, the Signal Station and the Village Service Station before it became Holiday Haus at Swiss Village.
When the first building was erected in 1936, Naasz said it was a dairy lunch and delicatessen, serving ice cream and confectionary.
"This same year the 'Swiss Village Inn' was operated by Otto Braune," he wrote. "In 1938, it was the Swiss Village Market."
This pen-and-ink drawing by longtime Yakima art teacher and artist John G. "Chuck" Naasz shows the Peaked Roof Service Station at 2402 Fruitvale Blvd. The business was located at the intersection of Fruitvale Boulevard and US Highway 410.
In 1939 the service station opened and was operated by James H. Parmentier. It was listed as a gas station and the name painted on the front was Peaked Roof Service Station. It opened as a signal station. In 1942 it was listed as the Peaked Roof Service Station and Swiss Motel. In 1949 the buildings were owned by RH Siegele, who listed them as Swiss Village Motel and Swiss Village Service Station, Naasz wrote.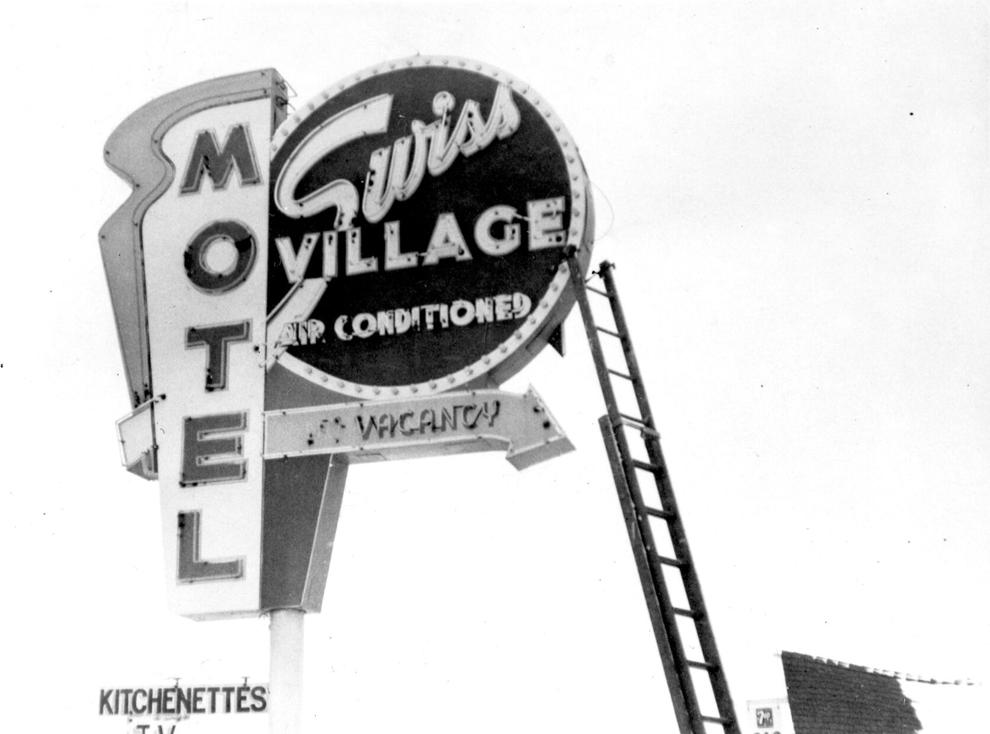 Courtesy of the Yakima Valley Museum

In 1951 it was operated by two people, one running the Village Motel and the other the Village Service Station. In 1954 and 1955 the name was again Peaked Roof Service Station and it was run by Joe Dobie. There is no service station listed after 1964.
"My personal interest in this service station goes back many years," Naasz wrote. "While in high school I used to work down the street at the old Gerritsen's Market. I used to work with Reinie Siegele who owned and operated the station and motel for many years. The first home I purchased in Yakima was down the street at North Ninth Avenue and Fruitvale. For two years I drove my 1934 Chevrolet sedan past the station when I worked at Naches."
Naasz was an artist, photographer and car collector, and had a special interest in old service stations.
Rob Meinecke said the former gas station and hotel served for many years as the Village Shoppe vintage furniture store.
"We have people who remember that business well – in particular, it hosted a Christmas bazaar for many years," he said. "The building itself is so unique. It just has lots of potential."
The Meineckes, who opened their original Energy Wellness Center in the West Valley in 2017, have been renovating the interior of the main building at 2402 Fruitvale since April 2022. They began offering therapeutic massage, float therapy and other holistic services there Dec. 1.