Brad and Lara Cranfield won The Block in 2012 and they still have the renovating bug 10 years on from their time on the show.
The couple have completed one stage of the renovation of their Byron Bay home and are looking forward to starting work on their front yard and pool in the next 12 months.
Stream every episode ever of The Block for free on 9Now.
Renovating was always the plan for the property, which they purchased because of its location.
"It was pretty much that old saying that we bought the worst house on a very good street knowing we'd have to renovate it, that was part of the appeal to us," Brad told 9Entertainment.
Brad and Lara's dining room before the renovation. (supplied)
"When we bought it it was just full of tiny little rooms. It was a very 1960s/70s built house, so a little foyer as you walked in, a little lounge room, a little sitting room, and a little kitchen. With two little boys we had to open it up so we could see where they were," Lara added.
Over a period of two to three months Brad and Lara transformed their kitchen, living and dining room and a bedroom in collaboration with Carpet Court, all while still living in the house.
They opened up the space by knocking out internal walls, removing bay windows to replace with shutters, stacker doors, highlight windows and a window backsplash in the kitchen.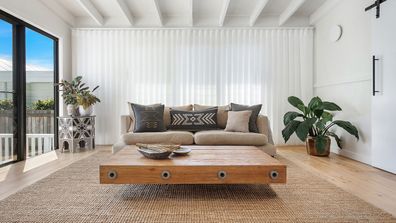 The dining room is now a stylish and comfortable sitting room. (supplied)
Brad and Lara knew exactly what sort of doors and windows they needed and where they should put them to take advantage of natural light, because they lived in the property for about three years before renovating.
The parents chose coastal as their style for the renovation because it suits their location, which is just a few hundred meters from the beach, and it's a look they've always loved.
READ MORE: Darren Palmer reveals the renovation lessons he's learned and what you need to consider before starting on your own reno
The after images of the renovation shows the coastal style interpreted through timber tones in the flooring and furniture, white walls and ceilings, neutral colored rug, sofa and décor.
As a contrast Brad and Lara added pops of green using indoor plants, wall paneling in the bedroom and bedding.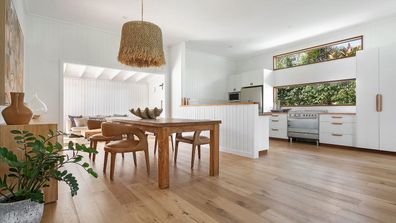 Brad and Lara's kitchen is now open and bright. (supplied)
Now that the internal part of the renovation is complete the couple said the home has a completely different feeling.
"It's much better. When you live in an original place where it's pokey and tight and you open it up, I think ceiling heights is another big thing, we tried to maximize those in all the areas we've done so far so it just makes it feel much better when you've got open space and light coming in," Brad explained.
READ MORE: All The Block past winners and auction results since the first season
The next stage of the renovation will be the front yard and pool and the final stage will involve an extension. All up the project will take another two years, but that doesn't faze Brad and Lara at all.
"We've got little stages that we want to do it in because we like to stay in the house while we do these renos, and it's a good way to save money so that's the plan," Lara said.
This bedroom is stunning after the reno, but Brad and Lara are still to renovate their master suite. (supplied)
With the time and effort that has gone into the renovation, you'd be forgiven for assuming this house is Brad and Lara's forever home.
However, the pair laugh when the term is mentioned because they've already moved out of one forever home.
"We don't like to say forever home too much because we were building our forever home just outside of Newcastle, it took us four years to do. And we got the opportunity to move to Byron and we upped and sold it, so our good mate Shelley Craft always has a saying 'forever for now'," Brad said.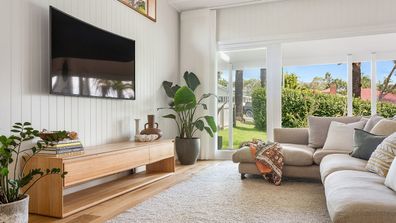 The living room looks relaxing with a cozy sofa looking out onto lush greenery outside. (supplied)
Lara is even trying to avoid considering other properties that are for sale.
"This house is in an amazing spot and Brad works in real estate so he always tries to get me to go to open homes and I refuse because I don't want to be tempted to move because I do actually love [this place]it's a pretty unique spot where we are."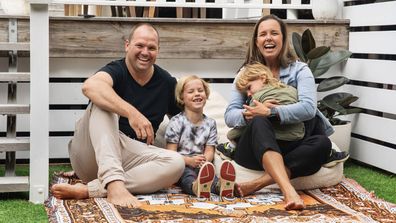 10 years on from winning $606,000 on The Block and life is about family for the couple. (supplied)
Ten years on from winning $606,000 in profit and prize money from the sale of their Block house in 2012, Brad is a real estate agent and Lara is a high school PE teacher.
READ MORE: Scott Cam hints at big change coming to future seasons of The Block
They have two sons, Harry who is almost seven years old and Jimmy who recently turned four.
"We're pretty much just chasing after our kids really, sport and going to the beach and we moved to Byron to change our lifestyle so going to the beach and spending more time with the kids," Lara said of life after being on a reality TV show.
But The Block remains close to their hearts with the couple now close friends with Shelley and her husband Christian Sergiacomi, a former Block cameraman, who Brad also works with.
Brad and Lara look back on The Block as a positive experience, despite how difficult the gruelling renovation process is.
Brad and Lara celebrate their auction results on The Block. (nine)
"When you first get off The Block it's pretty overwhelming and it's the hardest thing you'll ever do and then after a couple of years, I think we're at 10 years you go, oh we could go back on that, you kind of forgetting how hard it was," Lara said.
"It was a really great experience… we've got some really fond memories, made some really strong friendships and things like that so we absolutely loved it," Brad added.
And they have some advice for anyone considering signing up to be contestants in the future.
"I think anyone who gets the opportunity to get on should grab it and not put too much pressure on themselves and go on there for the right reasons and try to enjoy it while you're there," Brad said.
InPictures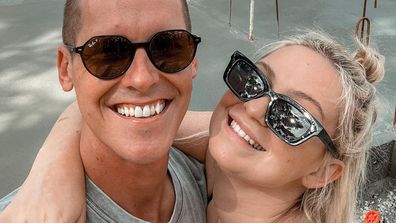 What your favorite Blockheads have been up to post-show
Tess and Luke celebrate a huge moment years in the making.
ViewGallery
Stream every episode ever of The Block for free on 9Now.