December 7, 2022
By Kevin Armstrong
Christmas is almost here, so Tesla's holiday update will be here soon. While many are still guessing what may be under the tree in this update, we now have word that Tesla will include support for MyQ accessories.
MyQ lets you control supported garage doors, gates and lights over WiFi. Until now, users could only control MyQ devices from their smartphones, but Tesla is adding support for it to their vehicles.
Tesla Rumors Start Small
The information was shared with us through an anonymous source, but it was also leaked on Twitter. Twitter user @DirtyTesla, who is also the President and Founder of the Tesla Owners Club of Michigan, posted: Looks like MyQ support is coming to Tesla vehicles with software update 2022.44.25 🙂 I don't have any more detail than that.
If MyQ is indeed included in the holiday update, it will not only allow users to open or close their garage from the screen in the Tesla. MyQ also tells users if the garage is left open, it can control lights, access cameras, lock and unlock doors and use home intercoms. MyQ can also be scheduled to automatically close the garage every night at a certain time. The MyQ system is much more than a garage door opener.
So why would this be better than HomeLink? That was a question repeated several times. MyQ is WiFi based so you can check in on it anywhere. There is also no need for the antenna. HomeLink is included with the Model S and Model X, but it's a $350 USD add-on for the Model 3 and Y.
If you have an older garage door opener but still want to get in on MyQ, there is a MyQ device that, according to the company, makes any garage door opener a smart garage door opener. These are available at various retailers including Amazon, for roughly $20.
Elon Musk confirmed WiFi garage door support was coming back in 2020.
integration
Tesla's integration of HomeLink into their vehicles is beautifully executed. You can have the vehicle automatically open or close your garage as you approach, never needing to touch a button. The vehicle uses your garage door's location and the vehicle's current position to determine when to open or close your garage door.
It's not clear whether Tesla will similarly integrate MyQ devices, but it certainly would make sense to have the ability to automatically trigger specific devices based on the vehicle's location. It could potentially open your garage door and turn on your hallway lights as you begin driving down your driveway.
Advantages Over HomeLink
MyQ support could have several advantages over HomeLink, besides being included for free. HomeLink currently requires proximity to the device to send the wireless signal, while MyQ could theoretically be executed anywhere in the world that has an internet connection.
HomeLink is also limited to a maximum of three devices, while the limit for MyQ will likely be much higher. However, the last improvement is actually the biggest deal. HomeLink is somewhat of a 'dumb' system, meaning it will send a signal to open/close your garage door, but it doesn't actually know the state of the garage door.
This can sometimes cause issues. For example, if you're arriving home and your garage door is already open, then your vehicle will still send the command to "open" the garage door, which in turn causes it to close.
Connection
Since MyQ requires an internet connection, we're not sure whether it'll only work on WiFi or over cellular. In all likelihood, it'll send the signal over cellular if it needs to, but it's not clear whether Tesla will require subscribing to their Premium Connectivity package in order to use it.
December 6, 2022
By Kevin Armstrong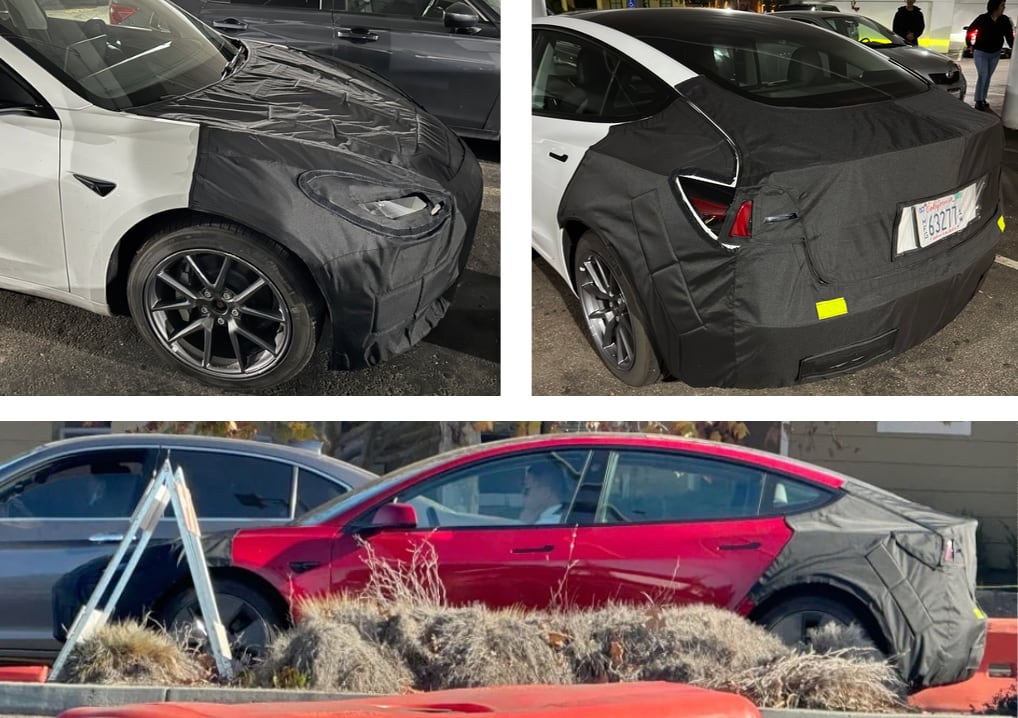 If it isn't the worst-looking LeBra ever made, then what is it? This oddly covered-up Model 3 appeared in the wild just days after Reuters reported Tesla was revamping the popular car. The plot thickens as Teslarati reports the license plates to indicate the vehicle is from Tesla. But what is the biggest secret under the horribly fitting covers?
Twitter user @omg_tesla spotted the car in a parking garage in Santa Cruz, California. Twitter users filled the replies with a lot of speculation. But of interest, the cabin of the car is wide open and visible. This eliminates a lot of conjecture that this is a revamped version. There is a belief the company is trying to cut costs to get the Model 3 under $55,000 to qualify for the US tax incentive in 2023. However, some cost savings will be found in the Model 3's interior.
That would lead us to believe that the only secret things on this car are some design changes in the front and back. However, on close examination, it doesn't appear to be different than the current Model 3. The headlights look the same if you follow the lining and the taillights look identical to what is in production as well.
Reddit user CloudWalking, found a different Model 3 similarly covered up a couple of days later.
Twitter user @Aiaddict1, who's a former Tesla employee, tweeted: Tesla policy requires employees who use certain narrow fleet cars in public to always use a car cover when parked in public if the vehicle is equipped with hardware not known or available to the public. I know this as I used to drive the narrow fleet prototypes. This looks to be one.
Whatever is under those odd covers remains a mystery. Reuters reported that the Tesla revamp, called Project Highland, would start to roll off production lines in the third quarter of 2023. They also quoted Ed Kim, president of AutoPacific Group, who said, "consumers still tend to equate visual changes with newness. Tesla knows visually tangible changes are in order. The upcoming changes that potential customers can see and feel will be very important in ensuring that EV customers still have Tesla at the top of their minds as truly excellent alternatives to Tesla are starting to flood the market."
Nevertheless, Twitter "detectives" joked that this is the newest Tesla paint protection, bug screen or perhaps automotive underwear. Personally, I think if the covers were off, it would've drawn far less attention as there are a lot of Teslas in California, but none sporting these covers.
It's not clear what Tesla is testing with these vehicles, although it doesn't appear to be related to the "revamp" of the Model 3. However, it very likely includes some sort of changes that haven't been publicly announced yet.
December 6, 2022
By Kevin Armstrong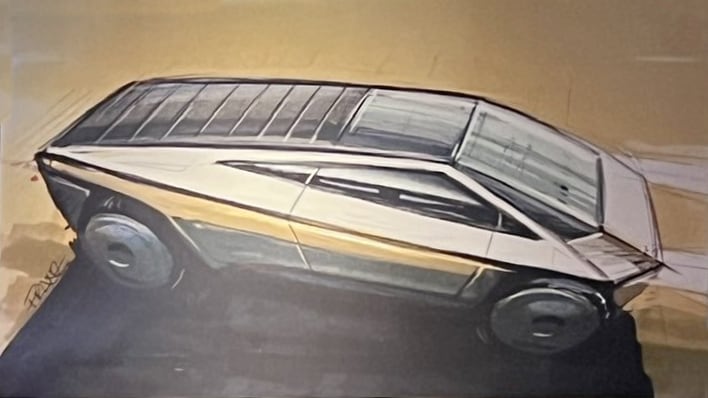 The Tesla crowd of enthusiasts has eyes everywhere. Twitter user @MissJilianne caused quite a stir after visiting the Peterson Automotive Museum in Los Angeles, which recently opened a new Tesla exhibit. The Model S Plaid owner and FSD Beta tester posted a few pictures of his visit, including some artwork at the Cybertruck display.
The artistic design shows the Cybertruck in a two-door version. Miss Jilianne asks: Are we not going to talk about the beautiful artwork of a two door Cybertruck displayed at the @Petersen_Museum Tesla exhibit?
Her tweet generated discussion on social platforms and Tesla blogs, and it had mixed reactions. @KounisTou tweeted: It's not only that, but it has a totally different, dare I say better looking? A-pillar design with a wraparound windshield like early Semi prototype. Looks great. Except maybe that it looks a bit too much like a Lamborghini.
That may be the biggest clue to this spectacular piece of art. Franz von Holzhausen, Tesla's chief designer, is a huge fan of the "wedge" design. He grew up with Lamborghini Countach posters on his wall. Other responses to the picture believe it is the origin of the piece of art. It is likely an early sketch of what the Cybertruck could look like, and there were likely several. Given von Holzhausen's love for the Countach, this is quite likely an early concept he was sketching out.
Elon Musk has publicly stated his support for a smaller truck. On November 24, 2019, he tweeted: Long term, it probably makes sense to build a smaller Cybertruck too.
However, the four-door version is due in 2023. CNBC interviewed von Holzhausen right in front of the Cybertruck. He stated, "Cybertruck will look, for all intents and purposes, just like the one behind us, maybe slightly smaller, a few percentages, but in general, this is what the truck will look like."
Tesla has a history of providing sketches to early reservation holders of their vehicles. It waits to be seen whether Tesla will do the same for the Cybertruck when deliveries start next year.
Below you'll find other sketches that Tesla provided to Model S, 3 and X reservation holders.
Model S Sketch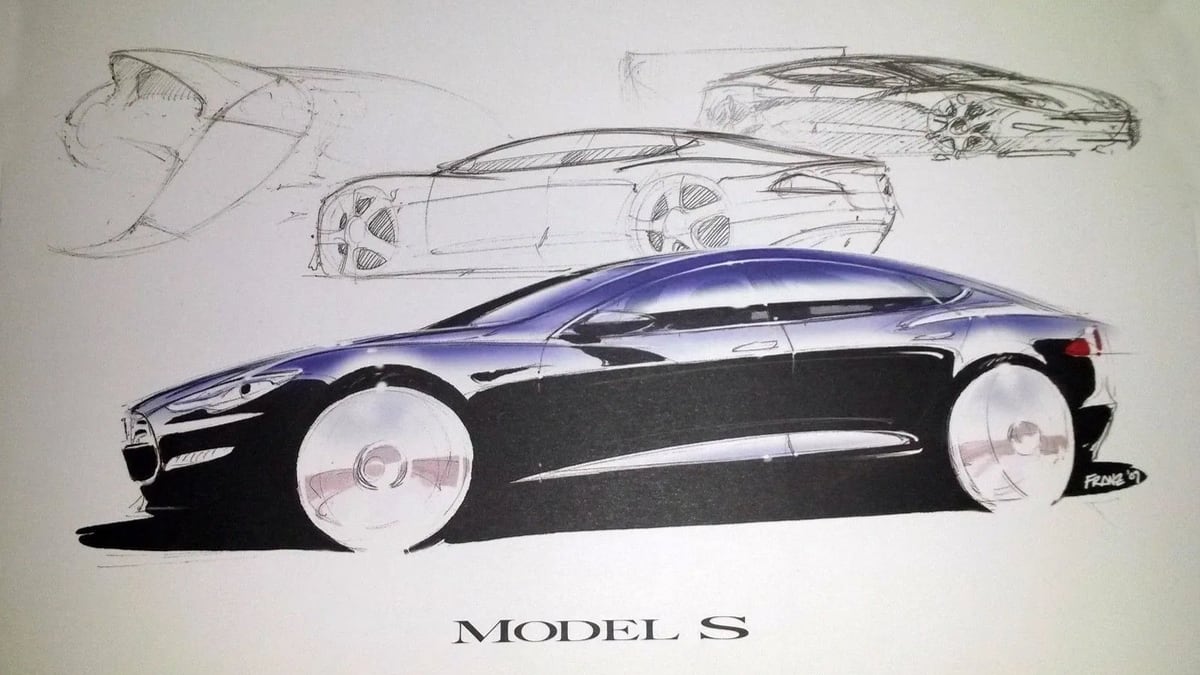 Model 3 Sketch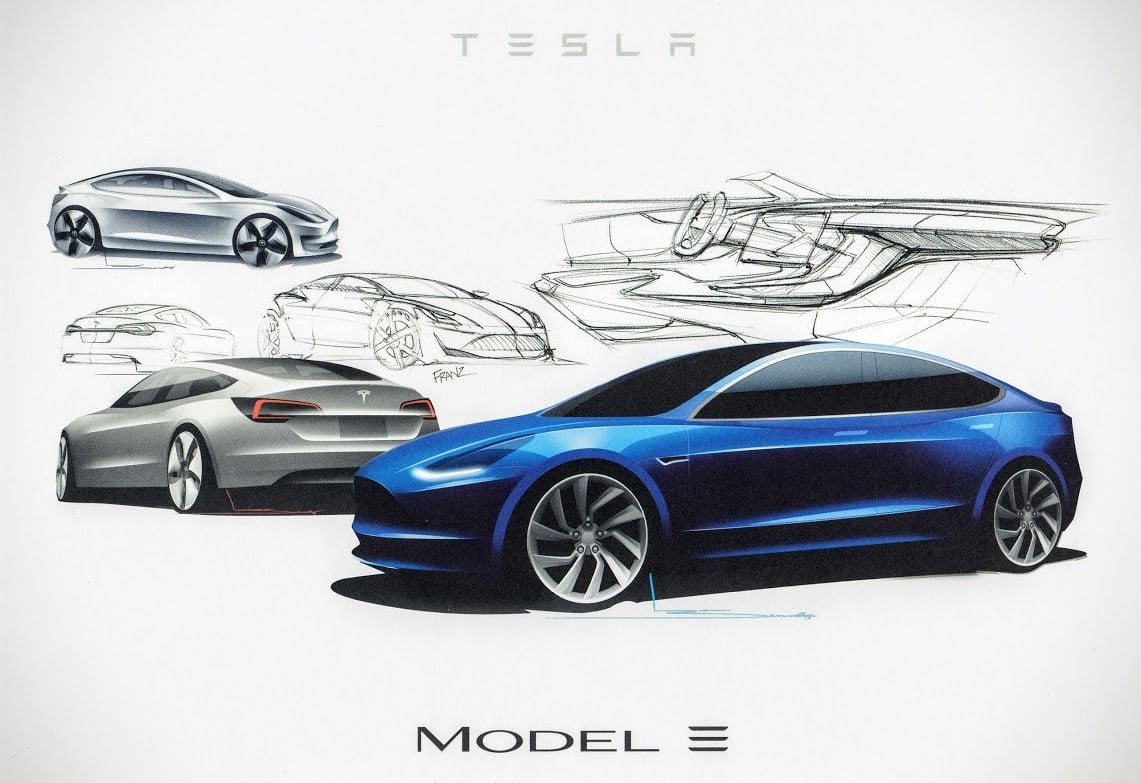 Model X Sketch