Concrete is everywhere these days. It's cheap and versatile. No wonder most projects make use of it. The material does not differentiate rooms according to purpose. It can be a beautiful modern house, a business place or a pavilion. If you've planned and considered concrete, these stylish concrete interiors will win you over without even thinking about it.
Concrete floors
Concrete floors are practical if not warm and cozy, especially for indoor and outdoor areas. They're just easier to maintain. If the rough texture of the concrete bother you, you can have it buffed to be sure to be smooth.
Dark concrete floors from Hufft Projects

Polished concrete floors by Mette and Martin Weinberg

MGAD concrete house

Concrete floor by Freestyle Joinery

Polished concrete floor via Carl Hansen & Son
Not only do concrete floors get a nice, smooth polish, but they can also be stained to give them nice veins and marble effects and bright colors.
It can also be partially painted to affect the contrast between color and natural concrete structure and color.
Concrete walls
Concrete walls often look rough and have characteristic holes. But don't rush to polish and seal them just yet. This brutal aesthetic goes well with wooden ceilings and frames, marble floors, and slate.
Torquay concrete house by Auhaus Architecture

House poured in liquid stone by SPASM Architects

Apartment with concrete elements in Taiwan by Fertility Design

Concrete wall over Coco Lapine Design

GT House by Studio Guilherme Torres
The natural roughness of concrete can make a cool pair with materials like polished wood, velvet, crystal, and metals.
Glass is also a suitable material to use with the concrete as it smooths out the rough aesthetic and adds reflective contrast.
Structured concrete
Some concretes are more structured than others. Plates with cable ties are usually smooth and evenly colored. Different types of blocks and bricks are rougher around the edges and have all kinds of discoloration.
House l4 by Luciano Kruk Architects

Concrete home office by Dimitar Karanikolov

Concrete living-dining area by Pitsou Kedem Architect
However, if you don't appreciate too much discoloration in concrete, you can use the more uniform type of concrete or just minimize its presence in the design.
And since the material is pretty plain, you need to add some glamor to the interior to negate the useful aesthetic that comes with it.
Contemporary concrete interior
When thinking about a decorating style, contemporary aesthetics work best with concrete. Together with minimal furniture and accessories, it creates an elegant, modern look that is stylish and ages well.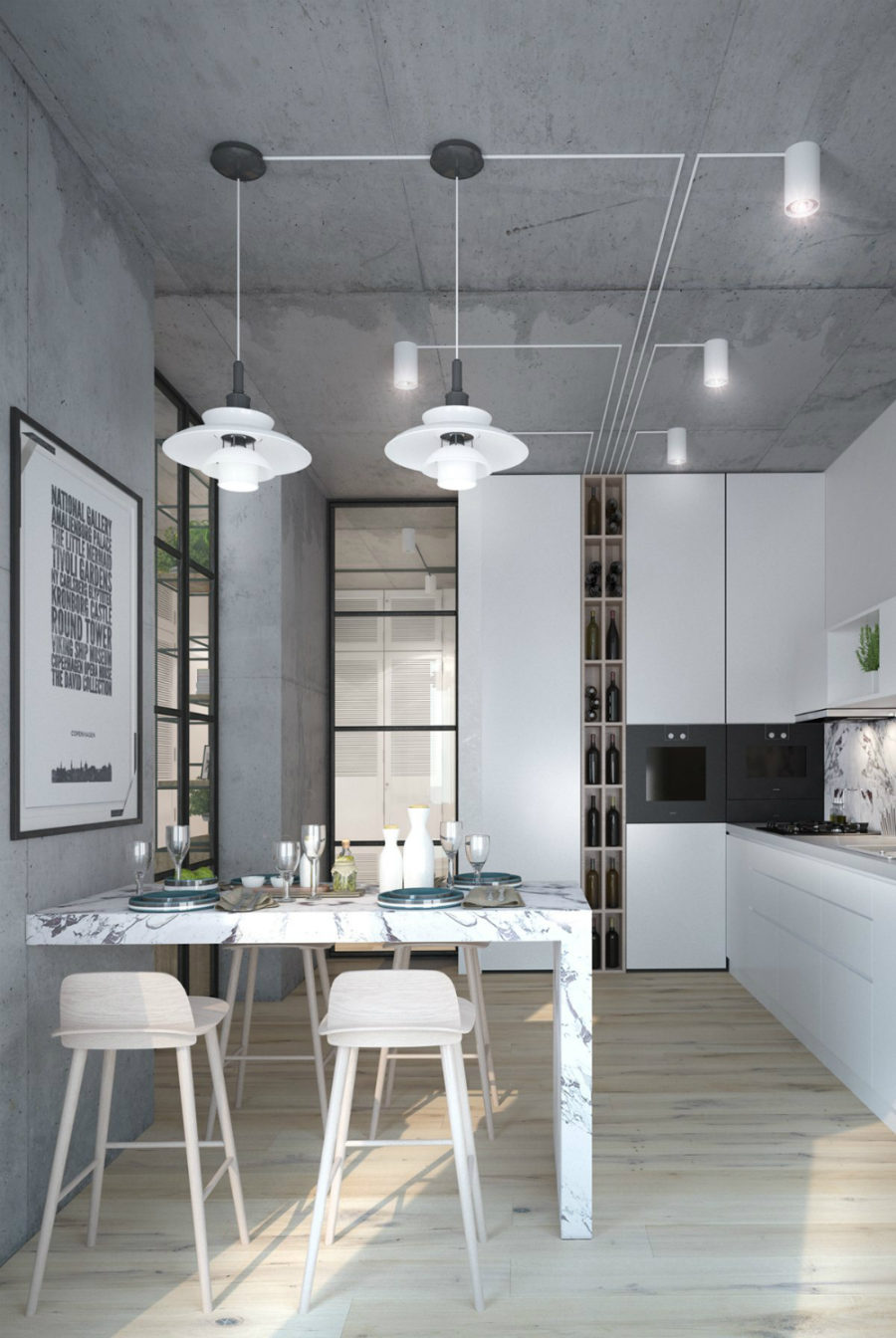 All-concrete kitchen via Just Interior Ideas

Zanotta Talamo concrete interior

Concrete floors and ceilings from OOOOX

JD concrete house by BAK Arquitectos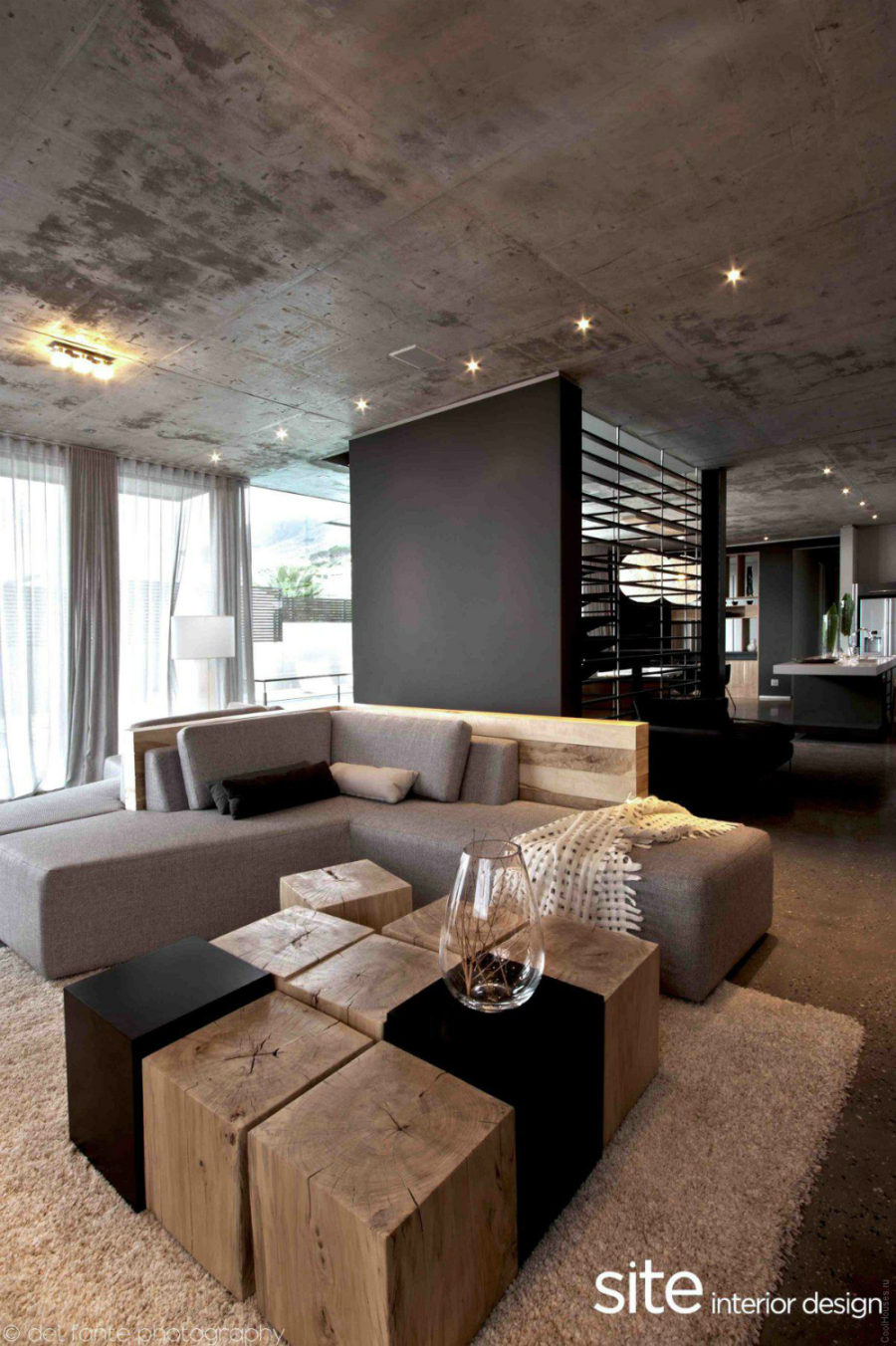 Contemporary concrete living room from Site Interior Design
Thanks to its versatility, concrete can be combined with any other material, be it natural wood or hammered metal.
Opt for fluffy carpets, knitted throws and planters with your favorite green to add a little coziness to your modern concrete house.
Concrete kitchens
The kitchen is one of the most expensive rooms to be remodeled. Countertops alone can reset you for hundreds, even thousands, of dollars. Concrete is not only suitable for floors and ceilings. You can save a lot by opting for concrete slabs and kitchen islands.
Kitchen island made of self-supporting concrete by BeauConcrete

Concrete kitchen by Robert Mills Architects and Interior Designers

Concrete kitchen island and floors above Lonny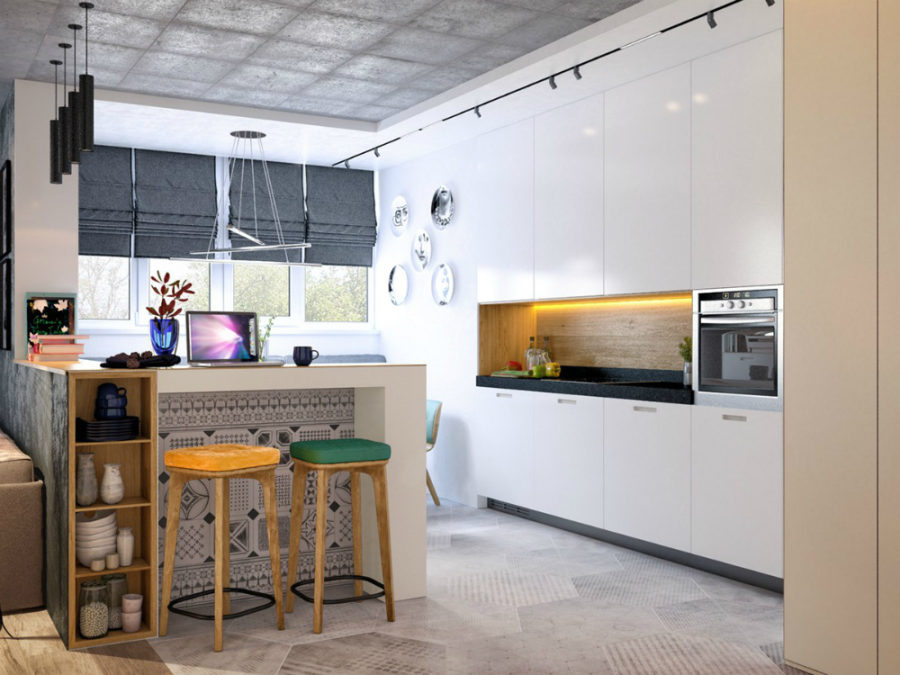 Concrete kitchen ceiling via Just Interior Ideas
Concrete is not indestructible, but it is very durable. All you have to do to keep it looking is stopping it from spilling or sealing the surface of your tops.
You don't have to sweat it out trying to combine it with other elements as concrete is neutral and goes with everything.
Concrete showers
When it comes to building with concrete, there are so many other design options. Take a shower cubicle, for example. It's just too easy to build with concrete. And you can have anything from a bench to a footrest if you want.
Belmond shower area above ARC

Concrete rain shower by Olivier Chabaud Architects

Concrete shower over Blossom Interiors

Beach Ave concrete interiors by Schulberg Demkiw Architects
To avoid a messy look to your concrete shower, opt for non-concrete floors and decorative fittings.
Wood is a perfect antithesis to cold concrete, and shiny metallics add glamor wherever they're installed.
Concrete baths
However, you don't have to stop at a shower stall if you want to take advantage of cheap but stylish concrete construction. There are so many things you could do with it.
Industrial concrete bath by Konstantin Kildinov

Concrete bathroom over design boom

Concrete house by Auhaus Architecture
A bath island, vanity, counter tops, platforms and seating can all be built from concrete to give your bathroom an unusual look.
Complement it with marble and wood if you want a designer look, or add ambient lighting to give it more color.
Concrete interior design
Again, if you can build an entire house out of concrete, you don't have to stop with the bathroom. It's a popular trend in architecture today.
All-concrete Sebbah house by Pepe Gascón Arquitectura

Concrete hobby room in Alberto Kalach's quiet Atalaya house

Concrete interior design by Rad Design inc.

Concrete living room by E. Cobb Architecture
Modern houses built with it often also have concrete interiors. A better interior may require hardwood floors and a collection of upholstered furniture.
Concrete & brick
Did we mention that concrete goes with anything? This includes bricks as well. Together, these two create a cool industrial look that can fake a New York-style loft in any home.
Concrete ceiling via Decoist

Interior walls made of brick and concrete by Ruslana Petrovskaya

Concrete ceiling and exposed brick wall by Tatyana Bobyleva
Interestingly, any type of brick works with different types of concrete. How cool is that
Bricks can also add some warmth to concrete interiors. Opt for red brick veneers for a more classic industrial look with a touch of warmth.
Concrete wallpaper & tiles
You don't have to remodel your house to put concrete in. The wallpaper designers have taken care of this and instead offer a simple and practical solution.
Concrete wallpaper over concrete wall

Concrete wallpaper design over concrete wall

Make Concrete Wall wallpaper look like concrete

Concrete tiles from Doncaster Tile & Bathrooms
Cover one wall in your living room with a concrete wallpaper design and you will immediately get the look you are looking for. There are also porcelain and ceramic tiles that look like other materials, including concrete, so you can use them in places like bathrooms and kitchens.
If these stylish concrete interiors couldn't convince you to take this bold design step, this modern home made from recycled concrete blocks could.