Opinions vary on use of COVID funds to replace Coles Co. Courthouse windows | Government and Politics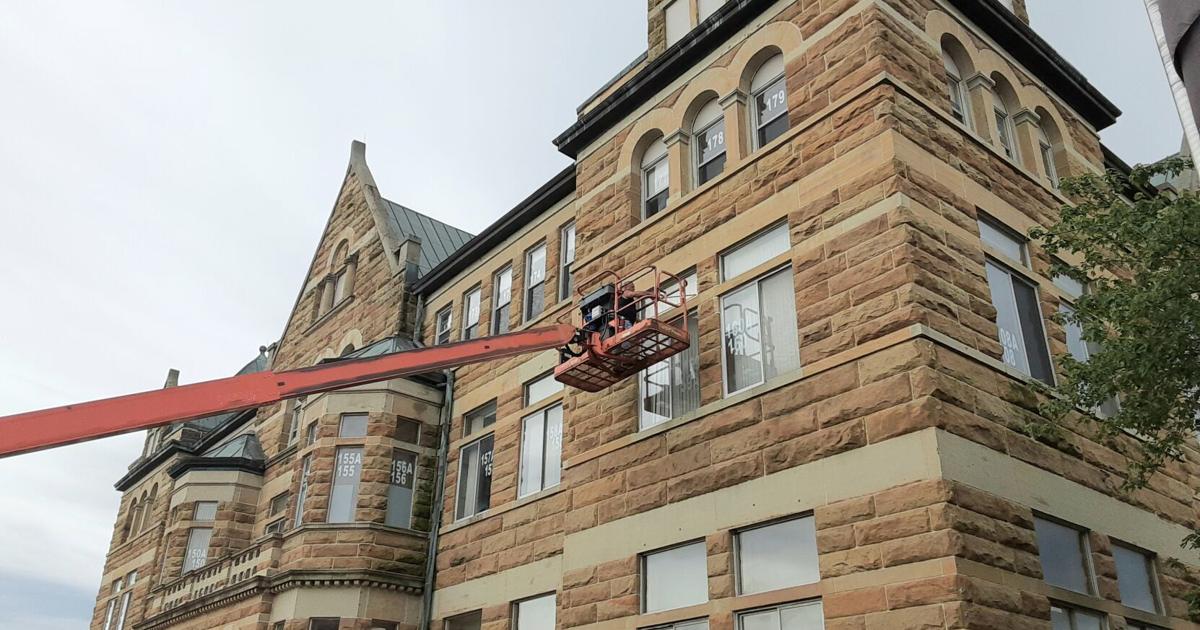 CHARLESTON — Contractor Ed Carter spent much of the last two weeks at the Coles County Courthouse numbering every window from the basement up through the fourth-floor attic on the inside and using a power lift to measure them outside.
That work was in preparation for Coles County's plans this fall to start replacing nearly all of the courthouse's windows, approximately 385, through $3.1 million in American Rescue Plan Act funding in an effort to address long running maintenance issues.
Last month, the county board voted unanimously to use this pandemic relief funding for the window project, a decision that did raise concerns from some community members at the meeting. County Treasurer George Edwards said the uses of this funding by counties and municipalities has been broadened from direct COVID-19 purposes to include needs such as infrastructure improvements.
"There would never be another time we could replace all the windows in the courthouse. We would never be able to bond enough money to replace all the windows at one time. We felt like it was a once in a lifetime opportunity to do that, " Edwards said. "(Window replacement) has been needed for a long time."
However, some Coles County citizens have spoken up about their concerns for the project and if the project would be the proper use of the funds.
County Regional Planning & Development Commission Executive Director Kelly Lockhart and Maintenance Supervisor Steve Simpson said the county has been looking into window replacement options since 2013.
Simpson said most of the windows in the courthouse, built 1898-1900, were installed in the late 1960s and a large number are in poor condition, cracked in many instances. He said some windows can barely be locked and others leak rainwater. He said a few courthouse employees have needed to stuff towels inside their office windows to prevent cold air from flowing in during the winter.
Lockhart said Centrica Business Solutions, which will produce the energy efficient windows, has estimated that this project will yield $1,336 in utility cost savings during the first year. He said the savings will likely be more once courthouse employees are able to reduce their use of fans and space heaters in their better insulated offices.
Under the federal funding guidelines, Lockhart said the project must follow state Historic Preservation Agency requirements because the courthouse is on the National Register of Historic Places. He said they will install windows that match 1900 style. He said they also plan to uncover some boarded up windows on the upper floors and retain some vintage windows, including two remaining from 1900.
Through the federal funding and $200,000 from the Charleston Area Charitable Foundation, the window replacement project is scheduled to start this fall. Treasurer Edwards noted that while this project will utilize much of the county's $4.8 million first half its relief funding, the county is still awaiting the second half.
Carter said each window will need to be specially built because the stonework that frames them is not uniform in size. He added that the normal build time for the windows has doubled to 10-12 weeks due to supply chain issues in the building industry. He said the work will likely carry over from the fall into next year as the project contends with these issues and with Central Illinois weather.
"We will need every bit of six months to change them," Carter said.
Kevin Gaither, who frequently attends County Board meetings, said during the board's May 10 meeting that he was concerned when ten members of the board quickly approved the $3.1 million project. Two board members were absent for the vote.
Gaither said he felt there were better ways to spend the money.
"They could have done something to help provide some relief. I know the hospitality industry in this county is suffering pretty hard. We're about to lose a whole bunch of our restaurants, we're gonna go through a recession shortly if we're not already at the beginning of it," Gaither said. "This stagflation is pretty rough, I think they could have done something to help people that have been struggling through that."
James DiNaso, a local business owner, told the board the contract did not make any sense to him.
Though Carter has been subcontracted to do much of the work on the windows, the contract the board approved is with Centrica Business Solutions, the New York-based subsidiary of United Kingdom-based Centrica.
DiNaso said he did not like the idea of ​​the money leaving the county and that he did not believe the estimated annual savings were accurate.
According to the contract, the county is expected to save over $3.1 million dollars between avoided capital, electricity and natural gas costs over the next 20 years. DiNaso called the savings a "sham."
With the current state of the economy, DiNaso said he could not fathom why the windows would be replaced at this time.
"No capital improvements would be made by any sane businessman during this time because of the cost," DiNaso said.
Robb Perry, another local business owner, shared he was also concerned about how fiscally sound the project is.
"Do you guys know anything about return on investment? That is plumb ridiculous. And no offense towards anybody, but if that's what you're doing over here with the money, if that's how you operate, we've got to change some faces," Perry said. "Because that's not right. If you worked for me, I'd fire you for it."
Aside from the logistics of the contract, Perry said he wanted to see the money fully stay in the county.
"Every time we leave money in the county, we do better by it," Perry said. "If anybody doesn't feel that way, I suggest you walk out of here."
Contact Rob Stroud at (217) 238-6861. Follow him on Twitter: @TheRobStroud
Stay up-to-date on the latest in local and national government and political topics with our newsletter.