Breadcrumb Trail links
Life
homes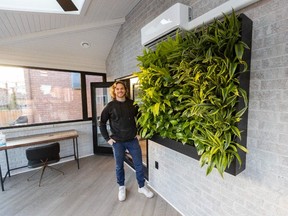 A heat pump can be incorporated into an existing HVAC system. Michael, in Frank's new solarium on location, Holmes Family Rescue, Season 1. Photo by The Holmes Group photograph
Reviews and recommendations are unbiased and products are independently selected. Postmedia may earn an affiliate commission from purchases made through links on this page.
Article content
Due to Canada's cold climate, space heating accounts for an astounding 63.6 per cent of the energy utilized in a typical Canadian home. So, it makes sense that you should search for energy-saving opportunities. If you want to replace or augment your HVAC system, you may want to consider a heat pump.
Advertisement 2
This advertisement has not been loaded yet, but your article continues below.
Article content
Canadians have traditionally relied on gas furnaces. Then in the 1980s, there was a move from gas to electric. Electricity was economical, and there was a push for electrical baseboards. There are still many homes running on electrical baseboards. However, gas went down again, and electricity went up.
By clicking on the sign up button you consent to receive the above newsletter from Postmedia Network Inc. You may unsubscribe any time by clicking on the unsubscribe link at the bottom of our emails. Postmedia Network Inc | 365 Bloor Street East, Toronto, Ontario, M4W 3L4 | 416-383-2300
Thanks for signing up!
Article content
Many HVAC firms and experts claim that this trend represents a return to electrification again. Government regulations, legislators, and public opinions are just a few of the variables at play. However, the transition to electrification is supported by climate change, and it will gain popularity as governments work to reduce our carbon footprint.
New York City is planning to achieve carbon zero by 2030 — that's a huge goal but an important one that recognizes the shift in thinking.
Advertisement 3
This advertisement has not been loaded yet, but your article continues below.
Article content
Energy consumption decreases when heat pumps are used in places of electric or natural gas furnaces. Heat Pumps are incredibly efficient (300-400 per cent) compared to an electric furnace — let's say you are spending $400 per month. Using a heat pump, you will be paying $100 per month.
That's why there's been a continued increase in the installation of heat pumps in Canada, 75 percent of the heat pump installations, are in Quebec and Ontario, according to the Canadian Energy Regulator.
Heat pumps don't produce heat, instead they move heat similar to a refrigerator. During the cold winter months, the heat pump extracts heat from the air outside and uses it to warm your house transferring the heat from outside the home to the inside.
Advertisement 4
This advertisement has not been loaded yet, but your article continues below.
Article content
In the summertime, the heat pump in cooling mode uses a refrigerant to extract warm air from inside your home and releases it into the air outside. The best feature is that heat pumps function as heat sources in the winter and as air conditioners in the summer.
For 99 per cent of the time, a heat pump is a very efficient and economical way to heat your home. However, if you live in an area with extremely low temperatures, I suggest having an auxiliary heat source. Natural gas heating systems can also be used as backup systems for central heat pumps, but they must be modified to work with the home's heating system.
Now I know gas furnaces are the most common heating method, and they are very efficient (about 96 per cent efficient) and economical.
Advertisement 5
This advertisement has not been loaded yet, but your article continues below.
Article content
However, using a combination of a furnace and a heat pump — homeowners could save approximately $1,000 per year in utility bills and the installation cost will pay for itself in about five years. A heat pump is approximately $6,000 to $7,000 for a good quality system, CR rating, and installation.
Surprisingly, many homes still heated by radiators are upgrading to heat pumps and phasing out their gas heating systems. Many HVAC specialists believe the future of heating and cooling our homes will be a hybrid heating and cooling solution that includes a heat pump.
A hybrid heating system switches between electricity and natural gas to function more efficiently, to reduce emissions, optimize energy use and reduce long-term costs. In a hybrid system, an additional system, like a furnace or boiler, is used in addition to the air-source heat pump. This is useful for both new installations and when adding a heat pump to an existing system.
Advertisement 6
This advertisement has not been loaded yet, but your article continues below.
Article content
It's essential to use the term "cold climate heat pump with zones" when discussing heat pumps because they enable you to use your central HVAC system less and save money on electricity. Cold climates heat pumps are more efficient than regular air source heat pumps and can operate in colder temperatures.
A hybrid heat pump system automatically selects the best function mode dependent on the outside temperature. While the hybrid mode is used in the winter, the heat pump option is frequently used in warmer weather. When the temperatures drop into the negatives, the gas mode kicks in and provides the house with additional heat.
The average payback period for this energy-efficient solution is 4-to-5 years. Hybrid heat pumps are eligible for the government's Greener Homes Grant, which aims to encourage homes to go green, save money, and combat climate change. Any homeowner who installs a new hybrid heating system is eligible for the $5,000 refund. I suggest speaking with an HVAC professional to see how a heat pump might help you save money.
Residents of the GTA can apply for season 2 of Holmes Family Rescue atmakeitright.ca.
For Postmedia News
Share this article on your social network
Advertisement 1
This advertisement has not been loaded yet, but your article continues below.
Comments
Postmedia is committed to maintaining a lively but civil forum for discussion and encouraging all readers to share their views on our articles. Comments may take up to an hour for moderation before appearing on the site. We ask you to keep your comments relevant and respectful. We have enabled email notifications—you will now receive an email if you receive a reply to your comment, there is an update to a comment thread you follow or if a user you follow comments. Visit our Community Guidelines for more information and details on how to adjust your email settings.