One of your biggest decisions when planning your new kitchen is the materials you choose. From granite or laminate worktops to chipboard or solid wood cabinets, we guide you through everything you need to know in terms of materials, durability and prices.
The quality of your kitchen worktop or cabinet is important, but costs vary dramatically depending on what materials you opt for.
To help you make the best choice, we've surveyed thousands of kitchen owners and sent kitchen cabinets from big brands to our test lab.
Already know what units and worktops you want? Head straight to the best and worst kitchen brands to decide where to buy them.
How to choose a kitchen worktop
The type of kitchen worktop you choose can make a big difference to the overall look and feel of your kitchen – as well as how much it costs.
Prices range from around £50 to more than £500 for the same length of worktop, depending on the material you choose.
Solid wood and granite are the most expensive; Laminated chipboard or MDF are cheaper.
Most worktops are 20-40mm thick (most commonly 28mm or 38mm), and 600mm or 900mm wide. You can also get a bespoke worktop made to your specifications.
Wooden kitchen worktops
Choices include oak, walnut, beech, birch, ash and teak.
Wooden worktops are sealed, so should be fairly durable. But you'll need to be more careful with wood than you would with quartz or granite to avoid scratching, staining or scorching it.
That said, wood can be sanded and resealed to remove imperfections. It's much trickier to do this with quartz and granite work surfaces.
Wooden worktops need coating with oil semi-regularly when they're new. Ask the company you buy from about how best to maintain the type of wood you choose. For example, beech is a much softer wood than oak and so marks more easily.
They can warp if they're stored poorly before installation, so check them thoroughly when they're delivered and store them carefully until you're ready to fit them.
Laminate kitchen worktops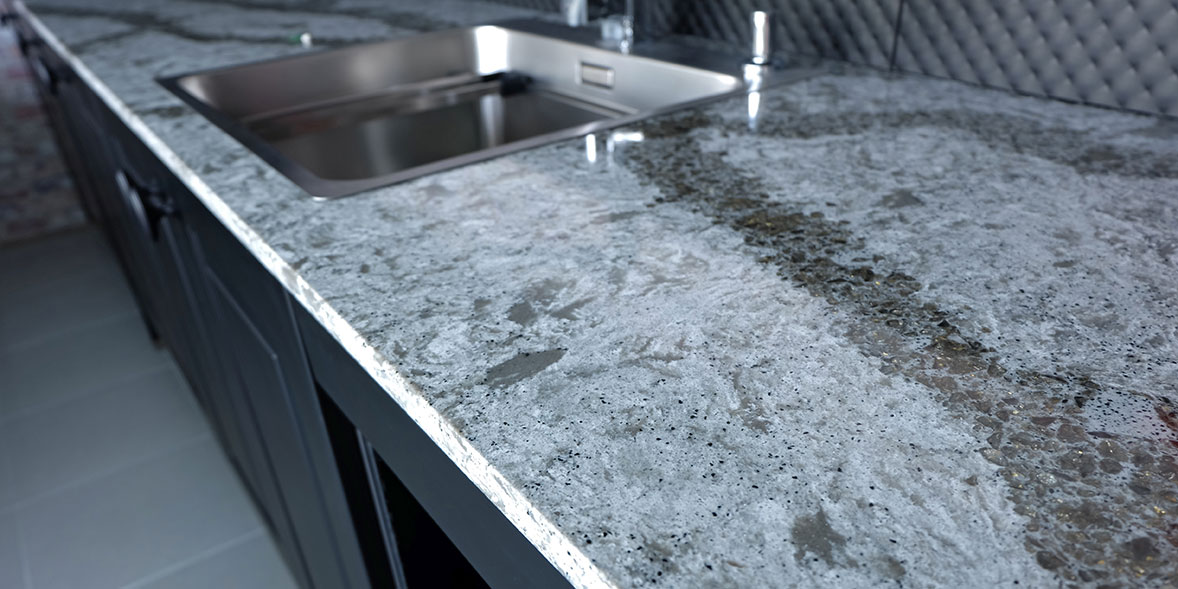 Laminate worktops are made from MDF (medium-density fibreboard) or chipboard, wrapped in a layer of plastic (also called laminate) and sealed. This makes them water resistant, hygienic and durable, although they can get scratched if you use knives to chop directly on them.
Advancements in printing on to laminate mean that they can look very similar to pricing materials such as:
granite
marble
quartz
slate
stones
wood.
Laminate worktops are also available in bold patterns and distinctive colours, and can be high gloss or matt.
They're the cheapest option, but the thickness of the worktop makes a difference to the price too, as well as how much of the material you need.
To keep costs down, shop around and considering buying second-hand or in the sales. Visit our guide to kitchen costs for tips on buying a cheaper kitchen.
Granite kitchen worktops
Granite worktops come in a range of colors including black, cream, red and pink.
Granite is very hard-wearing and resistant to heat and scratches. However, it can still be marked by heavy use, such as exposure to heat and acidic chemicals for long periods of time, or by chopping food directly on it.
It doesn't need much maintenance, aside from keeping it clean. You can buy specialist granite cleaners and sealers to use every so often.
Fitting a granite worktop needs special tools, so you'll need to hire a professional. A specialist will also know how to make sure your units are strong enough to support the weight of the granite.
Find a reliable kitchen fitter with Which? Trusted Traders. All our professionals are thoroughly vetted, so you can be confident in your choice.
Quartz kitchen worktops
Quartz worktops are usually black, gray or white, although they come in a wider range of colours. Some have detailed patterns; others are plain.
Quartz is durable and resistant to heat and scratches, although not as much as granite. It won't need a lot of maintenance; you'll just need to keep it clean and protect it from excessive wear and tear.
How to choose the best kitchen cabinets
Together with your worktop, kitchen cupboards and drawers are the backbone of your kitchen. The first thing to consider is the size of the units, also called carcasses. The table below shows the dimensions of standard fitted kitchen units.
If you're buying a bespoke kitchen, the measurements will be more flexible.
You can choose from a huge range of storage options, but what's right for you boils down to how you use your kitchen on a daily basis. Our page on kitchen planning goes through this in more detail.
When you've chosen the sizes and types of units, you can start thinking about materials.
Is MDF or chipboard better for kitchen cabinets?
Laminate-covered chipboard or MDF (medium-density fibreboard) is the most popular material for kitchen cabinets.
You can choose from plain matt or gloss laminate finishes, or those that replicate other materials, such as wood.
Chipboard carcasses are the cheapest units, and many of the kitchens from big-name brands are made partly of chipboard.
MDF is higher density and therefore stronger than chipboard. It tends to be more water resistant, so units that use it are likely to be slightly more expensive than chipboard.
Solid wood kitchen units are more expensive than chipboard or MDF cabinets. Most solid wood units arrive pre-assembled (and glued together), making them very strong and rigid.
Our kitchen cabinet tests
Although solid oak might seem much sturdier than laminate-covered MDF or chipboard, none of the 21 widely available units we assessed from popular brands were solid oak.
They were all made from melamine-faced chipboard, and some of them were good enough to be Best Buys.
Which? members can Log in to find out which kitchen cabinets fared best in our lab tests, and how thick kitchen cabinets should be. Or see the best and worst kitchen brands.
If you're not a Which? member, join Which? to access our kitchens reviews as well as test results for kitchen appliances.
What type of kitchen cabinets do I need?
As well as the standard base cupboards that form the foundation of most kitchens, you can also consider adding wall cabinets, drawer units and corner cabinets.
Kitchen wall cabinets
Kitchen wall cabinets help to make the most of the space in your kitchen. They're generally either single or double width, and fitted with one or two doors.
Two-door units are usually 90cm or 100cm wide, and single-door units range from 30-60cm. For the most visually appealing and balanced kitchen design, it's best to ensure that wall units are aligned with the floor units beneath.
Most are a standard height of 72cm, like floor units, but you can get taller ones that go right to the ceiling.
Think about what you need and can reach. There's no point having an extra-high cabinet if it's tricky to reach anything on the top shelf.
If space is tight, storage solutions such as pull-down racks and rails can help. Find out more about kitchen storage in our kitchen planning guide.
Consider whether you want cornices (decorative pieces on the top of wall cabinets). They're not essential, and cost extra, but they can give the units a finished look.
You can also add downlights or LED strips underneath your kitchen wall units to illuminate your workspace.
Kitchen drawers
Kitchen drawer units are a useful way to store various types of kitchen equipment. There are a lot of different options, too, including:
four slim drawers
three deeper drawers
extra-deep drawers for pots and pans
bin drawers.
Most kitchen companies also offer soft-close drawers, which are designed to help prevent them being accidentally slammed shut.
Kitchen corner cabinets
A corner unit can turn a wasted corner into a handy storage space. But, as with tall wall units, they're frustrating if you can't access anything at the back.
The solution is pull-out storage instead of standard shelves. Options include:
shelves or racks that pull out around the corner
systems that fold in on themselves
units that spin around inside the cupboard.
Find out more about the different kitchen storage options in our kitchen planning guide.
Can I just change my kitchen cabinet doors?
If the layout of your kitchen works and your units are in good condition, you can save a lot of money by replacing just the doors and drawer fronts.
Doors cost from about £10 each. Many of the big-name kitchen companies sell replacement doors as well as fully fitted kitchens, but it's also worth looking on second-hand sites, such as eBay, for cheaper doors in the material you want.
Useful tips and tricks:
Many people opt for cheaper units with higher-quality doors and fronts. If you want the look of real wood, but not the cost, you could buy kitchen units in cheaper chipboard or MDF and add end panels and doors in solid wood.
Laminate-covered chipboard or MDF doors are typically more cost-effective. They come in a wide variety of colours, and are widely available in kitchen stores and second-hand.
If you go for laminate or veneer-covered doors, we'd recommend looking at them in-store to check how well the edges are finished and how thick the surface layer is. The better the joints and sturdier the coating material, the less likely the door is to show wear and scratch marks.

You could also buy cheaper doors that are unfinished and paint them yourself.

However, laminate-covered and painted doors aren't likely to be as long-lasting as solid wood, depending on the materials used. find out

how to paint your kitchen cabinets

.
Upgrading to soft-close doors and drawers can make your kitchen feel more luxurious. Also, soft-close drawers are designed for years of use as they have hard-wearing mechanisms. The runners on cheaper, basic drawers can be clunky in comparison, but will still do the job.
If you love the look of wood and don't want to get wood-effect laminate, there are lots of solid wood options, including oak, beech, walnut and teak.
find out the cost of repairing and replacing kitchen doors.
Kitchen cabinet door handles
The handles you choose for your cupboard doors and drawers can make a big difference to the look of your kitchen.
Standard wooden knobs are ideal for a rustic country look, while long, sleek metal handles are perfect for a modern setup.
You can buy cheaper handles and paint them for a more luxury feel or to match your design. Handles are also easily available second-hand.
Consider how easy they are to use: look for handles that feel nice to hold and are easy to grip.
Kitchen plinths
Plinths are the thin strip of wood at the bottom of your kitchen floor units. They hide the legs of the cabinets and stop dirt and dust from getting underneath.
When you buy a kitchen, they should be included automatically, but it's worth double checking, especially if you're buying second-hand.
If you need to replace a plinth, contact the original manufacturer to see if you can get an exact match. You can also buy them on their own new or used, but they might not match exactly, so ask for a sample if you can.
Which? Kitchen survey and assessments
In March 2021, we asked 3,848 Which? members who had bought a new kitchen in the past 10 years to tell us about how well it has lasted. We also assessed kitchen units from the big-name kitchen brands in our lab.
See the best and worst kitchen brandsaccording to owners and our lab tests.