stock_studio/Shutterstock
For years, all-white kitchens have been a top trend for home interiors. Yet, even as white has withstood the test of time, plenty of homeowners have preferred to increase the interest in their kitchens, which paved the way for cabinetry in vibrant colors. Some designers entered the trend with muted blues with a feel similar to neutrals, but as colored cabinets became more popular, people became bolder with their choices. Shades of green, yellows, and even reds were soon featured in the kitchen.
Colored kitchen cabinets are a trend like any other and, as we all know, trends come and go. They initially rise until they reach their peak and can be found everywhere, then inevitably decline before either coming back for another round or fading into obsolescence. According to Design Pool, trends in residential interiors move a little slower than trends in fashion, so larger home fads like brightly hued cabinets can stay in style for years. But is their moment in the spotlight about to expire? In an exclusive interview with House Digest, Cinque Cerra-Saunders, interior designer and host of A&E's tiny dwelling show "Living Smaller," says vivid statements may be on the decline, but, if you love color, don't give up hope just yet. "While the painted kitchen cabinet trend will slowly fizzle out in 2023, not all colors are alike," she explains.
Some classics never go out of style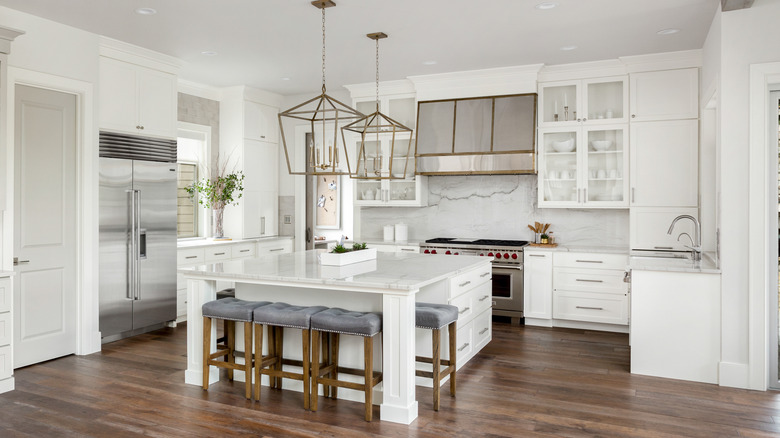 Justin_Krug/Shutterstock
Colored kitchen cabinets may be losing some popularity, but this doesn't necessarily signal a return to wood tones. "White painted cabinets will remain a classic baseline," Cinque Cerra-Saunders says. "You can't go wrong with white cabinets; they are a blank canvas and iterations can be found in homes throughout the decades from the time the kitchen cabinet was invented." Painting your kitchen cabinets white ensures that your kitchen will remain timeless, which allows you to engage in some of the less obtrusive trends to add splashes of color or personality elsewhere without needing a major renovation.
White is also versatile. "The white cabinet door will continue to work in a variety of style genres and edge profiles," Cerra-Sanders explains. "They will also be a great option for long-term investment properties where updates happen less frequently." With a variety of white shades, you can find the ideal hue for your style and space. Creamy whites add warmth to a cold kitchen, while crisp whites give the room a fresh and clean feel.
Black cabinets will also be an option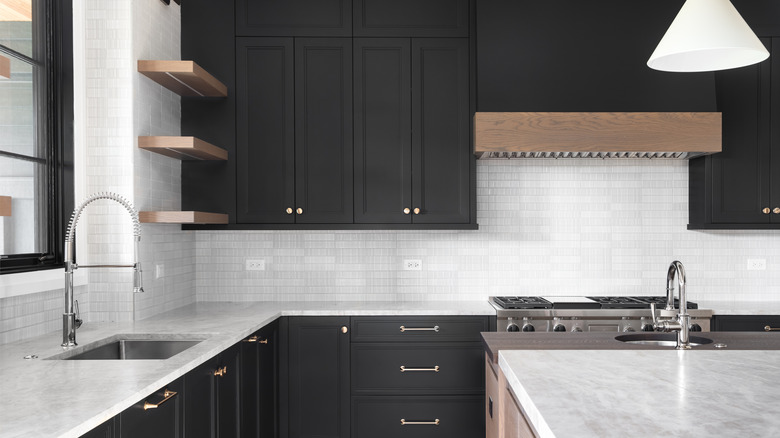 Hendrickson Photography/Shutterstock
For some homeowners, white can seem like a base that feels too strong. Luckily, it's not the only option for colored cabinets. Black is on the rise for many kitchens, but Cinque Cerra-Saunders has a warning for those who intend to use this dark shade. "Black cabinets, though stunning, are less universal and best executed in slab-front styles in homes with modern or contemporary aesthetics." If you're aiming for an overall design concept that feels sleek and chic, this could be the way to go.
The dark and moody aesthetic is currently on-trend, but Cerra-Saunders believes black cabinets can also create a kitchen that will look stylish for years to come. "I think they are a great way to be bold yet timeless, without being too directional. In the right setting, you still can't go wrong with a black cabinet," she adds. To get that perfect shade of black, you have to consider the undertones. Depending on your lighting options, a true black may be too dark for your space, but a tone that is slightly cool or a little warm might feel just right.