Ant-Man star Evangeline Lilly has shared a glimpse into the most practical room of her home – but in all its functionality, the space is beautifully intimate.
The Canadian-born actress, known for her part in the previously mentioned movie franchise, alongside The Hobbit and South of Heaven, shared a photo at her sink, surrounded by 'beautiful smelling soap' that – she says – makes her feel blessed.
'I feel so lucky to be able to stand at a sink with running, warm water, and beautiful smelling soap, and wash my dishes and let my mind wander,' Evangeline says. Her post celebrates distinct kitchen ideas that make this practical space feel more intimate.
Alongside the soap, the post (below) exhibits more ways to add a sense of personality to your kitchen – whether through plants (we counted four in the snapshot alone) or cookbooks that deserve an eternal place on the kitchen countertop.
There is a lot to admire in Evangeline Lilly's kitchen, beginning with her little quirks that make the space her own. And our design notes don't end with her eclectic candles and greenery.
If you're looking for kitchen storage ideas, you may have heard that open-shelving debate – with some designers warning that this trendy solution can be hard to maintain. However, it has hard to make a case against open shelving when you see Evangeline Lilly's setup. On her shelves, the actress continues to showcase her individuality through a series of painted jugs and bowls that almost 'float' above her glossy cream countertops. And if you're inevitably feeling inspired, you're in good company.
Peter Erlandsson, the director of String Furniture (opens in new tab)praises the art of open shelving – suggesting that Evangeline's decorating ideas are 'beautiful and decorative' without impacting your kitchen's functionality.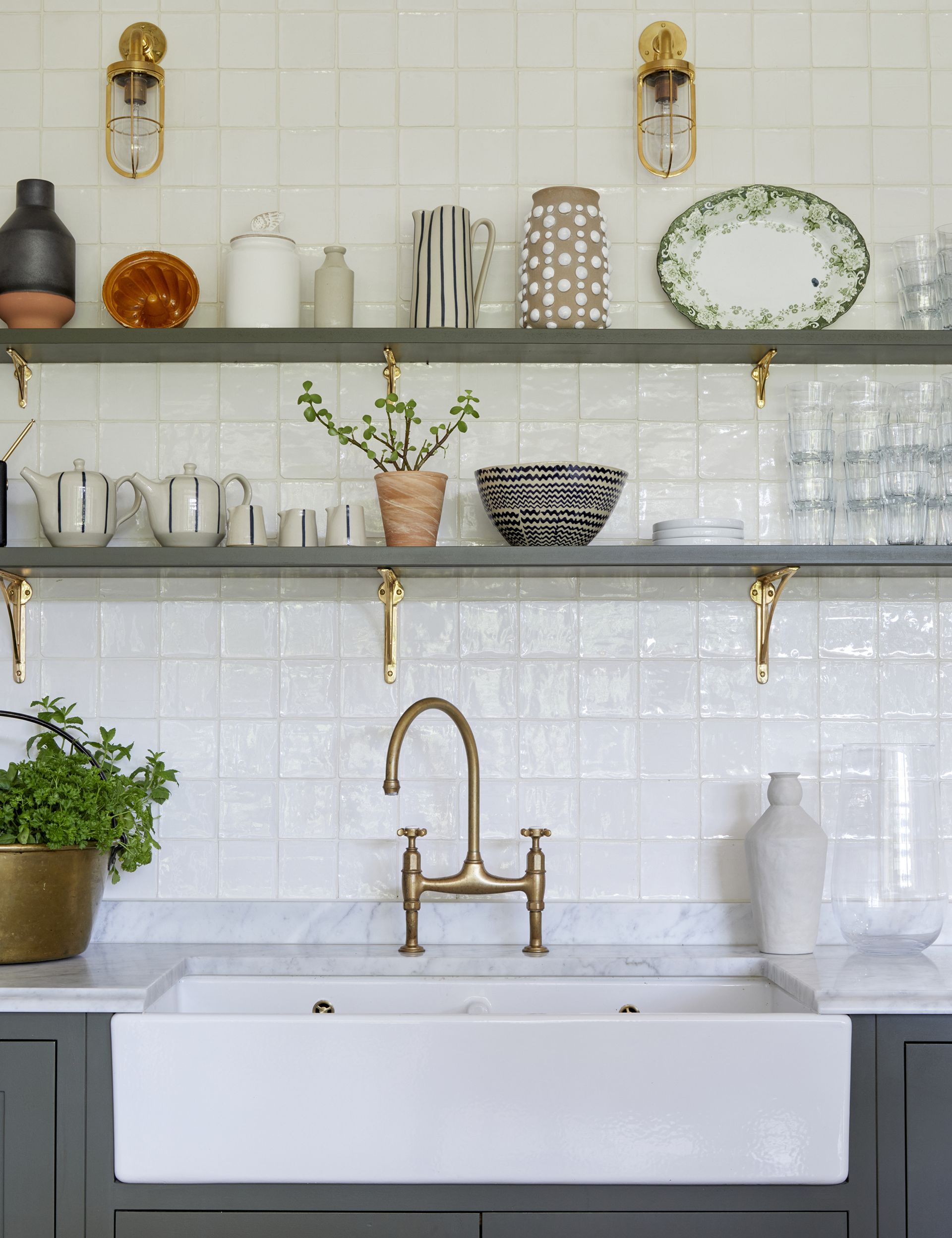 (Image credit: Olive & Barr)
'Treat your shelf like a canvas, and create a work of art on top of it with artfully styled 'clutter," the Swedish designer says. Plus, beyond its aesthetic qualities, Peter suggests this solution is an impactful way to create the illusion of space in a small kitchen, too.
'Not only is it fun to create your own organic and changing artwork from your own nick-nacks, but it is a great way to save space. When you lift things off the floor and use shelving as a storage solution, you create the illusion of a larger space,' he says.
With approval from those in Hollywood and the design industry, it's certainly hard to ignore this enduring kitchen feature.