Photo © Welcomia | Dreamstime.com
By Michelle Maybee, P.Eng., CTR, and Darlene Helfrich, IDT, CTR
Drywall finishing is an art form. It requires a well-trained and practiced tradesperson as well as the right tools to achieve beautiful, long-lasting results. Drywall finishing sets the tone for the job. If done well, the walls and ceiling will fade into the background. If done poorly, it can become a focal point and detract from the overall project.
Often, contractors are working under extreme conditions and the pressure to finish on time forces them to stretch product performance to the limit. This can lead to problems such as shrinkage, swelling, or cracking and the cost for repairs can be significant. There are areas of concern with finishing which are often overlooked in specification, which can have a significant impact on the overall esthetic of the finished project. Some of these concerns can be solved with advanced products, others with awareness of the jobsite conditions and an understanding of how and when to adjust finishing procedures to make conditions more favourable.
Drywall corners
Drywall corners can be especially difficult to finish and are where most of the day-to-day damage occurs. They are a perfect example of how evolving technology and new products can resolve many issues which may result from the installation of traditional products. ASTM C1047, Standard Specification for Accessories for Gypsum Wallboard and Gypsum Veneer Base, sets the minimum standards for accessories like corner beads, but many advanced products exceed those minimum requirements.
Metal corner bead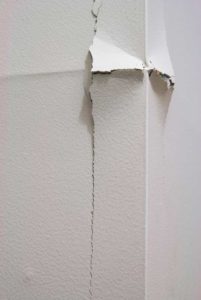 Corner bead damage is difficult and costly to repair. Unfortunately, it is a common occurrence, and it can raise concerns about the quality of the finished job. Photo © Pancaketom | Dreamstime.com
Metal corner beads have been the standard choice since their inception. They are inexpensive to manufacture and are widely available; however, they have many challenges. Traditional metal corner beads are installed by nailing or crimping them to the wall studs and finishing with large amounts of joint compound. The metal will follow the edge of the wall instead of floating on the corner, which means the corner may not always be straight.
The metal does not form a strong bond with the joint compound and a significant amount of compound is needed for the installation. Any movement, shrinkage, or impact can lead to cracks and chipping or nail pops and with impact, metal corners will permanently dent. Call backs for jobsite corner repairs are common, and it is often difficult to return the finish to an acceptable condition.
Paper-face metal corner bead
The introduction of paper-faced metal helped eliminate some of the issues associated with early versions of metal corner beads. A thin covering of paper over the metal allows the corner bead to be installed using joint compound rather than mechanical fasteners. With this type of installation, the corner floats straight on the compound, making it easier to finish. These corners, however, are still easy to dent and, therefore, difficult to repair.
Vinyl corner bead
Vinyl or polymer-based corner beads further reduce issues and improve overall results by providing higher durability than metal. They are also available in a variety of different shapes. These corner beads are less susceptible to damage during handling and will not dent like their metal counterparts. Options such as water activated polymer beads go one step further and eliminate the need for staples or added glue, as the adhesive is already applied to the corner. Once it is activated using water, it is ready for installation.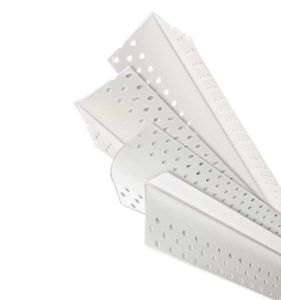 Vinyl corner beads are less susceptible to handling damage, easy to install, and are impact resistant. The spray-on adhesive, however, comes at a premium price. Photo courtesy CertainTeed Canada
Laminated polymer corner bead
Laminated co-polymer corner beads are one of the best solutions, as they not only combine high strength and performance but also simple installation to provide one of the toughest, straightest edges.
The corner bead's polymer core withstands impact and will not dent, and the interior joint tape permanently bonds the corner to the drywall with a small amount of joint compound. Its abuse-resistant surface paper also eliminates cracks, chips and peels, and abrasion, and accepts any traditional finish.
These corner beads are available as pre-cut sticks or flexible roll products which are ideal for off-angle applications, or short and long runs, such as long columns, and bulkheads. The wide flange covers large gaps, compensating for poor framing, while the built-in hinge fits any inside or outside corner angle to create crisp, straight lines.
The material costs associated with advanced corner bead products is higher, but it is a small figure compared to the overall budget. When the cost of installation, repair, and replacement is considered, the material cost becomes insignificant or turns into savings.
Automated equipment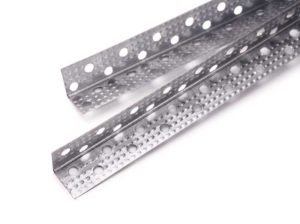 Metal corner beads are inexpensive and readily available; however, they offer the poorest performance, and a significant amount of compound is needed during the finishing process, among other challenges. Photo © Anton Starikov | Dreamstime.com
Installation options and tools have also evolved. Automated equipment is available which increases installation speed, quality, and efficiency. The gold standard of equipment for corners is an automated drywall corner system which will produce a ready-to-install corner, cut to any length or angle, with the correct amount of joint compound applied, resulting in less jobsite waste and faster installation. This automated system is readily available across Canada and the speed and quality of the installation can quickly outweigh any added costs that are incurred.
Application and finishing recommendations for gypsum panel products
Another area of ​​concern which can have a huge impact on the overall esthetic of the project is joint finishing. The Gypsum Association (GA), which is comprised of all active gypsum board manufacturers in North America, is the technical center for the application, finishing, and overall use of gypsum board products. The association keeps a library of technical publications which are developed and updated through collaboration with its member companies.
The GA-216, Application and Finishing of Gypsum Panel Product, provides the most up-to-date industry recommendations for the proper installation and finishing of drywall, including related accessories. Architects and specifiers consult and reference GA-216 to ensure proper handling and storage on the jobsite, proper installation of boards and control joints; and the proper application of finishing. It provides guidance for metal, plastic, or "other suitable type of corner protection," permitting standard products and innovative products and systems for corner applications.
Control the content you see on ConstructionCanada.net! LearnMore.