You don't need to be a professional to update kitchen cabinets without replacing them. New doors, a different finish, on-trend handles or some smart lighting can all help you achieve a new look.
You can paint kitchen cabinets to change their color or, if they're made from wood you might choose to refinish kitchen cabinets, or stain them. But you could go further. You can 'add new beading or edging to create a Shaker-style front or simply update the hardware,' says Looeeze Grossman, founder of The Used Kitchen Company (opens in new tab). 'It's amazing how much of a difference new handles can make to a kitchen, especially when you update the accessories to match. It can look like a totally different space.'
Here's our guide on how to update kitchen cabinets without replacing them.
How to update kitchen cabinets without replacing them
There are various ways to revamp your kitchen cabinet ideas, some more time-consuming and costly than others. We explore the options for updating your room without the need to install kitchen cabinets, starting with the most-budget friendly.
1. Repaint or stain them
(Image credit: Getty Images)
One of the most effective (and cost-effective, if you are thinking kitchen cabinet refinishing costs) ways to give them a fresh new look is to paint or stain kitchen cabinets. It's easy enough to do over a weekend and for best results, use chalk paint then wax or lacquer over it the next day.
'You can paint all kinds of kitchen cabinets including laminate,' advises color and paint expert Annie Sloan (opens in new tab). 'Just apply a diluted coat first to ensure the paint grips to the surface. Most important of all is to ensure the cabinets are clean and free from grease before you start painting. You don't want any oily stains coming through. Just use soapy water and a wire brush to give them a clean and ensure they are fully dry before you start painting.'
'Dynamic spaces such as kitchens lend themselves well to bold color choices,' adds Annie, who is well-known for her bold painted kitchen cabinet ideas. 'Rich spice colors will reflect flavorsome foods and get mouths salivating before the food prep even begins.'
You can also use specialist kitchen cabinet paint, as Emma Irving, product manager at Rust-Oleum (opens in new tab), explains, 'A budget-friendly alternative to a full kitchen makeover is giving your cabinet doors a fresh lick of paint. Rust-Oleum Kitchen Cupboard Paint (opens in new tab) can be painted directly onto wooden or melamine cupboards without the need for a primer or topcoat – even glossy cupboards can be painted after a light abrade. The finish is matte and hardwearing but washable too – perfect for those with children or pets.'
2. Change cabinet handles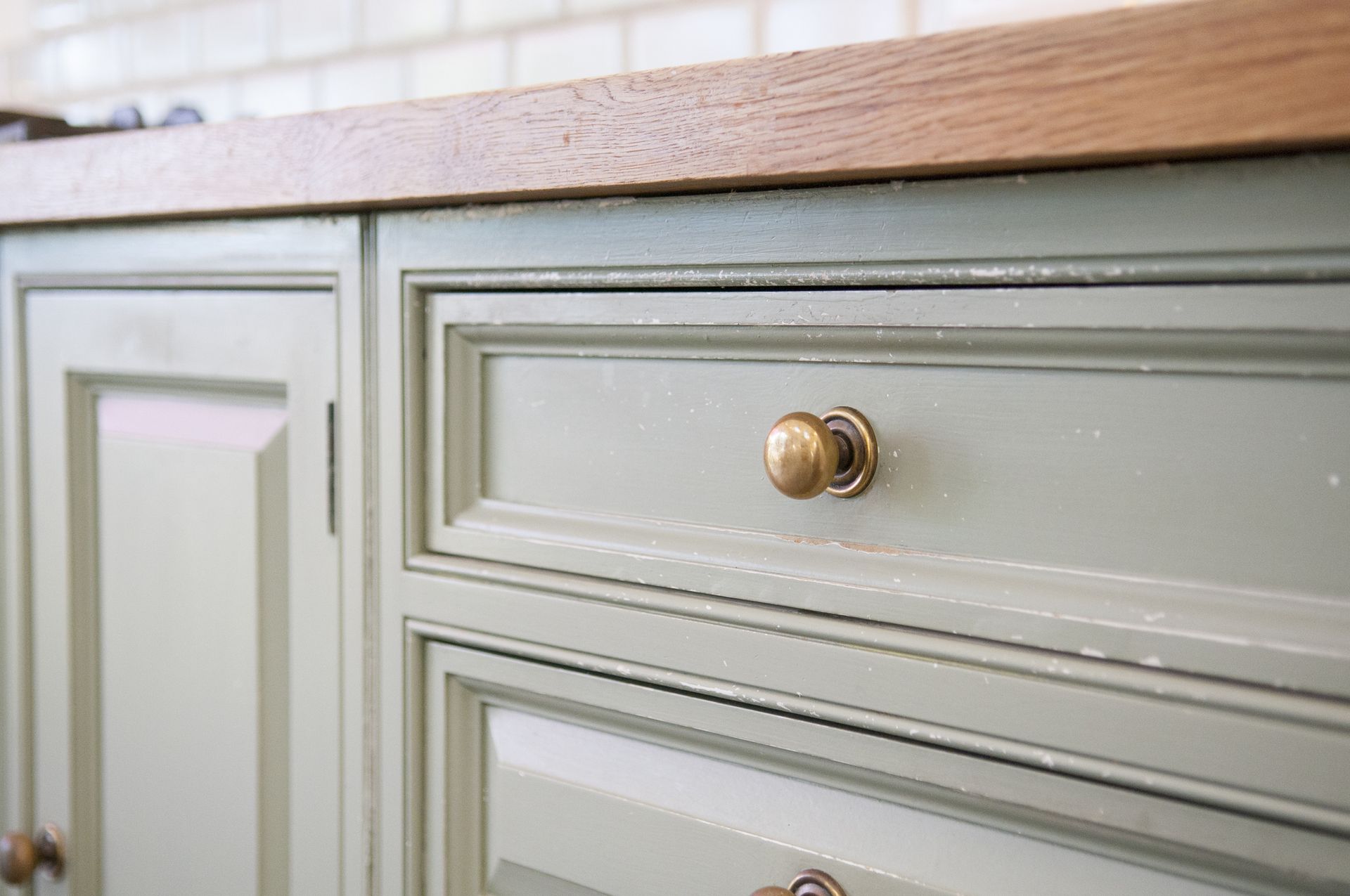 (Image credit: Getty Images)
Another effective way to update cabinets is to install kitchen cabinet handles that are new and on-trend. You can buy handles from hardware stores or online – just make sure you're swapping like for like in terms of holes needed if you don't want to be drilling new.
'From door knobs to cabinet pulls, refreshing your kitchen cabinets with new hardware is a great way to update the room without the need for a full-scale renovation,' confirms Narendra Karnani, managing director at Heritage Brass (opens in new tab).
'It's important to opt for quality when choosing frequently touched items, such as handles, as this will ensure longevity and elevate the look and feel of your kitchen, providing a sleek finish.'
Lucy Pascall, director at Pushka Home (opens in new tab), agrees, 'Finishing touches are important and hardware is no exception. We're seeing an increase in demand for knurled or patterned designs. These styles allow homeowners to inject a hint of playfulness into their homes, in a more subtle and understated way.'
3. Replace cabinet doors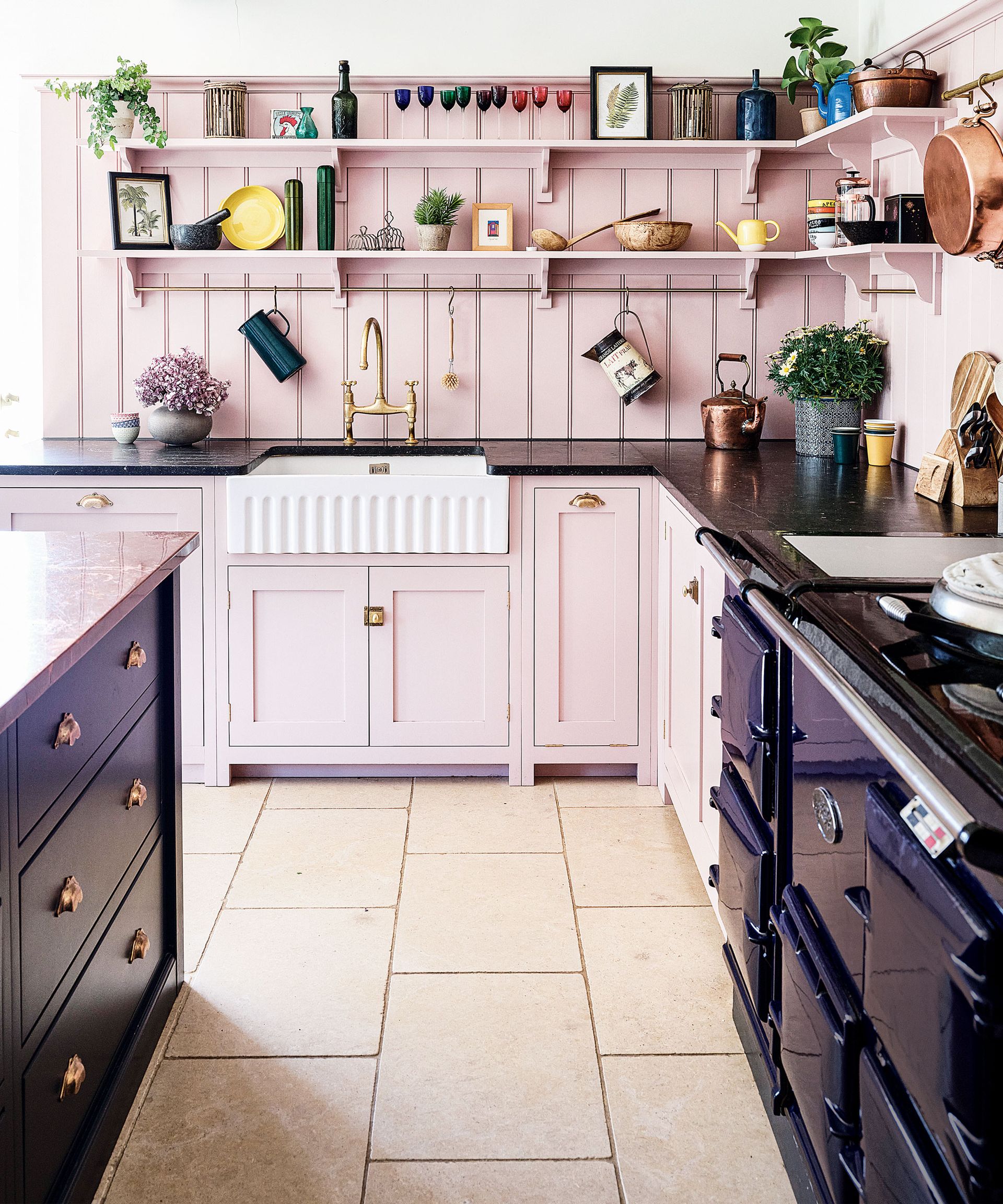 (Image credit: Dan Duchars)
Another option is to replace kitchen cabinet doors.
'A full kitchen renovation may not be within everyone's budget, so a cost-effective alternative and quick way to make an impact aesthetically is to replace the cabinet doors,' says Ben Burbidge, managing director at Burbidge (opens in new tab).
'It's relatively straightforward to measure up and find a new design. A simple shaker panel is a stylish way of creating a fresh look. Although the external fittings often take priority, don't forget to think about the practicalities. If your current storage doesn't work for you, think about your shelf configurations, drawer organizers and pull outs. It's worth considering how you can refurbish the internal fixtures as well as the look and feel.'
4. Add moldings to or reface flat-fronted cabinets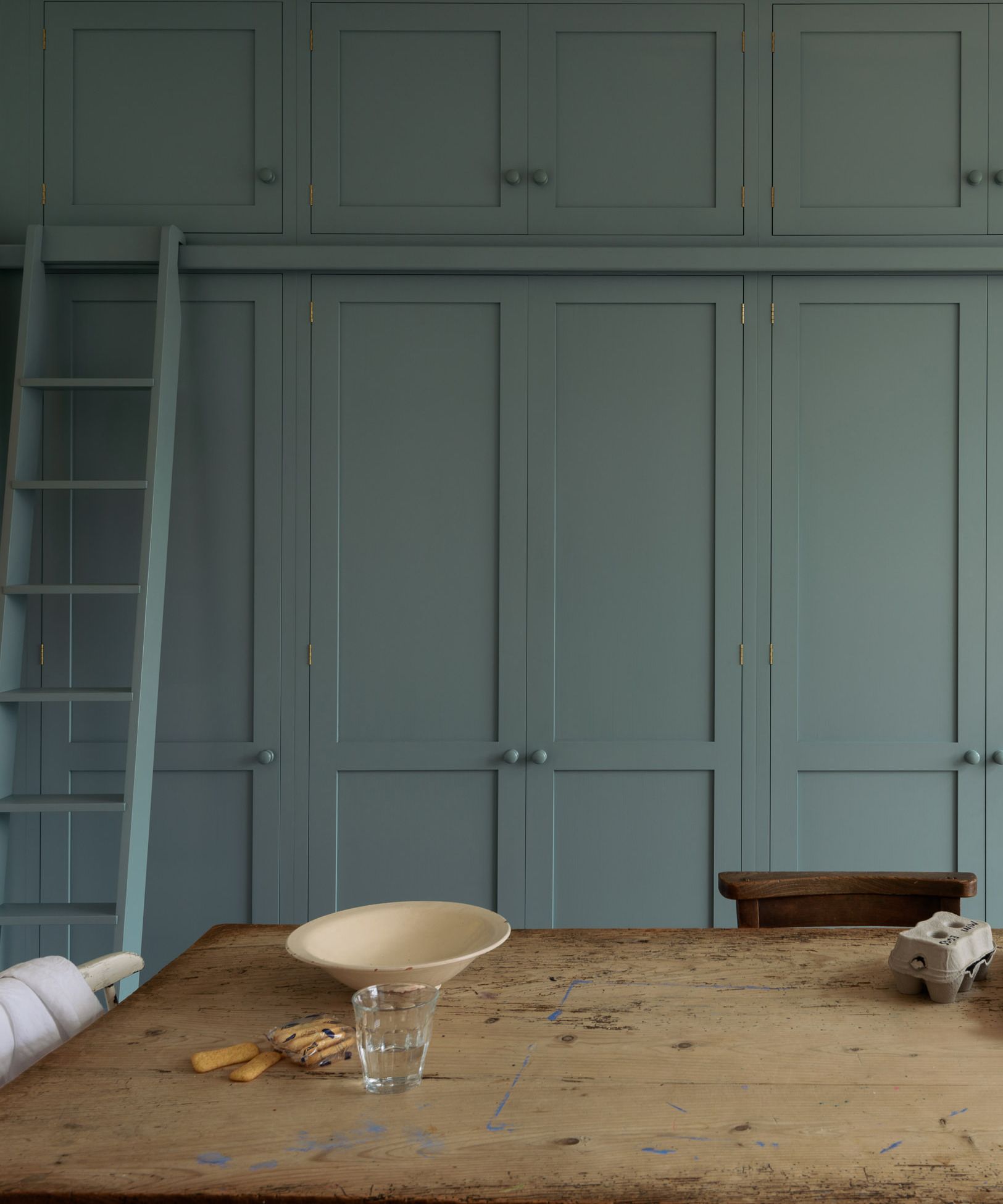 (Image credit: deVOL)
You can reface kitchen cabinets entirely using natural wood veneer or RTF (Rigid Thermofoil), which is a melamine-based product.
Adding moldings, trim or details to flat-fronted cabinets is possible, and can create an entirely new look for your kitchen. Whichever material you use for the strips, wood or MDF, ensure that they are cut neatly, applied consistently, and attached firmly with adhesive and pins.
You will need to prepare the surface of the existing cabinetry with a light sanding to create a key for both the adhesive and the new coat of paint and topcoat both the new trim and old cabinetry will need to make it look consistent.
5. Install under-cabinet lighting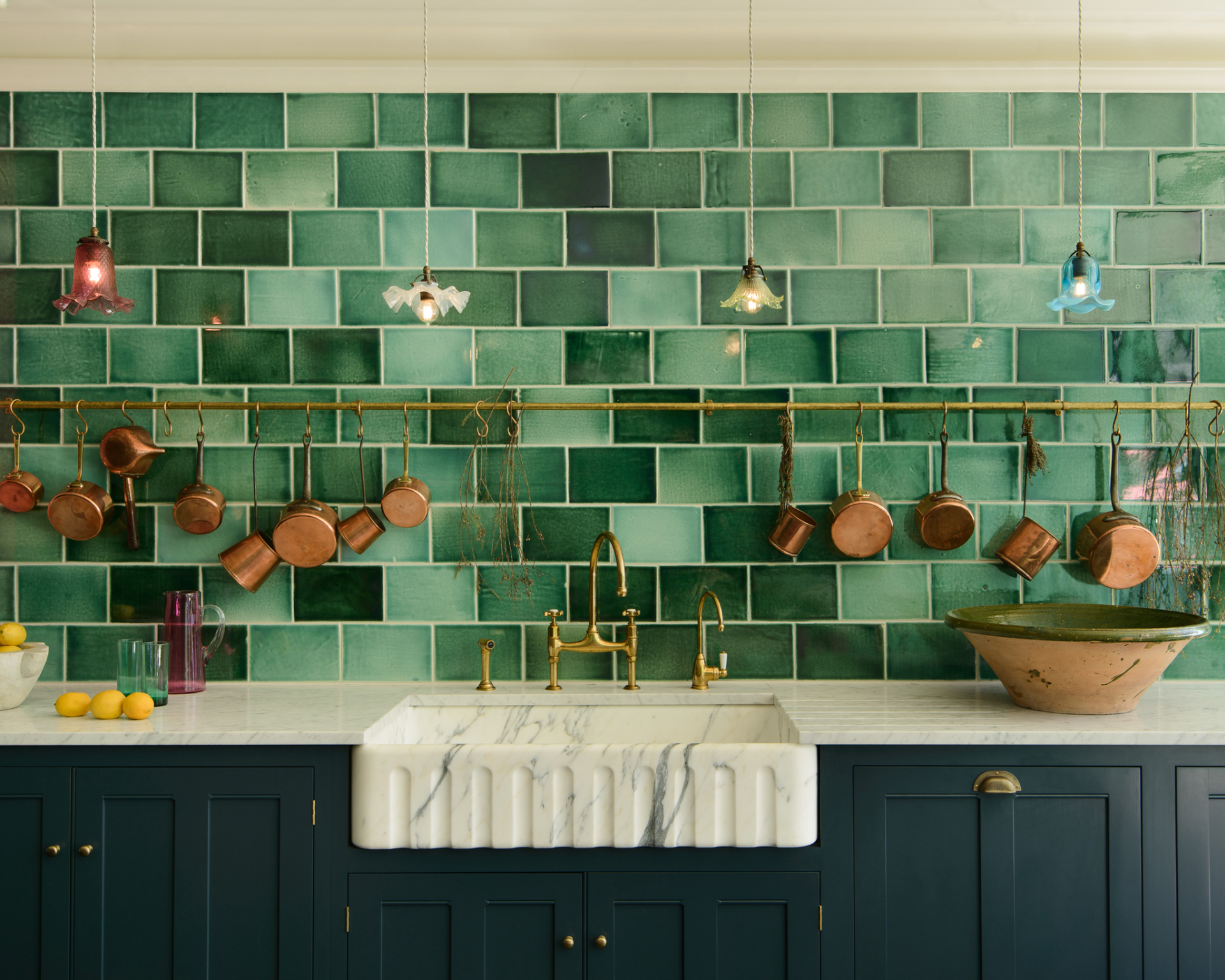 (Image credit: DeVOL)
If you want to update kitchen cabinets without actually touching them, you can instantly create task lighting for countertops below, as well as ambient illumination after dark, with under-cabinet lights as part of your kitchen lighting ideas.
'Under cabinet lighting is an effective way not only to subtly brighten up your kitchen and create focused light but it can also enhance the appearance of your kitchen too,' says Kate Baker, lighting advisor at smart lighting expert 4lite (opens in new tab).
'Using color-changing smart bulbs or smart LED strip lighting, you can set the brightness and color of the light depending on what you're doing. Whether you want cool blue hues to perfectly illuminate worktops while you're cooking or cozy warmer tones when you're sitting down to eat.
'Smart lighting also gives you a quick way to introduce color into neutral kitchens to create some beautiful looks, adding warmth and texture to even the most blank canvases,' adds Kate. 'With access to millions of different colors and shades of light that can be used to create "scenes", you can change the color of light in a room instantly. LED strip lighting is particularly effective within cabinets to really highlight glassware and kitchenware and the impact of color can be bold and dramatic, subtle or even playful depending on your mood.'
What is the best way to update kitchen cabinets without replacing them?
The best way to update kitchen cabinets without replacing them is by swapping out old door and drawer fronts for new ones, made to measure to fit your cabinetry precisely.
However, if your budget does not allow this, the next best step will be to take a look at expert tips on painting kitchen cabinets, if the fronts are sound and undamaged, or to reface them if they are.
Is it cheaper to update or replace kitchen cabinets?
It is undoubtedly cheaper to update kitchen cabinets than to replace them. However, you may want to question how good a job you can do of updating them versus replacing them, which will largely depend on the state of them now. If your kitchen is incredibly dated and you are considering selling your home at any point in the near future, you are likely to get quicker, better offers on your home if your kitchen, the most important room in a house for buyers, is in a good state.