With social commitments low and anxieties high, now would be the perfect time to check in to a luxury spa and enjoy some self-care – if only we could. However, harnessing creativity in crisis means it's more than possible to recreate an inspiring spa experience at home. Granted, it can never be the same without certain facilities and therapists on hand, but you can achieve something more sophisticated than simply reclining in the bath with cucumber slices over your eyes.
How? We asked authority Sara Young, the spa manager at The Spa at South Lodge and managing director of Aesthetics Collective, to share her insider advice. From setting the scene, to creating different spa 'zones' with the best professional-grade gadgets, here Young imparts her ultimate home spa suggestions:

Spa at home: the basics
"I think it's important to create your home spa in a place that is comfortable, relaxing and calm; this is very individual and for one person it could be their bedroom, for another it might be under a tree in the garden. Comfort and warmth are top priorities for true relaxation, so wherever your chosen space is make sure you have lots of comfy cushions and blankets available to build yourself a 'nest'.
"Scent is a key to spa environment – for a lot of us it can help trigger memories of relaxation. Perhaps you have a bottle of your favourite massage oil or a candle from your last spa visit. At the moment I'm in love with the Tranquility range from Comfort Zone; a few dabs of their perfume on my wrist pressure points instantly gets me into the spa mood by reminding me of my last treatment with them. If you want to bring the outdoors-in (especially if you can't relax outside, or don't have a garden), invest in the Aromatherapy Associates Forest Therapy collection, which is inspired by the Japanese art of 'forest bathing'.
Forest Therapy Bath & Shower Oil by Aromatherapy Associates
Aromatherapy Associates
spacenk.com.uk
£49.00
While many essential-oil blends can feel too heady for humid climes, this bracing pine and cypress scent is perfect all year round.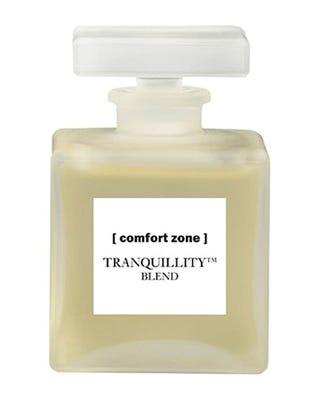 Tranquillity Blend
Comfort Zone
feelunique.com
£47.90
Applied to pulse points, this rosewood and orange essential-oil blend will instantly instil feelings of calm.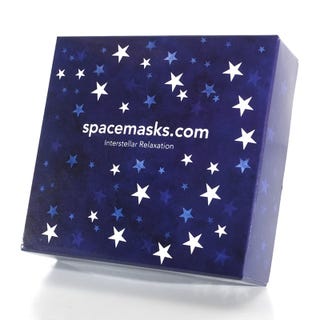 Self-Heating Eye Mask
Spacemasks
feelunique.com
£15.00
These gently warming face masks completely block light while soothing tensions.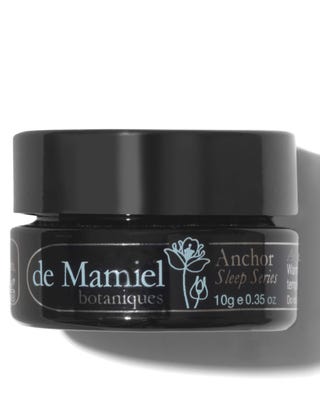 Anchor Balm by De Mamiel
De Mamiel
spacenk.com.uk
£42.00
From De Mamiel's Sleep Series, this calming scented balm will ease stress and anxiety, helping you slip into a calmer frame of mind.  
"Lighting is also important, and again individual. For me there is nothing more relaxing and rejuvenating than sunshine on my skin, but for others total darkness aids a sense of calm. My favourite eye masks for blocking the outside world are Spacemasks. They self-heat which feels fabulous, plus the jasmine scent really helps you relax.
"Music, too, is important. All the therapists I work with use Spotify to access themed music such as 'music to massage' or 'music for meditation', but you might want to look for nature melodies, too. Try apps such as Nature Sound and Calm to create your own 'soundscape', be it a forest ambience, peaceful stream or evening crickets.
"For switching off in general, there are lots of great apps out there. If you're looking to incorporate a doze then Pzizz has a nap feature where you can set different lengths without relying on alarms. For meditation and calm then I'm all for Headspace, and for something more spiritual then I highly recommend listening to Deepka Chopra's fantastic live meditations."
This content is imported from Instagram. You may be able to find the same content in another format, or you may be able to find more information, at their web site.
Consider creating different spa 'zones'
"While you may not have a pool, you can still have different spa 'zones' within our house (and garden)."
"A fun way to start is with a mud room experience in the bathroom. For this type of experience at The Spa at South Lodge we use the Gold Sugar Scrub, Ultramoor Mud Mask and Body Cream from the Hungarian range Omorovicza. To begin, if you've got a steam function on your shower then turn this on (or alternatively pop your shower on a high heat to fill your bathroom to make a mini steam room), then scrub your body to remove all the dead skin cells (which is perfect for pre-summer tan prep) and then let the steam open your pores ready for the mud, before showering the scrub off. Apply the mud and let it work to detox the skin, taking time for the mud to start drying as this is when it will draw out impurities. Finally, wash the mud off before applying the body cream for super-hydrated and soft skin. Of course, this can be done alone or with your partner."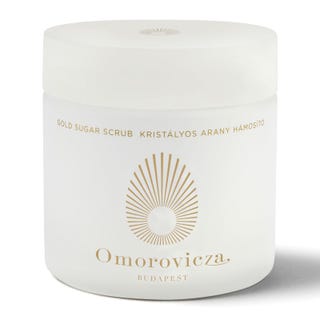 Gold Sugar Scrub
Omorovicza
feelunique.com
£62.00
A seriously luxe option, this rich body scrub contains anti-inflammatory gold alongside fragrant floral oils and antioxidant-rich extracts.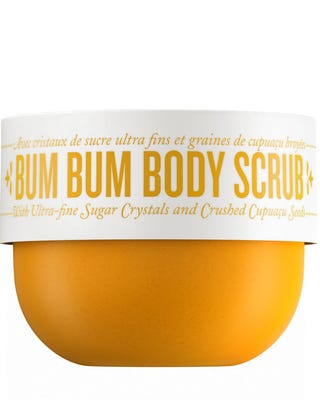 Bum Bum Body Scrub
Inspired by the body-positive culture of Brazil, this conditioning scrub balanced exfoliation with hydration (and smells delicious, too).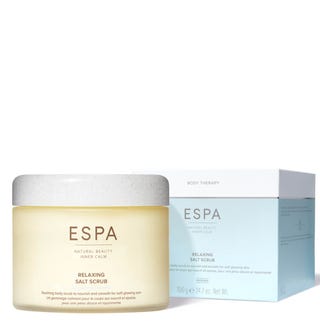 Relaxing Salt Scrub
ESPA
lookfantastic.com
£40.00
This spa favourite uses salt to slough away rough skin and sweet almond oil to impart deep moisture.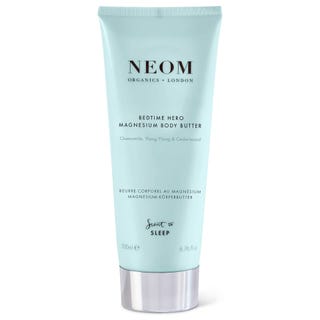 Bedtime Hero Magnesium Body Butter
NEOM
lookfantastic.com
£36.00
Infused with a chamomile-rich scent as well as sleep-regulating magnesium, this thick-as-butter body cream is perfect for a pre-bed pamper. 
"Make the bedroom your treatment room for pampering like massages and facials. Light some candles – Neom have some great ones, I'm currently enjoying Scent to Make You Happy – which can enhance the ambience alongside your preferred music and lighting. For massage oils look to ESPA, a classic British brand with a fantastic range of massage and bath oils so that you can theme your spa day. Personally, I enjoy doing all this with my other half as we can apply each other's products. Plus, people report that partners are more likely to want to come along on a 'real' spa day after they've enjoyed a home spa together."
"Finally, for a relaxation zone I like to cocoon myself away in the lounge, or a warm spot in the garden. This is when I use a home foot spa, put on some guided meditation and finish in relaxation. A glass of something or two can go down a treat then, too."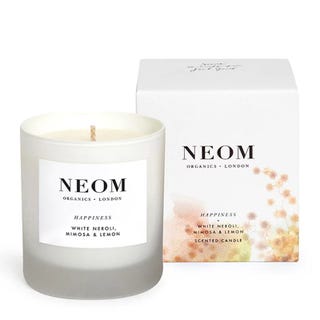 Happiness™ Scented Candle
NEOM Organics London
feelunique.com
£31.90
Neroli and light citrus notes combine in this serene, calming candle.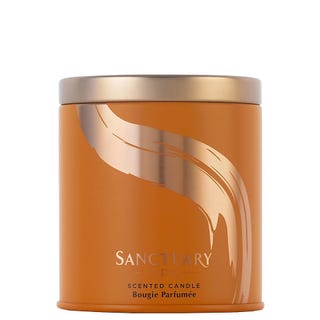 Signature Scented Candle
Sanctuary Spa
lookfantastic.com
£10.00
This well-priced candle burns with the signature Sanctuary Spa oriental-floral scent.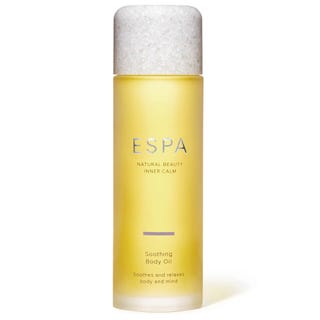 Soothing Body Oil
ESPA
lookfantastic.com
£34.00
With a relaxing lavender-based scent, it's easy to see why this body oil is a staple in so many spas.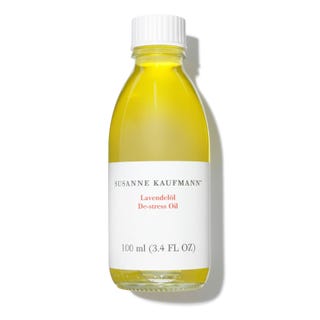 Lavendelöl De-Stress Oil
Susanne Kaufmann
spacenk.com.uk
£28.00
Susanne Kaufmann is a true authority on natural spa products, and this lavender-steeped body oil is one of her most-loved formulas. 
The best at-home spa treatments and therapies
"At the easiest end of the scale, if you have a bath and are looking for something different to bubbles or epsom salts, then I can highly recommend trying out a seaweed bath using Irish brand Voya's Lazy Days seaweed bag. Seaweed is known to have many benefits including detoxifying and re-mineralising the body, soothing aches and pains, improving circulation, and healing skin conditions such as eczema and psoriasis – and the great thing is that you can compost the seaweed afterwards.
"A lot of spas have recently opened up hair salons, as we often forget that our hair needs some TLC as much as our skin, so a regular hair treatment session can be really helpful. I start with the SOLU from Davines which is a salt scrub cleanser designed to clear congested hair follicles, helping to encourage new hair growth. (I'm also very big on sustainability when selecting products and Davines is a leading hair care brand for sustainability based in Parma, Italy.) I then follow with a scalp mask from the brand's The Circle Chronicles, and depending on my hair's current needs I might select a different mask each time. This is the time to give yourself a good scalp massage (or ask someone else to if they're close to hand); there is nothing more relaxing or centring to me than a scalp massage including some facial pressure points, and it also helps to stimulate hair growth. Finally I wrap my hair up in a towel so it's warm while the mask works its magic."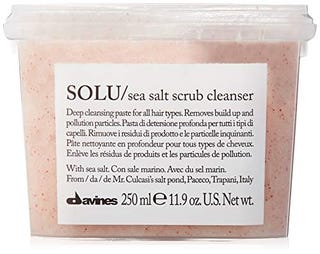 Solu Sea Salt Scrub Cleanser
Davines
amazon.co.uk
£23.69
This salt-based exfoliating paste is the perfect start to a serious hair overhaul, delivering a satisfying amount of grit without feeling scratchy.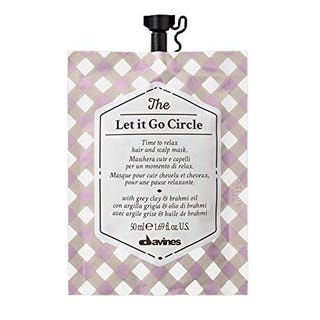 Davines The Let It Go Hair Mask
Davines
amazon.co.uk
£9.00
Infused with Ayurvedic brahmi oil and oil-absorbing clay, this dense and creamy mask works well on both the scalp and hair. With several uses per sachet, it's excellent value, too.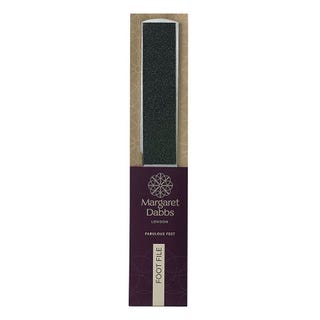 Professional Foot File
Margaret Dabbs London
cultbeauty.co.uk
£24.00
Spa-standard foot files can be hard to find, but Margaret Dabbs always delivers.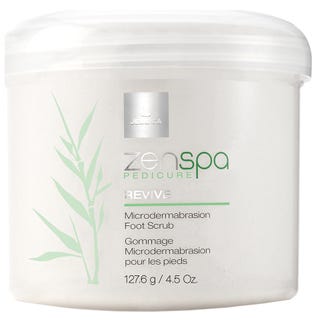 ZenSpa Revive Microdermabrasion Foot Scrub
Jessica Nails
lookfantastic.com
£16.95
An expert pick, this pumice-based foot scrub will set to work on the most neglected of heels.
"At-home pedicures are also fun and surprisingly relaxing, and now is the perfect time with sandal season approaching. Start by removing old polish, then trimming and filing the nails, taking care to clean under the nails. My top tip is to then start the pedicure experience by filing the feet whilst dry (not wet) and invest in a good quality foot file, such as the Margaret Dabbs Professional Foot File; filing is not only great for your feet but is also a great workout for your arms. Follow this with a good warm water foot soak of the feet with a luxury scrub such as Zenspa Microdermabrasion Foot Scrub to help exfoliate your feet further for a silky soft finish. If you've got a home foot spa then now's the time to sit back and relax. Once your feet have soaked it's time to push back the cuticles and use nippers where appropriate – always taking care to 'nip' rather than 'tug' at your cuticles. Investing time in cuticle care (whether it's your fingers or toes) is important, and always gives you a better starting point for the application of the polish – the final step. My go-to brand for colours is Jessica Nails, with the Phenom range an excellent option for those like me that normally like to have gel nails and need a polish that is long-lasting.
"When it comes to facials, I like to stick to using one brand of products, that are designed to work synergistically in sequence. Omorovicza has a great 'wellness collection' that has everything you need for an at-home facial. Or use the opportunity to follow a tutorial from a professional who can guide you step-by-step to ensure therapeutic results at home." Watch skincare expert Sarah Chapman talk you through her at-home facial below:
The home spa gadgets worth investing in
"A lot of professional facials use lifting and toning techniques to help with anti-ageing, and a good investment for home use is the NuFace Trinity. It's FDA-approved and with scientific results to back up claims that it lifts, tones and smooths the skin. Plus, you can really feel it working."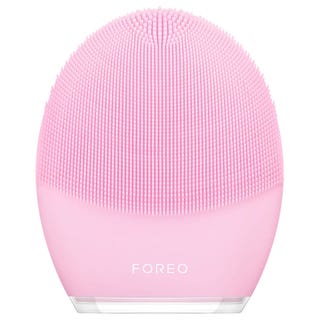 Luna 3 Facial Cleansing Brush
Foreo
lookfantastic.com
£169.00
The soft silicone bristles on this cult cleansing brush will leave your complexion thoroughly cleansed without stripping.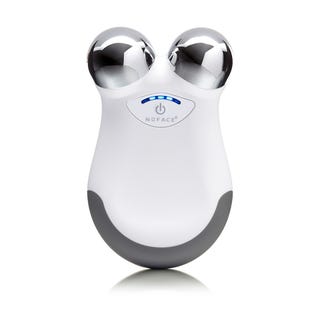 Mini Facial Toning Device
NuFACE
lookfantastic.com
£125.00
Working to lift and tone the skin, a microcurrent device is the ultimate spa-night investment. Use this one regularly for firming results that rival a course of professional facials.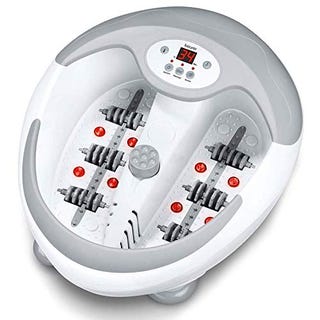 Foot Spa with Heater
The ultimate indulgence for overworked feet, this foot spa contains massage and bubble settings, as well as magnetic and infrared therapies for boosting circulation.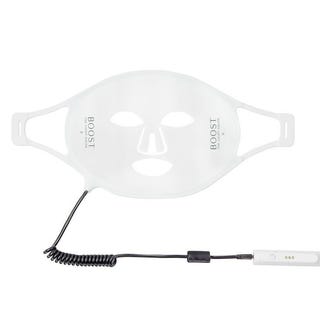 Boost Advanced LED Light Therapy Face Mask
The Light Salon
net-a-porter.com.uk
£395.00
The A-list's favourite facial gadget, this LED face mask contains red and near-infrared light diodes to boost collagen production and unify skin tone. 
"I'm also a fan of combining treatments to be 'spa-efficient', and I quite often listen to some meditation while wearing an LED mask – my go-to being the Deessee Pro. I find that the blue light therapy has really helped to clear up my skin thanks to its antibacterial qualities, while the red light boosts collagen production. A lot of spas have added LED therapy to their treatment lists, as we can all see such great benefit from these treatments.
"Another way to do this is by using the Neom Wellbeing Pod while pampering. The essential oil diffuser works electronically to scent your room and humidify the air, using 100 per cent natural oils in the brand's signature scents."
This content is imported from Instagram. You may be able to find the same content in another format, or you may be able to find more information, at their web site.
"When it comes to pedicures, the best way to make yours spa-worthy, as opposed to a standard file-and-paint, is to invest in a foot spa that incorporates massage. The Beurer FB50 is the ultimate in foot massager. Combine this with high-end pedicure products such as the Fabulous Feet Discovery Kit and Professional Foot File from the foot queen herself, Margaret Dabbs, and you will elevate the experience – and the results – no end."
In need of some at-home inspiration? Sign up to our free weekly newsletter for skincare and self-care, the latest cultural hits to read and download, and the little luxuries that make staying in so much more satisfying.
SIGN UP
Plus, sign up here to get Harper's Bazaar magazine delivered straight to your door.
SIGN UP
This content is created and maintained by a third party, and imported onto this page to help users provide their email addresses. You may be able to find more information about this and similar content at piano.io