One study showed that we spend about a third of our lives in our bedrooms. Your bedroom is your haven, it's a place of comfort. The style, decoration, and most importantly, the floor in your bedroom should be attractive and intriguing. There are a few factors that need to be considered before choosing a flooring option for your bedroom. Below are highlighted a number of flooring options and factors to consider when choosing the flooring that will suit your tastes and preferences.
The options available for bedroom floors
Carpeting
In terms of comfort, carpet is unrivaled and one of the most popular flooring options. It's warm, soft, and soothing for your feet. Carpet takes precedence over other floor coverings as it retains heat and thus ensures that your feet do not get cold. In addition, it gives the bedroom a luxurious and attractive look. Carpet has a variety of options for design, patterns, and colors. They come in different types and materials, for example Textured, Saxony, Berber, Level Loop and Frieze.
Laminates
Laminate floors give your bedroom a desirable, contemporary look. It's affordable yet versatile. You can choose from a variety of available surfaces and easily adapt them to your interior design. This floor consists of three main layers, the lower layer is a dense fiberboard and is responsible for the flexibility and strength of the floor. The second layer is made of a plastic laminate with wood grain effects that resembles a real hardwood floor. After all, the top and outermost layers have a clear veneer that protects the laminate floor from scratches and wear. Laminate floors are easy to adapt to your needs and requirements.
Bamboo floor
Bamboo floors are cheaper and environmentally friendly compared to other floor coverings. The regeneration process is quick and easy to harvest. Bamboo floors offer numerous options for color and grain. This floor contains strips and planks that fit tightly together.
Wooden floor
Wooden floors are easy to clean and maintain. It looks attractive and gives your bedroom a natural feel. The durability of wooden floors is beyond question as they can last for years and possibly decades without replacement. You can disinfect this type of flooring with ease. All you have to do is wipe or steam the wood and in no time your room will be free of all bacteria imaginable. One disadvantage, however, is that, unlike carpets, wooden floors do not hold any heat. You can overcome this challenge by combining the wooden floor with a carpet or by buying a floor with underfloor heating.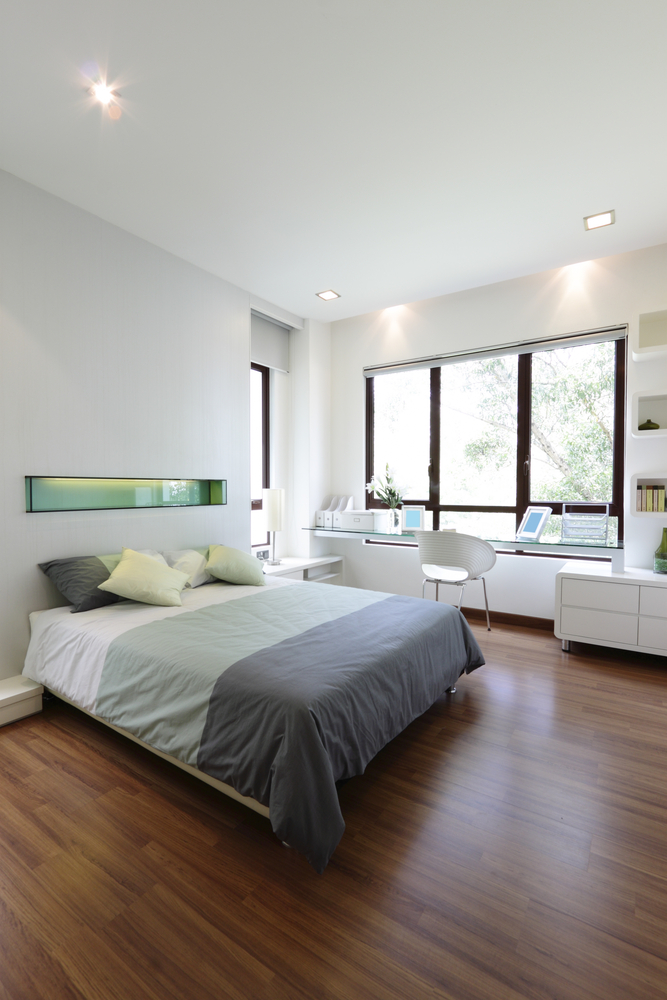 Vinyl floors
Although vinyl floors are not very popular these days, given their features and properties, they are still a great option for your bedroom. Similar to laminate floors, vinyl floors are versatile and come in a range of designs and colors that you can combine with your furniture and interior design. Vinyl floors are also easy to clean and maintain. Installation is simple, quick and does not require any technical expertise. You can do it yourself once you know how to do it. After all, vinyl flooring is waterproof, so you shouldn't be concerned about the spillage of water or coffee on this floor.
Factors To Consider Before Choosing An Option
budget
Your budget should be the first thing to consider before choosing your flooring, as different flooring options have different prices. Wood floors are the most expensive and vinyl and laminate floors are the cheapest. When assessing your budget, consider installation costs. Installing wooden floors can be expensive and time-consuming. There are no installation costs on carpet, vinyl and laminate floors. These three are easy to install and require little to no expertise.
Bedroom residents
The master bedroom and the children's room should have different floor coverings. The floor of the children's room must be colorful and heat-resistant. Carpet would be the most suitable option for a child's room. The master bedroom, on the other hand, should have a luxurious design. It should be attractive, but not too colorful. Laminate is suitable for a master bedroom. Your choices, however, boil down to your tastes and preferences.
Shirley Mist has been involved in fashion and design for many years. She has also written extensively for many online publications. She currently writes for The Tribune World and is a valued member of our team.