From left, Waterloo firefighters Josh Meyer, Jon Eastman and Marc Mahood are placing a piece of drywall for the ceiling in a Habitat for Humanity house.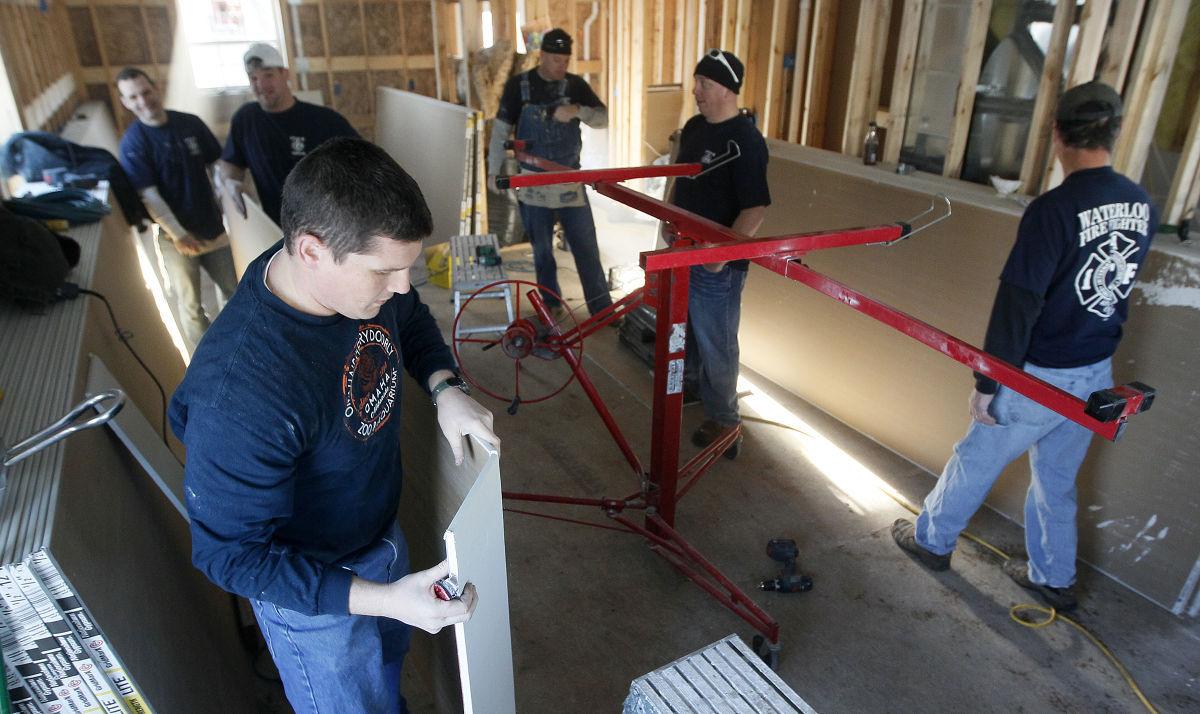 Waterloo firefighter Randy Hansen cut a piece of drywall for the ceiling at a Habitat for Humanity home in Waterloo on Thursday.
JEFF REINITZ

WATERLOO – Waterloo firefighters responded to a call for help at a house on West Third Street Thursday.
But the call was not to put out flames.
Instead, about a dozen firefighters got involved to build a house for a Burmese family.
The home is located at 839 W. Third St. and is being built by the nonprofit Habitat for Humanity. During the winter months, finding enough volunteers to use hammers and cordless drills can be difficult, said Waterloo Fire Rescue battalion chief Mike Moore.
"We were contacted and asked if we were interested. I emailed the entire department and got a really good response. When the unionists found out, they were on board," said Moore.
The house on West Third Street has special meaning as it will go to a refugee family from Myanmar, also known as Burma, who suffered a tragedy last year. One of the children, 18-year-old Moe Sed, disappeared in October and was found dead in the Cedar River in December.
"It's something special," said Duane Rosonke, Habitat site manager.
The family of seven is currently renting a space a few blocks away and was involved in the Habitat project before they disappeared. You are expected to move in at the end of February, said Rosonke.