Curbio raises $ 25 million to support the continued growth of the "Fix First, Pay at Closing" home improvement solution for real estate agents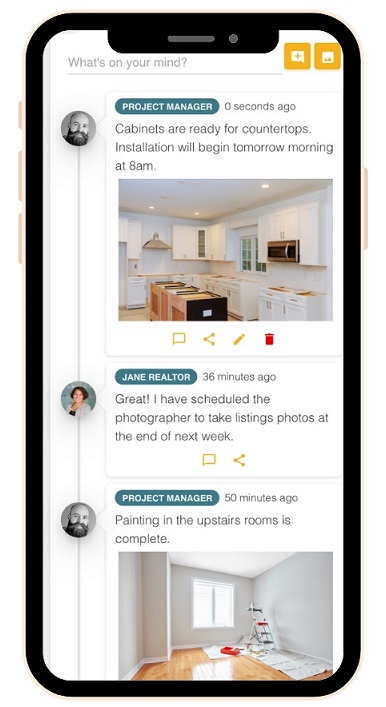 The results are groundbreaking: Curbio projects achieve on average a 25% increase in sales prices, a 60% reduction in project time and a 50% reduction in market days. There is no payment due until the home is sold, and there is no time limit, interest, or hidden fees.
POTOMAC, Md. (PRWEB)
November 13, 2020
Curbio, the leading home improvement real estate agent, announced today a $ 25 million financing to support rapidly growing demand for their services across the country. Curbio is the first to offer home improvement services specifically designed to help real estate agents fix client homes before they hit the market. So they sell quickly and at the best price without paying until the house is sold. Curbio will use the funds for market expansion, technological development and growth of its job platform on invitation only for the best contractors in the country.
Investors include proven market leaders in the rapidly growing real estate technology area known as PropTech. The round was led by the new investor Comcast Ventures with the participation of the existing investors Camber Creek, Brick & Mortar Ventures, Second Century Ventures (the strategic investment arm of the National Association of Realtors®), the board member of Curbio and the former CEO of ADT. Tim Whall and Rick Rudman, CEO of Curbio. In this financing round, SCV is providing venture capital as well as equity participation. Curbio is a graduate of the NAR REACH growth program, which uses the association's more than 1.4 million members to refine and scale promising solutions for REALTORS®.
"I feel very fortunate to have the support of such a talented group of visionaries in the fast-growing PropTech space," said Rick Rudman, CEO of Curbio. "Your collective experience will be invaluable to Curbio as we transform a $ 100 billion industry that hasn't seen much innovation in the past few decades."
Curbio disrupts the home sales industry as the first sole proprietorship solution for home renovation. Unlike other options that match clients with third-party vendors, Curbio is the licensed general contractor for every project and takes care of everything including the initial proposal, project administration and on-site project management. From simple repairs to luxurious home renovations, Curbio takes care of everything so agents and their clients can focus on other priorities.
Curbio uses proprietary technology to dramatically improve the home improvement customer experience – an industry that hasn't changed in decades and is known for missed deadlines, cost overruns, and a general lack of customer communication. Curbio's platform and app make it easy to monitor project plans, visual updates, and all project communication from anywhere. This keeps the project running smoothly and removes the frustration of visiting project websites, tracking down updates, and playing phone tags with contractors.
The results are groundbreaking: Curbio projects achieve on average a 25% increase in sales prices, a 60% reduction in project time and a 50% reduction in market days. There is no payment due until the house is sold, and there is no time limit, interest, or hidden fees. Curbio removes all barriers to pre-listing improvement to ensure the success of any home sale. Curbio even offers a lossless guarantee that reassures risk averse home sellers that they will not lose money pre-listing project work.
"Curbio is a classic example of what we're looking for in investing – an experienced leadership team, innovative technology and a large market ripe for disruption," said Sheena Jindal, Principal at Comcast Ventures. "Curbio is addressing the disparity in the US housing market – 85% of homes are over 15 years old and more than half of new buyers are millennials who don't want outdated homes. Ensuring sellers get the most out of their home quickly and reliably, Curbio offers buyers a ready-to-move home with a renovation included in the price of the mortgage. We look forward to helping Curbio become a household name in PropTech. "
About Curbio

Curbio is the leading home improvement company for pre-listing real estate agents and their projects, making homes available in the market with no payment until the home is sold. With former Realtors®, designers and project managers, we are experts in the pre-selection of do-it-yourself work with an emphasis on quality, speed to market and customer success. From simple repairs to home renovations, Curbio takes care of everything so Realtors® can do it all.
About Comcast Ventures

Comcast Ventures is the venture capital subsidiary of Comcast Corporation. It is a high return venture capital firm with a 20 year history that invests in consumer, enterprise and frontier technology companies. The portfolio has grown to include more than 130 companies. Comcast Ventures is consistently on the list of the 10 Most Active CVCs. The team consists of seasoned investors, entrepreneurs and startup operators with offices in San Francisco, New York, Philadelphia and Los Angeles.
About Brick & Mortar Ventures

Brick & Mortar Ventures is an early stage venture fund focused on the built world. Founded by Darren Bechtel, the company invests in emerging companies that develop innovative software and hardware solutions for the architecture, engineering, construction and facility management industries. Notable previous investments by the company and its general partner include participation in the starter round in PlanGrid, BuildingConnected, BuildZoom and Rhumbix, as well as early-stage investments in FieldWire and Levelset (formerly Zlien). Brick & Mortar Ventures is based in San Francisco, CA.
About Camber Creek Ventures

Founded in 2011, Camber Creek is an institutional venture capital firm that invests and scales in early-stage and growth-stage companies that are transforming the real estate industry. Over the past nine years, the company has established itself as a leader in real estate technology by consistently delivering industry-leading returns to investors, adding value to its start-up portfolio and generating successful company exits. Today Camber Creek manages more than $ 250 million in assets with offices in New York, San Francisco and Washington, DC
About enterprises of the second century

Second Century Ventures is a strategic technology fund, supported by the National Association of Realtors®, that leverages more than 1.4 million members of the association and an unparalleled network of executives in real estate and related industries such as financial services, banking, household services and insurance. Second Century Ventures operates the award-winning REACH growth program and is the most active global real estate technology fund. For more information on SCV, see scv.vc.
About CEO Rick Rudman

Rick Rudman is the CEO of Curbio and a proven technology CEO for startups and public companies. Prior to founding Curbio, Rick was the co-founder and CEO of Vocus, a SaaS PR and marketing solution that Rick took from a start-up to over 1,500 employees, an IPO on the Nasdaq, 32 quarters as a public company, and an acquisition for almost in 2014 half a billion dollars. Before Vocus, Rick worked as a software developer and later as a CPA. Rick began his career with the United States Air Force, attended USAF electronics school, and served in a forward air combat unit supported by NATO. Over the years, Rick has received awards for his success including Ernst and Young's Entrepreneur of the Year for DC, Maryland's HTC Entrepreneur of the Year, and MD Governors Citation.