Image by Engin Akyurt – Pexel

Summertime is the perfect time to take a dip in your pool, relax on your deck, and enjoy the sunshine. If you're looking for some creative ideas for your pool deck, you've come to the right place! This blog post will share some of our favorite designs that will help you create a space that is both functional and stylish. So whether you're looking to renovate your current deck or build one from scratch, be sure to check out these amazing ideas!
1. Above-ground pools with a deck
Above-ground pools with a deck are an increasingly popular choice for homeowners as they provide the same functionality as an in-ground pool but without all of the time and expense that comes with installation. Above-ground pools come in a variety of shapes and sizes, so you can find one to fit your backyard perfectly! And when it comes to decks, there are plenty of possibilities. From multilevel designs with built-in seating areas to raised platforms surrounded by lush foliage, above-ground pools with a deck can be customized to suit any aesthetic. The above-ground pool with deck design options are endless, so be sure to explore all of your options before making a final decision. The result will be a stunning and inviting space that can be enjoyed for years to come!
2. Multi level decks
If you're looking for something more unique than a standard flat deck, consider building a multi-level design. This type of structure is perfect if you want to create separate areas for different activities. For example, you could install a hot tub on one level while the pool is situated below and the seating area is located on another. This allows you to customize each area according to your preferences and needs. Multi-level decks also add more visual interest to your space as they feature an interesting array of shapes and patterns within their design.
3. Built-in seating
No pool deck is complete without some comfortable seating for relaxing in the sun or hosting guests! Built-in benches and lounges are popular choices for poolside seating as they provide ample space for everyone to gather around together. You can choose from a variety of materials such as wood, stone, or tile depending on your budget and style. For an extra luxurious touch, you may even want to add a few chaise lounges or outdoor daybeds. Regardless of what type of seating you choose, it's sure to be the perfect spot for entertaining this summer!
4. Pergolas and gazebos
Adding a pergola or gazebo to your pool deck is another great way to create a comfortable and inviting atmosphere. These structures provide much-needed shade on hot summer days while still allowing plenty of sunlight through their open frames. You can customize them with curtains, string lights, furniture, or any other decorative accents that fit your style. Pergolas and gazebos are also great additions if you're looking for a place to host outdoor parties or dinner and drinks for friends. There's no limit to the possibilities!
5. Fire pits
Fire pits are a great way to add warmth and ambiance to your pool deck. Whether you prefer gas, wood-burning, or portable models, there's sure to be an option that fits within your budget. Fire pits can also double as tables for entertaining guests in the evening or simply provide a cozy spot for stargazing on summer nights. Whatever your preference may be, it's sure to be the perfect addition to any pool deck design! If you're looking for even more ways to enhance your outdoor living space, consider adding pool deck lighting or installing a fireplace.
6. Concrete pavers
Concrete pavers are a great way to create an inviting and durable pool deck. Not only do they look fabulous, but their strength and durability can withstand any outdoor conditions. You can find concrete pavers in various sizes, shapes, colors, and textures so you're sure to find one that suits your style perfectly. Pavers also require very little maintenance which is perfect if you don't have much time to spare. Also, you can easily customize the look of your pool deck by adding edging or borders. It's the perfect way to make a statement and set your outdoor space apart from the rest!
7. Lush foliage
If you want your pool deck to have a truly inviting feel, consider surrounding it with lush vegetation. This not only adds privacy but can also provide shade on hot summer days. You can find plants that are suited for both sunny and shady areas, so you can create a perfect oasis no matter where your pool deck is located. Plus, the addition of flowers or foliage will also make it look beautiful all year round. Adding some plants to your pool deck is sure to be the finishing touch you need for an amazing outdoor space!
8. Stone walkways
Stone walkways are a great way to add some sophistication and style to your pool deck. Whether you go for flagstone, cobblestone, or another type of stone, it can instantly upgrade the look and feel of your outdoor space. You can also customize the size and shape of your walkway to create something unique that fits with the overall aesthetic of your property. Stone walkways are also incredibly durable and require very little maintenance which makes them an ideal choice for busy homeowners!
Why is it important to have creative pool deck ideas?
Creative pool deck ideas are essential for creating an inviting and comfortable outdoor space. They allow you to customize your area with unique style, texture, and color to make it stand out from the rest. Additionally, creative pool deck ideas give you a great opportunity to personalize your outdoor living space according to your tastes and desires. With so many different options available, there's sure to be something that suits everyone's needs! Having creative pool deck ideas is the perfect way to make your outdoor space truly special.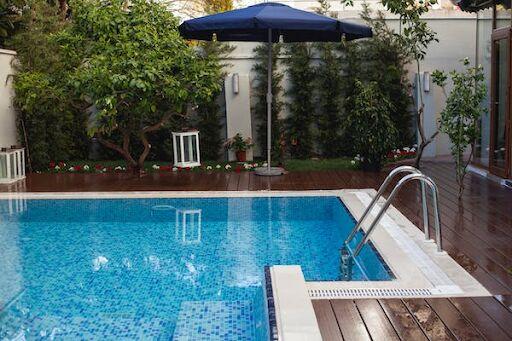 Image by Engin Akyurt – Pexel

These are just a few of the creative pool deck ideas you can take inspiration from when designing your perfect backyard oasis. With the right design, materials, and accessories, you can create an area that is both beautiful and functional. Don't forget to consider safety features such as secure handrails and non-slip surfaces for added protection against accidental slips. And lastly, don't forget to enjoy all the fun summer activities that come with having your private paradise! Good luck!
Other Articles Related to Your Search
Qualities You Need to Look For in a Composite Deck
7 tips in choosing a professional pool service