For contractors who want to monitor asphalt temperatures in real time, Caterpillar has a new thermal imaging system.
The system, which includes an infrared camera and global navigation satellite system, can be retrofitted to Cat pavers for optimal paving quality. Cat introduces the new thermal mapping on its AP1055F rubberized paver, which is designed for runways, freeways, freeways and other large airport construction sites.
The thermal imager can detect temperature fluctuations and allow contractors to manage the material delivery process and make adjustments to maintain uniform temperatures.
According to Cat, thermal mapping conforms to AASHTO specifications. The camera is mounted on a fixed mast and has no moving parts.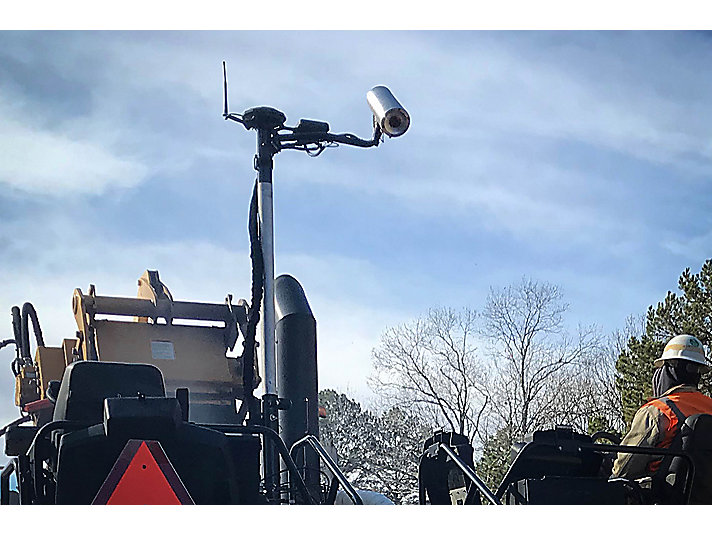 The AP1055F paver is 15 percent more economical than the E-series paver. It has an integrated generator for a long service life of the paver and an eco mode. It runs on a 225 hp Cat C7.1 ACERT engine. It is equipped with an automatic engine speed control which reduces the idling speed to 1,000 rpm when idling and to 1,300 rpm when the screed is heated. In conjunction with the Eco mode, the engine speed is adapted to the load factors. It works at 1,650 rpm when installed and increases to 2,200 rpm when the upper performance threshold is exceeded. It will stay at 2,200 RPM until the demand falls below the threshold for 30 seconds.
According to Cat, the screed slab can heat up within 15 minutes. It offers three preset heating options from 230 to 320 degrees Fahrenheit.
The paver is equipped with two independent operator stations that can protrude beyond the frame for better visibility. A top-mounted cooling system dissipates fumes, hot air and fan noise from the crew, and a ventilation system draws fumes from the conveyor duct and away from the operator.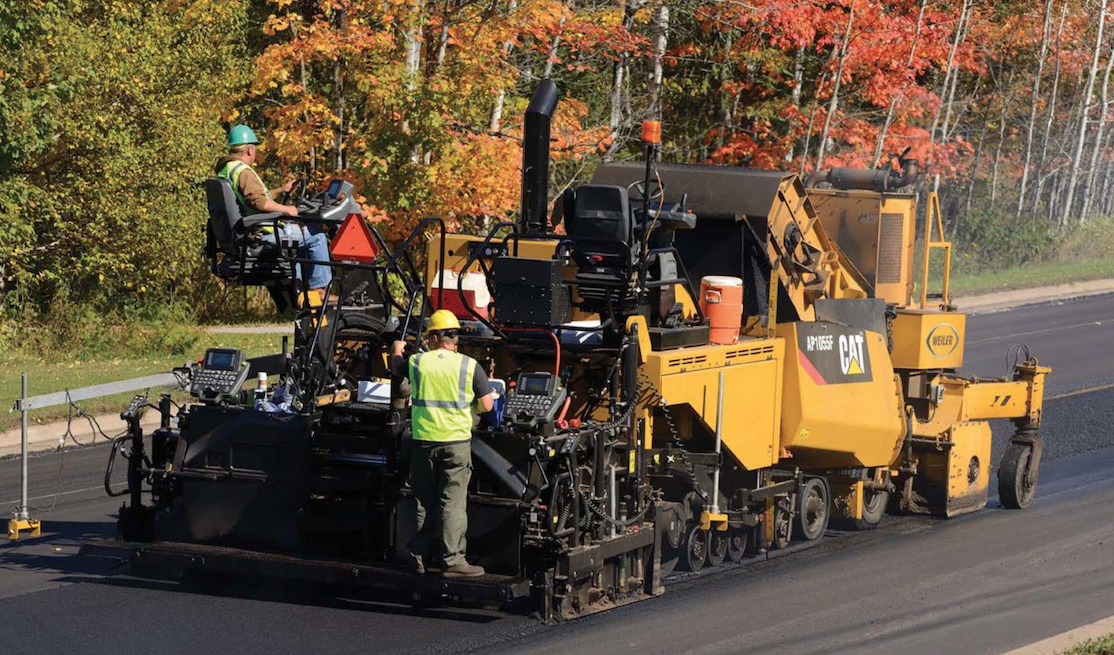 Operators can control the feeder system and hopper operation with one-touch controls. The LCD touchscreen provides access to generator activation, screed temperature and mixing height. If a temperature sensor fails, Cat zone monitoring can continue heating.
Cat Grade Control can be operated from the operator station or the two screed consoles. Each side of the screed can be monitored in split-screen mode.
Broad pavement packages are available, as well as a tamped screed for increased density. According to Cat, the heating elements slide out for easy replacement without removing the screed panels, and panel replacement and leveling have been simplified.
The AP1055F has an operating weight of 45,090 to 48,320 pounds, depending on the screed.
The standard range for the paving is 9 feet 10 inches to 19 feet 6 inches. The maximum pavement width is 25 to 33 feet, depending on the screed.
The maximum paving speed is 210 feet per minute with the vibratory screed and 82 feet per minute with the tamper. The hopper capacity is 267 cubic feet.
For more information on the latest paving equipment, visit Equipment Worlds 2020 Buying Guide for Asphalt Pavers and Compactors.