Finding the best kitchen worktops is something you should think about early on in a kitchen redesign. You may already have your other decorative kitchen ideas in place, your wall colors picked out, cabinets designed and an idea of the finish you want from your kitchen worktop, and so which type of countertop material you choose is vital to bring it all to life. Whether it's wood or stone, concrete, composite or metal that you like the look of, finding a surface that will not only suit the look of your new kitchen, but serve its purpose well also is important. 
From practical and most cost-efficient countertop materials like laminate, to stylish solid wood, marble and more pricey – but worth it – options, we can help you make the right call on this hardworking surface. Keep scrolling to choose this vital element of your kitchen design and get your kitchen into perfect shape.
How to choose the best kitchen worktops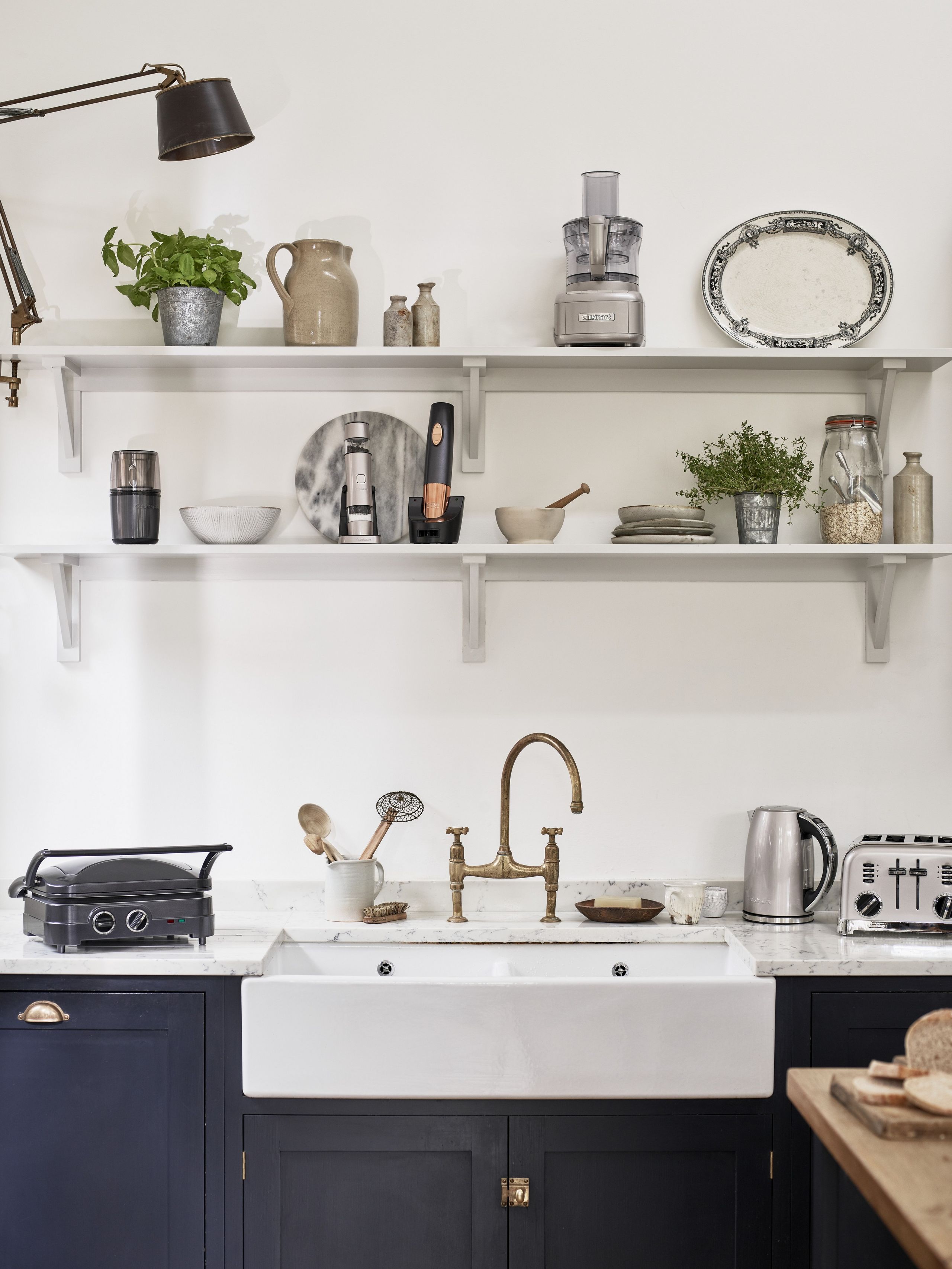 (Image credit: Cuisinart )
When you first come to select a kitchen countertop, think about how you will mostly be using them to better understand how hardwearing and easy to maintain they need to be. 
If you prepare and cook food from scratch everyday which requires lots or cleaning behind it, this means you will need something resilient and that will keep its quality with regular use of cleaning products. While if you tend to entertain more and use the surface less vigorously, you can probably afford to go with something likely a little cheaper but still aesthetically pleasing. 
Your kitchen worktops are a natural focal point in your kitchen, so consider the following to help you choose the most practical choice of countertop material that will complement your kitchen cabinets, flooring and other elements in your space too.
Are you prepared to maintain kitchen worktops that need it (ie, marble, wood) or do you want a maintenance-free material?
Do you tend to put hot pans straight on the work surface or will you use a trivet?
Are you prepared for the upkeep of a high gloss work surface or would a matt finish be better suited to your family (ie, you have small children who like to touch everything)?
Picking the best kitchen worktop for you
The primary factor to consider when looking at the best kitchen worktops is material. The most common options are stone, wood, man-made composite and laminate, each coming with its own unique properties.
Natural stone and wood, with their varied colours and markings, look stunning in a traditional kitchen, but can scratch and stain, requiring sealing and regular maintenance. 
A fuss-free alternative is a man-made composite material, such as quartz or Corian, which blend natural minerals with resin to create highly durable surfaces that are non-porous and easy to clean. However, these can be costly and require specialist fitting.
If you're on a budget, laminates are the best choice. Comprising a plastic overlay and design layer bonded to man-made board, they can mimic hundreds of finishes, from weathered wood to veined marble, at a fraction of the price, while being water resistant. 
Alternatively, zinc, stainless steel and concrete are becoming increasingly popular as a way to achieve an on-trend industrial look.
Read on to see the pros, cons and pricing of each choice.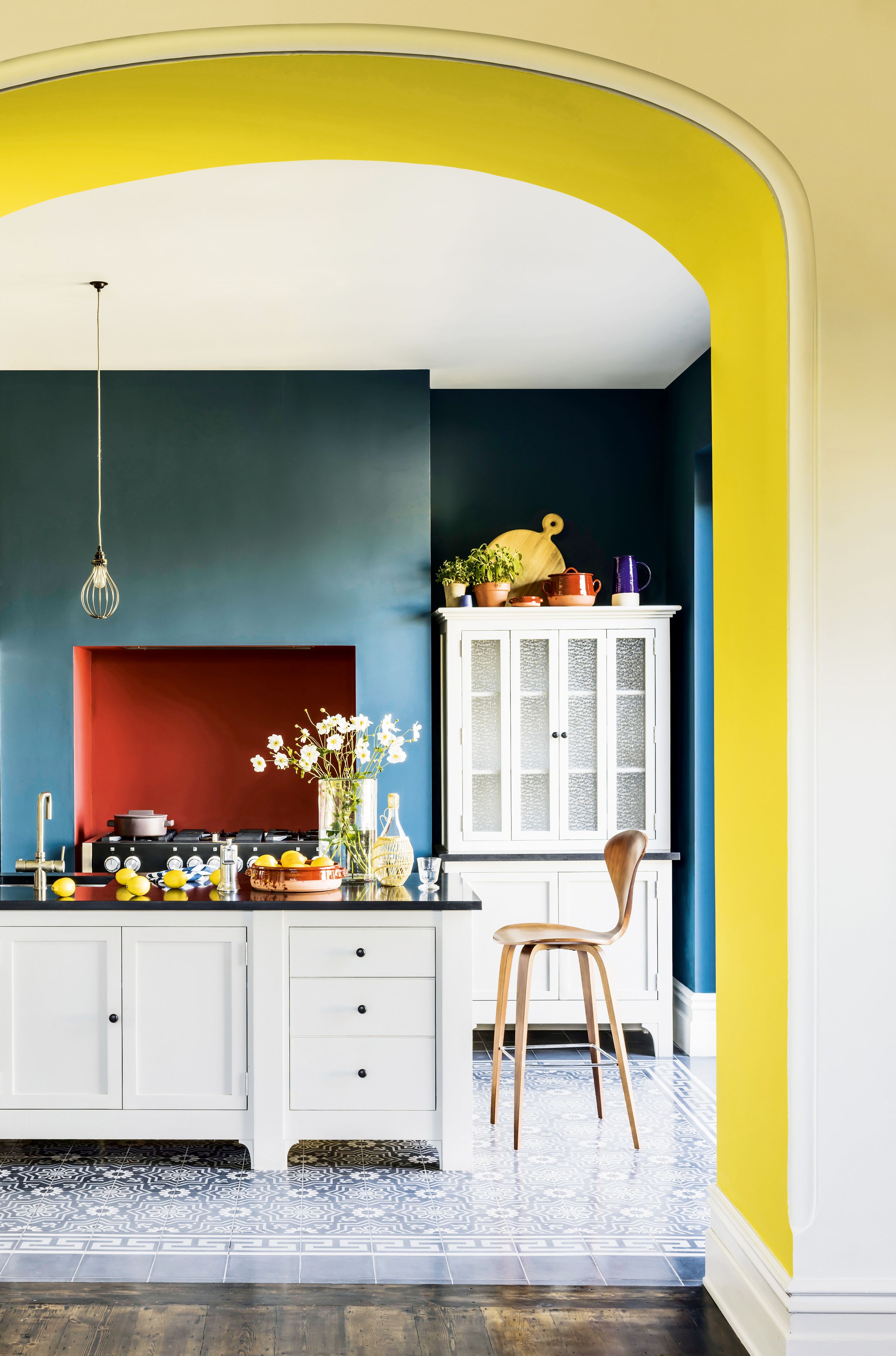 (Image credit: Conran)
Granite kitchen worktops
Granite is stylish, beautiful and is associated with luxurious kitchen design schemes
Specifications
Average price per sqm: £270
Maintenance : Easy – wipe over with warm water and a micro-fibre cloth
Reasons to buy
+Hard-wearing+Heat resistant+Antibacterial+Easy to clean
Reasons to avoid
–Very heavy–Expensive
What is granite? 
'Granite is the result of cooling pressurised magma over millions of years resulting in a rock that is both heat and scratch resistant. When sealed properly it is also stain resistant and, once installed, requires no more maintenance,' says Jon Brewer, managing director and founder of Purple Granite.
How good is it as a kitchen worktop?
Granite is probably the most popular type of kitchen worktop. It is by far the most low-maintenance choice, so sturdy that it's unlikely to chip or scratch, and only needs to be resealed once a decade. Supremely heat-resistant, granite can easily withstand all your hot pans placed on top of it. 
Ease of maintenance?
It's easy to keep clean too, just needs a wipe with a soft microfibre cloth, warm water and a mild soap or specialised granite spray. Avoid any harsh or abrasive cleaners and sponges.
Downsides?
The only thing to be mindful of is that you'll be that little bit more limited in your choice of a splashback: you can't have a coved backsplash in granite, so typically you'll need to go for a full-height panel splashback instead.  
Plus you need to consider that this is a pretty pricey choice of kitchen worktop material. The price per square metre for a granite worktop is on average £270, although high-end granites may cost as much as £450 per square metre. But also bear in mind that stone lasts, and if you look after and maintain it, it should last a lifetime (or at least your kitchen's lifetime).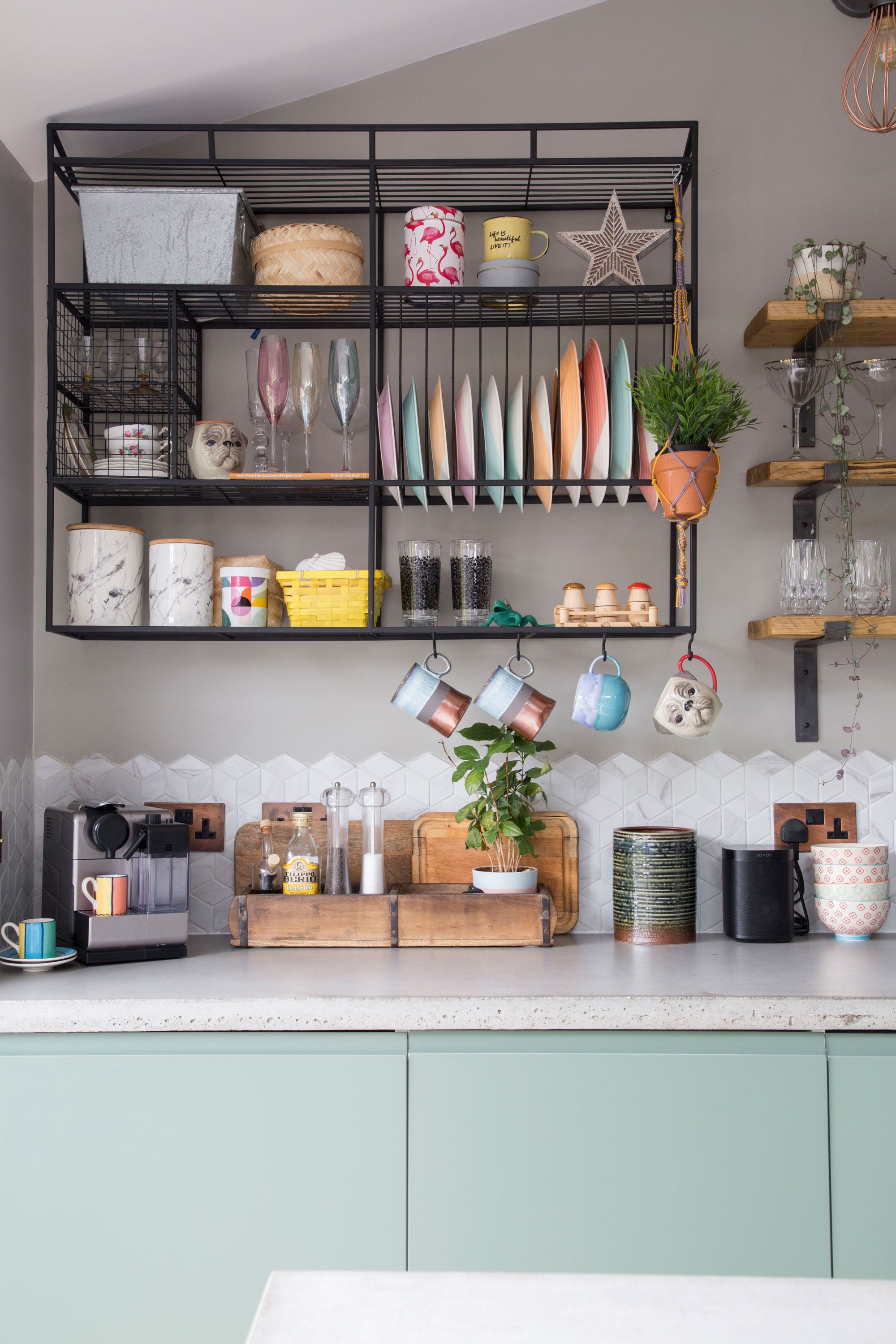 (Image credit: Georgia Burns)
Quartz kitchen worktops
A hardwearing, easy to clean kitchen worktop that has plenty of colour options to choose from
Specifications
Average price per sqm: £500
Maintenance : Easy – wipe over with a cloth and warm soapy water
Reasons to buy
+Hard-wearing+Antibacterial+Easy to clean+Unrestricted range of colour
Reasons to avoid
–Very heavy–Expensive
What is quartz?
A man-made alternative to materials such as granite and marble, industrial techniques are used to fortify natural quartz with resin to create a truly hard-wearing and customisable worktop.
'Quartz has become ever more popular over the years and offers a more uniform, contemporary stone work-surface. It is naturally resistant to staining and scratching, but is less heat-resistant than granite, ' adds Jon Brewer of Purple Granite.
How good is it as a kitchen worktop? 
One of the most attractive features of a quartz kitchen worktop is the combination of a natural stone look and feel with the low-maintenance properties that are usually expected from synthetic materials. Quartz is actually even more durable than granite, in the sense that it is even less prone to chipping and requires only occasional resealing. However unlike granite, it's not great with heat, so it won't be suitable for you keeping hot pans or trays on. 
Ease of maintenance
As with granite though, quartz surfaces are pretty easy to clean and maintain; for every day cleaning all you will need is a cloth and warm soapy water. 
Downsides?
The biggest downside of a quartz kitchen worktop is the cost; expect to pay around £500 per square metre, and that's before installation costs. There may be a way around this, as some companies, such as Granite Tranformations, offer 'topper' worktops made from granite or quartz. The 10mm-thick worktop simply fits on top of the existing worktop.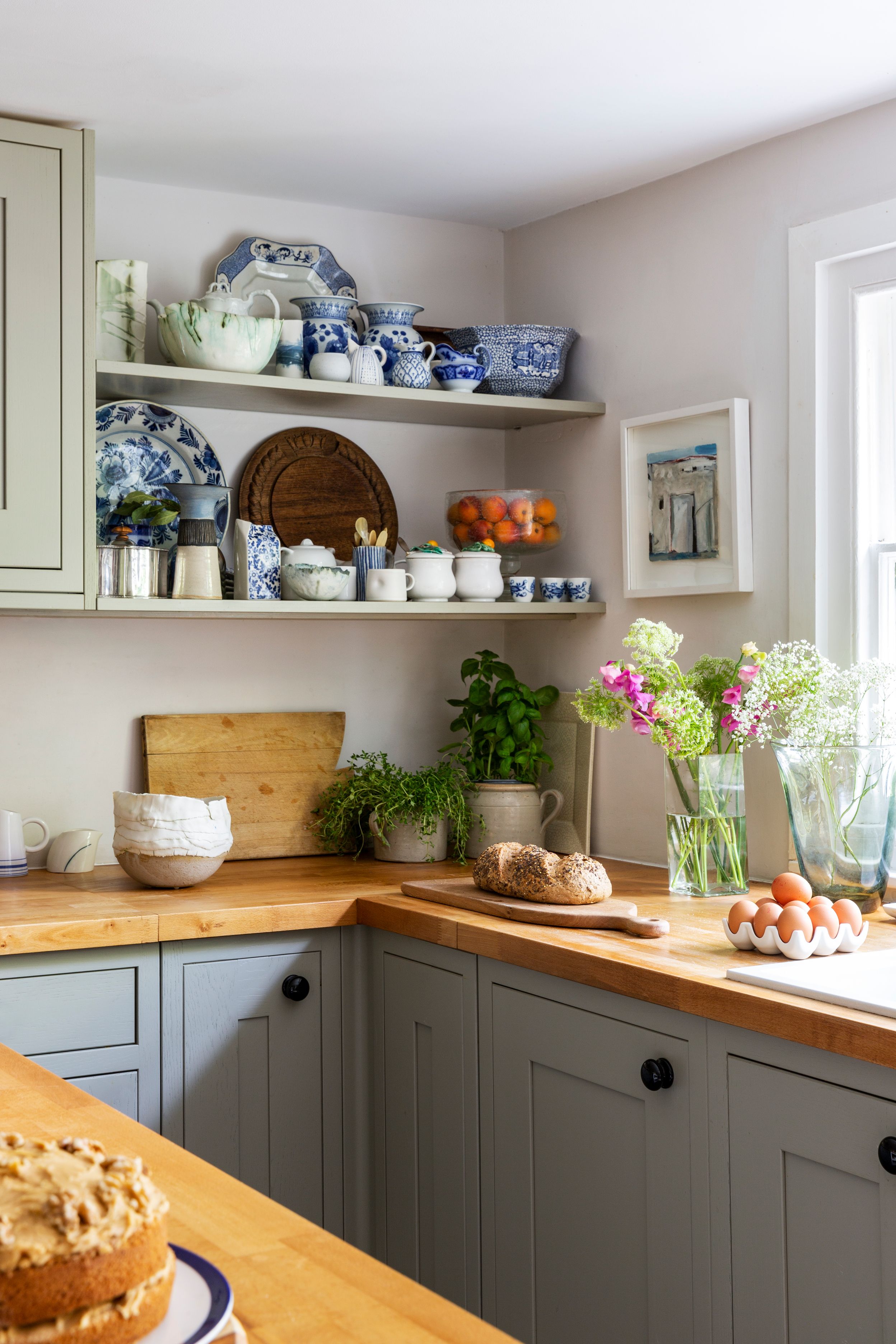 (Image credit: Kasia Fiszer)
Hard wood kitchen worktops
A great type of kitchen worktop, as long as you are willing to put the work into its maintenance
Specifications
Average price per sqm: £120
Maintenance : Tricky – wipe up spills immediately and avoid chemicals
Reasons to buy
+Cheaper than stone options+Variety of wood grains and colours+Antibacterial if maintained+Looks great with age
Reasons to avoid
–Requires bi-annual maintenance–Can become stained–Can scratch
What is a hard wood worktop made from?
For achieving a traditional look, maple, oak and beech work well. For a slightly more exotic feel, Wenge, bamboo or iroko are good options. Just make sure you always choose a sustainable hardwood, preferably from an FSC (Forest Stewardship Council) accredited source.
How good is it as a kitchen worktop?
In terms of price, wooden worktops can be pretty budget friendly, starting from around £120 per metre, depending on what type of wood you choose. If hardwoods are properly sealed and maintained they can last for ages, but the wood will change subtly over time, fading in bright sunlight in some cases or becoming deeper and richer with oiling. However, you may see this as a benefit as the worktop will gain a beautiful patina and character. Plus, when it does come to scratches and stains, you can sand them away, which is not an option with other worktop surfaces. 
Ease of maintenance
Make sure you wipe you any spills straight away and don't let the worktops come into contact with water for too long. Clean your wooden worktops with warm water, washing-up liquid and a soft cloth. Avoid using any abrasive and chemical-filled cleaning products and any harsh or wire scouring pads. See our guide to cleaning and maintaining wooden worktops for more on this.
The downsides?
The drawback with wood compared to stone or composite options is that it requires biannual oiling to keep away stains and damage. And, of course, you can't use the worktop as a chopping board, or place any hot pans directly onto the wood, as it can scorch.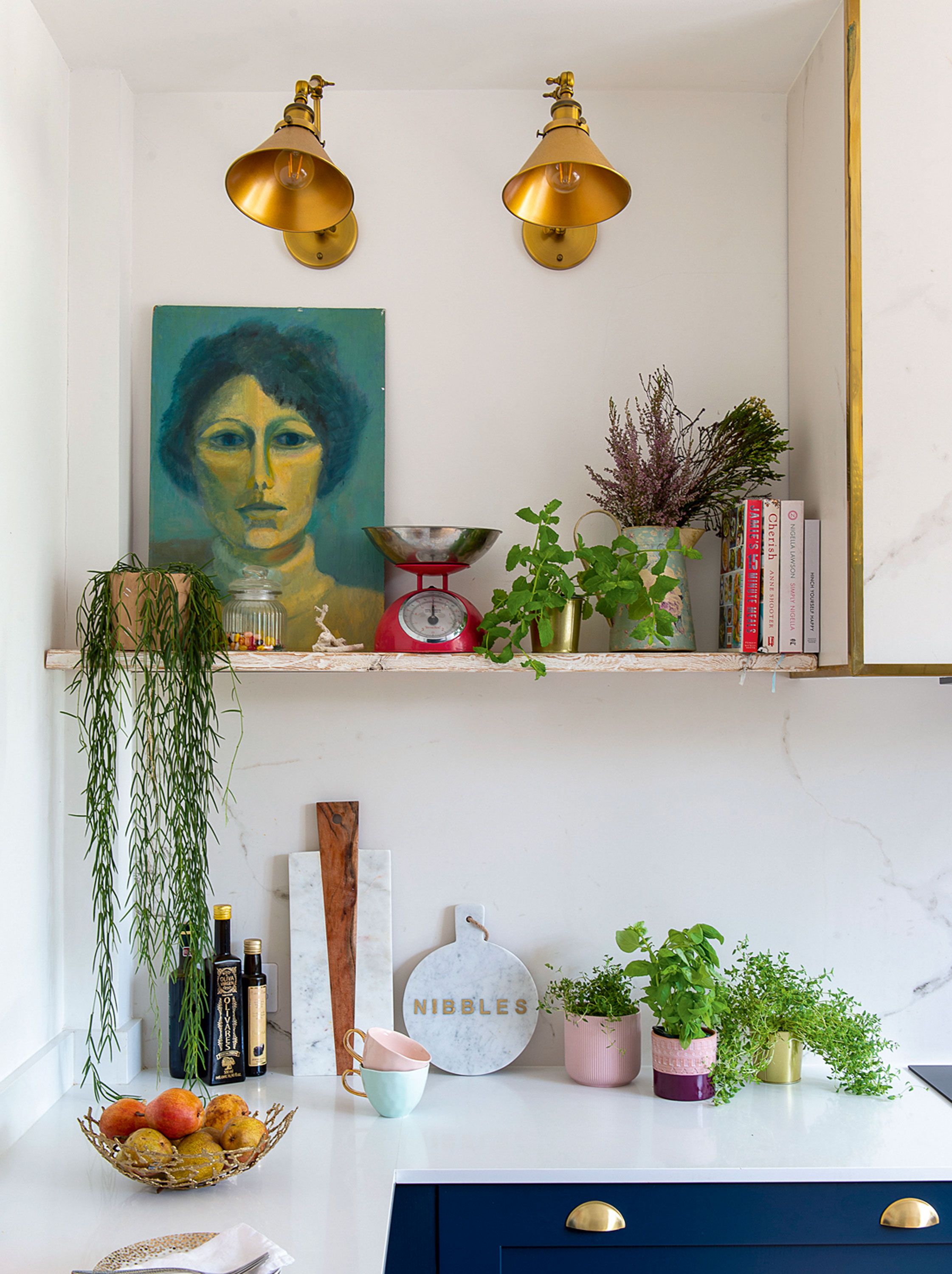 (Image credit: Jemma Watts)
Laminate kitchen worktops
A cost-effective and versatile type of kitchen worktop and has become the most popular option on the market
Specifications
Price per sqm: £120
Maintenance : Easy – wipe down surfaces and avoid scratches
Reasons to buy
+Cheap+Antibacterial+Can be made to look like more expensive materials+Easy to maintain+Easy to clean+Hard-wearing, scratch and heat-resistant+Suits any style of kitchen, from contemporary to classic
Reasons to avoid
–Peel–Burn or even melt–Scratch and become unhygienic
What is laminate? 
Laminate is made by bonding a stiff sheet (which might have the appearance of wood, stone or manmade materials) on to a wooden particleboard core. 
How good is it as a kitchen worktop?
Laminate worktops start from as little as £35 per metre, so if you are doing up a kitchen on a budget they are a good option. The upsides are that they're pretty resilient to stains and come in a vast range of finishes and colours, too. A big plus of laminate worktops? You can fit them yourself, even if you aren't a DIY expert. 
Ease of maintenance
They can be wiped clean with most cleaning products, but be careful with knives, because once a laminate surface has a scratch, there is no easy way of getting it out.
The downsides?
Just be aware that laminate worktops may look good on paper, but you get what you pay for. Cheaper options will damage easily, too, so make sure you shop carefully.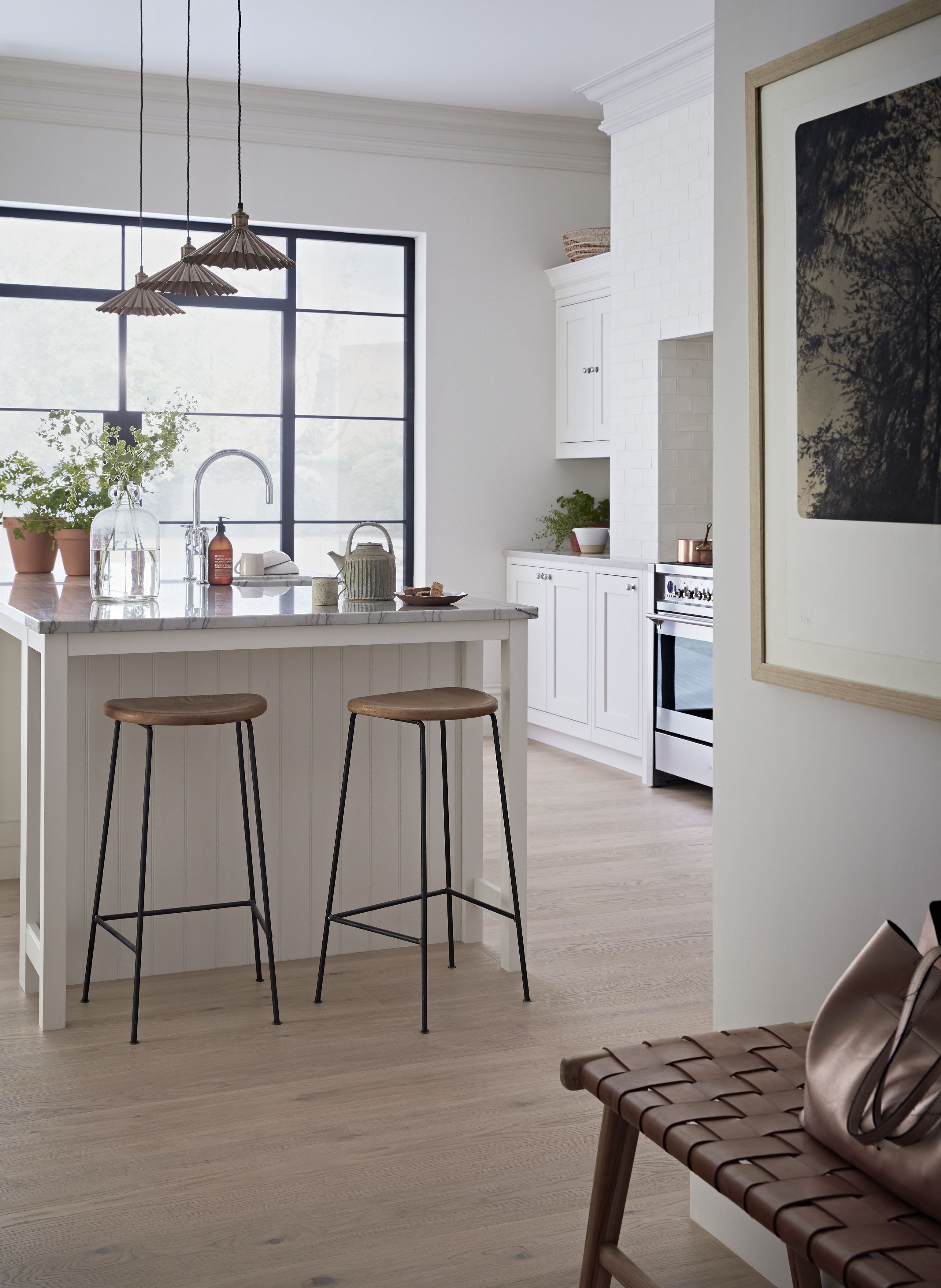 (Image credit: Kitchen Makers)
Glass kitchen worktops
Stylish, versatile and works perfectly in a modern kitchen.
Specifications
Average price per sqm: £300
Maintenance : Easy – wipe down with warm water regularly
Reasons to buy
+Can be made in any size or shape+Easy to clean and hygienic+Extremely durable+Heat resistant+Limitless range of colours+Looks modern, stylish and sleek
Reasons to avoid
–Expensive–Needs frequent cleaning
What are glass worktops made from?
Glass for work surfaces are toughened, making them a very durable kitchen worktop. They are non-porous, and are available in a variety of colours and finishes including 'crackled' or opaque. Recycled glass is also an option that mimics the look and feel of quartz, because of the reflections and refractions from coloured glass chips. 
How good is it as a kitchen worktop?
We've already said that it's non-porous – in other words it won't stain. Glass also withstands moisture and spills and splashes can easily be wiped clean, making it a beautiful – and practical – kitchen worktop material. Most glass worktops are heat-resistant, too. In terms of price, glass is a pretty pricey kitchen worktop material. You'll pay from around £300 per linear metre. 
Ease of maintenance
Your glass worktops will need wiping down regularly to prevent any water marks (and get rid of the fingerprints, but they are incredibly hygienic as there are no joints or texture to allow anything unpleasant to build up. 
Downsides?
Glass worktops can be prone to scratches and show off fingerprints; the latter can of course quickly be polished smooth.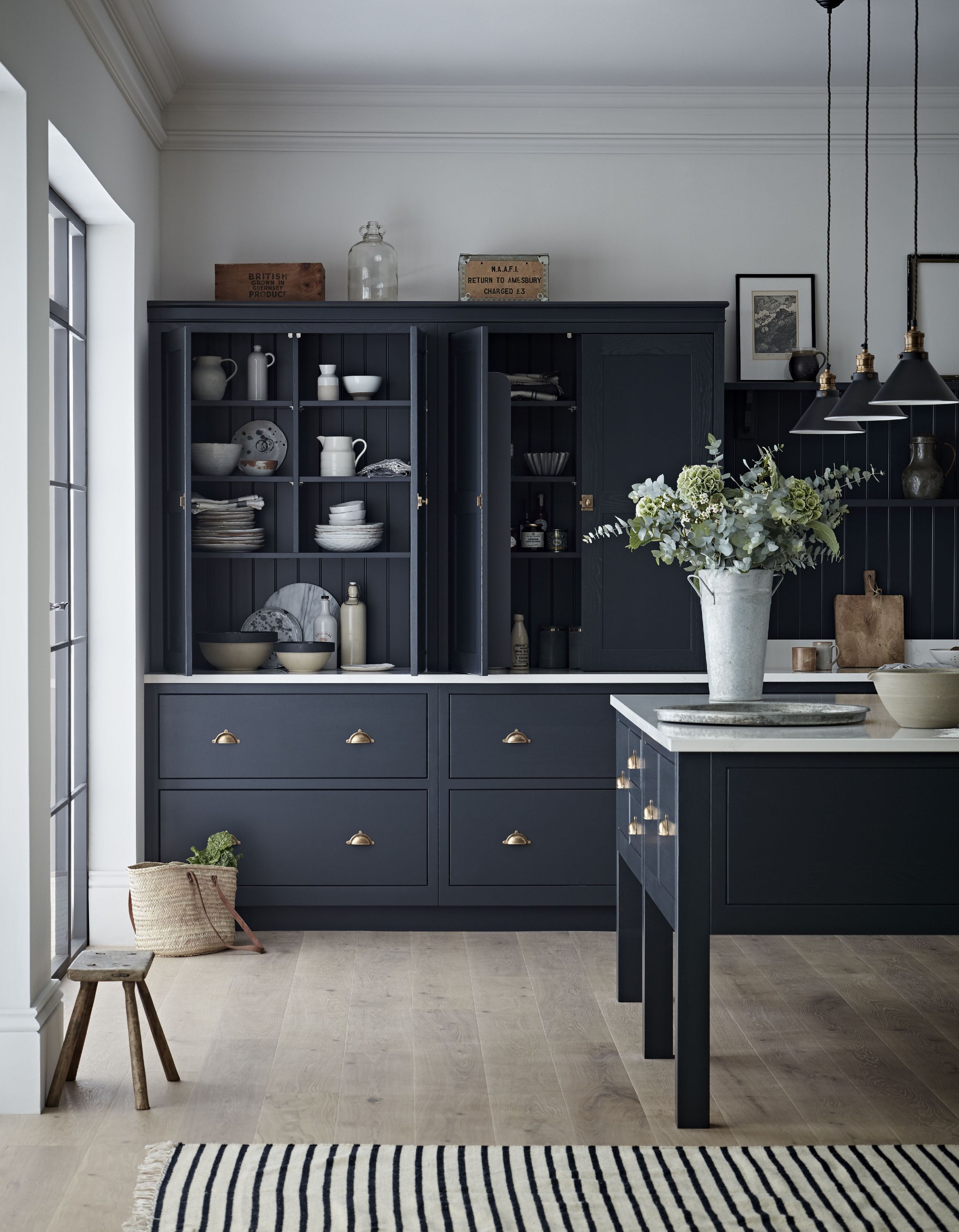 (Image credit: Kitchen Makers)
Marble kitchen worktops
One of the most popular types of kitchen worktop in luxury kitchens, both traditional and contemporary.
Specifications
Average price per sqm: £315
Maintenance : Tricky – it stains and reacts to lots of liquids, use a soft cloth and warm water
Reasons to buy
+luxury look and feel+heat resistant +cost-effective, depending on the type of marble you choose
Reasons to avoid
–porous, so can stain–scratches relatively easily
What is marble?
Marble is a hard crystalline form of limestone, historically used in architecture and sculpture, hence its associations with classical elegance and luxury. Injecting a little marble into your space is one of the easiest ways to nod to luxury kitchen ideas without going all out.
How good is it as a kitchen worktop?
Marble looks incredibly elegant, and should be on your radar if you want a luxury, statement kitchen. This material is also always cool to the touch (due to its poor heat conducting properties) – a valuable functional trait in a hot, steamy kitchen. It's also pretty dense and durable. Marble worktops cost £315 per square metre on average, so they are a pretty expensive option, but they will last. 
Ease of maintenance
The main problem with marble is that it is a high-maintenance material, vulnerable to staining and scratching, so may not be the best choice in a busy family kitchen. Plus it reacts to acid, so an acidic kitchen liquid like lemon juice or vinegar will etch marble, leaving a dull, whitish mark where it has slightly eaten away the surface, even after the marble has been sealed. To clean marble countertops, use a mild, non-abrasive, pH neutral (non-acidic) soap mixed with water and a soft cloth. You could also get a specialist marble worktop cleaner. 
The downsides?
You need to be careful when cooking with acidic foods and choose cleaning products wisely.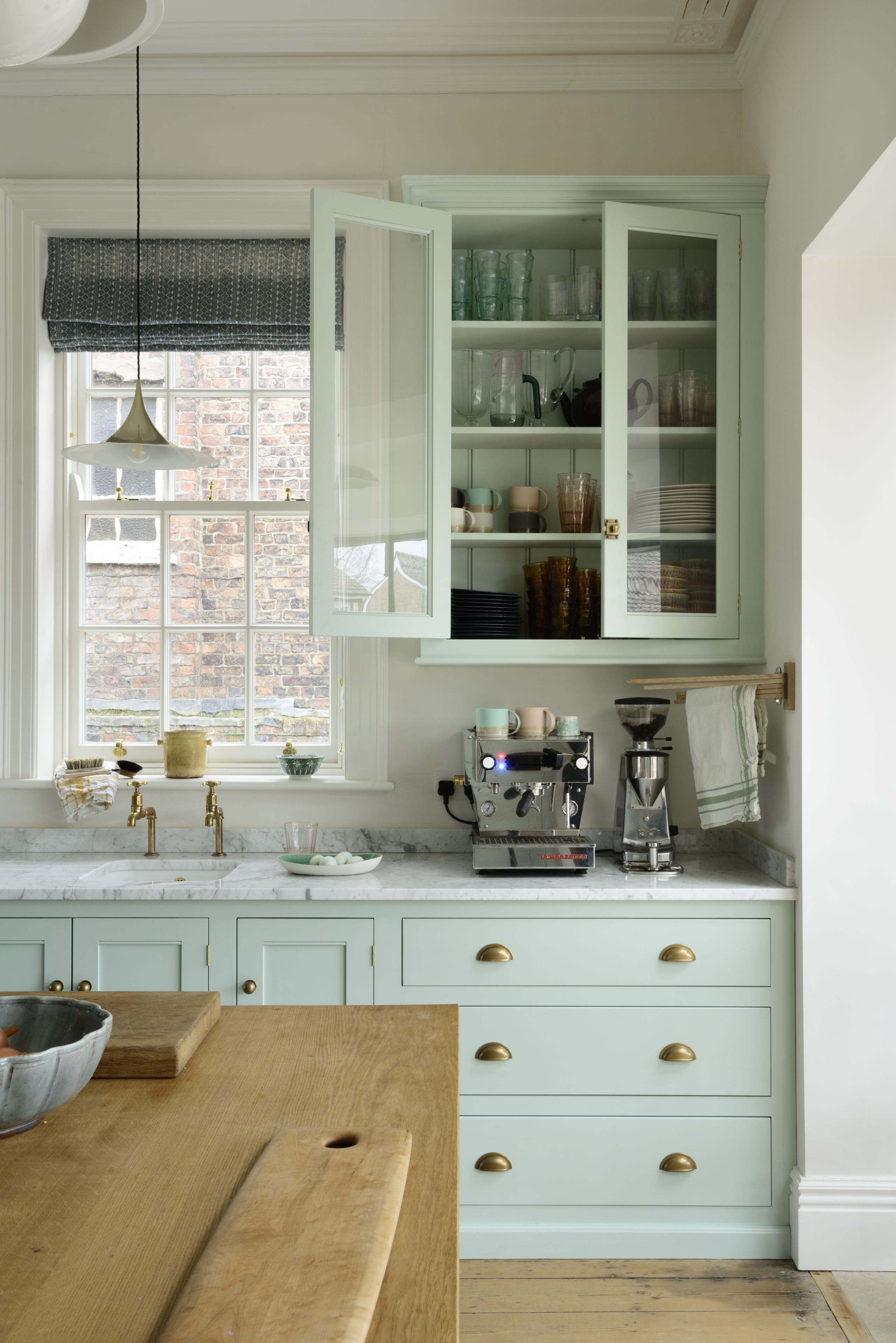 (Image credit: deVOL)
Solid surface composite kitchen worktops
A seamless, glossy worktop that fits perfectly into a contemporary design.
Specifications
Average price per sqm: £300
Maintenance : Easy – wipe with a cloth and warm water
Reasons to buy
+Heat and scratch resistant+Seamless+Stain resistant+Can be moulded into any shape
Reasons to avoid
–Expensive
What are solid surface composite worktops? 
These are made by applying an acrylic resin to the top of a substrate material like wood. 
How good are they as kitchen worktops?
These solid surface materials are great for modern kitchens. Made from a blend of acrylic resins, minerals and colour(s), solid surfaces and Corian can be totally seamless, too, with one-piece runs, moulded sinks and splashbacks all possible. They are heat and scratch resistant to a point, but can't compete with solid stone or quartz. They're non-porous, making them hygienic and dirt/bacteria resistant but bear in mind that although the resin exterior is waterproof, if any water gets within the substrate material, it can cause irreparable damage. This, however, is unlikely. Solid worktops start from approx £300 per linear metre. 
Ease of maintenance
They are pretty low maintenance in terms or cleaning, requiring no initial treatment; you just clean with a soft cloth and mild detergent.
The downsides?
Although it's hard to damage them, once damaged, they're not easy to repair.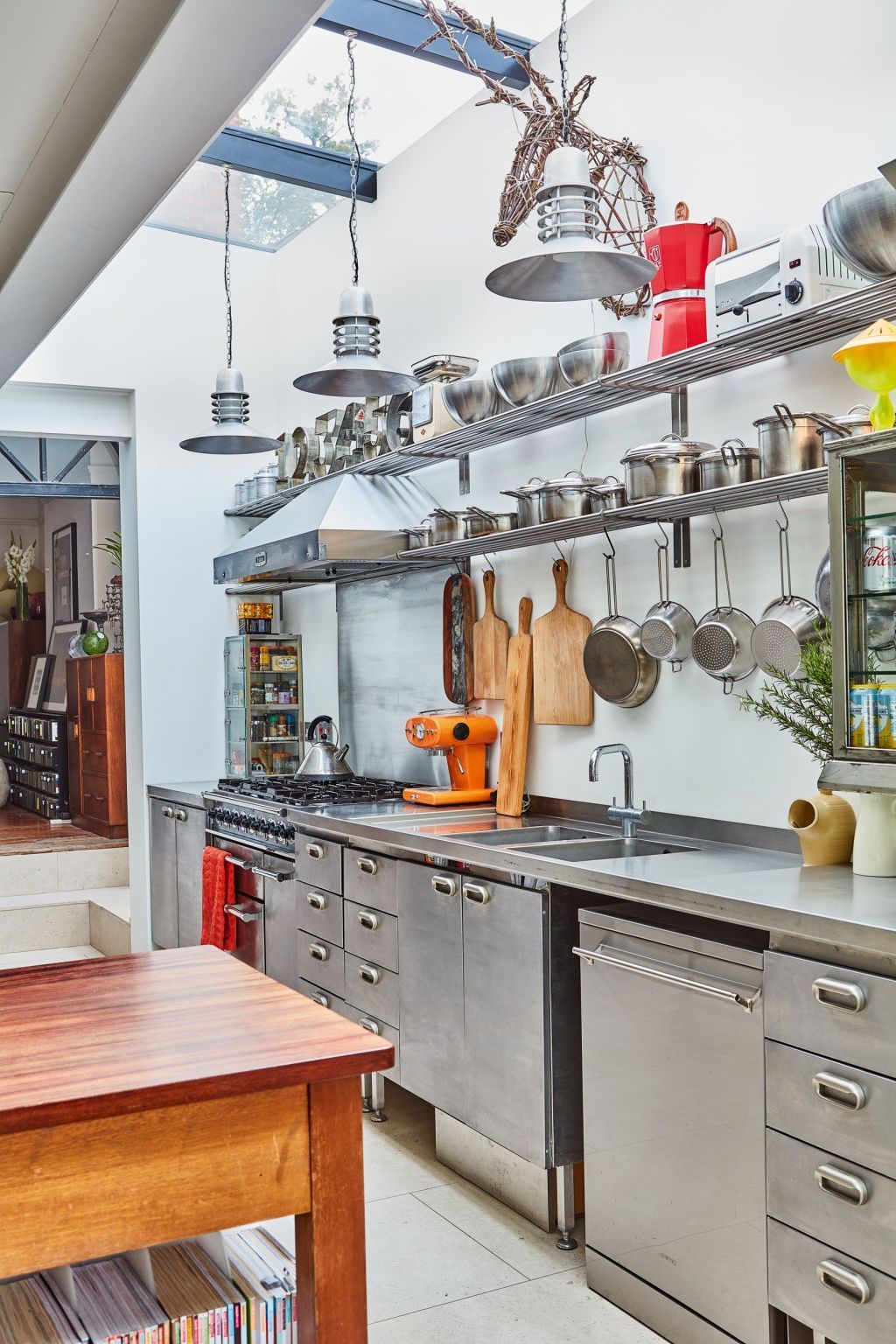 (Image credit: Malcolm Menzies)
Stainless steel kitchen worktops
The go-to worktop material in the commercial kitchen sector, and is perfect for industrial-style kitchens.
Specifications
Price per sqm: £150
Maintenance : Easy – just wipe down with a stainless steel cleaner
Reasons to buy
+Strong and durable+Naturally antibacterial+Easy to clean+Waterproof+Heat and acid resistant+Very light
Reasons to avoid
–Cold–Clinical–Difficult to integrate into large areas
Why a stainless steel worktop?
Stainless steel is becoming an increasingly popular kitchen worktop material with the rise of the industrial trend. You might think it's a bit much over every surface but why not use it to make a statement and take advantage of its benefits on a kitchen island or in a small workspace? Have a look at our gallery of inspiring industrial kitchens for ideas.
How good is it as a kitchen worktop? 
Stainless steel is super strong, waterproof, heat and acid resistant. It is prone to scratching, but we reckon this just adds to the worn in look, plus ageing won't affect its anti-bacterial qualities. If you would prefer for the scratches not to be as obvious, go for a slightly matt finish. 
Ease of cleaning
It is very easy to keep clean with stainless-steel cleaner. And a great cleaning hack to get rid of inevitable fingerprints is to use a touch of baby oil to keep it looking at its shiny best. Get more tips on how to clean stainless steel in our guide.  
The downsides?
The scratches do show up, but if you can live with that as part of the look, you're home dry.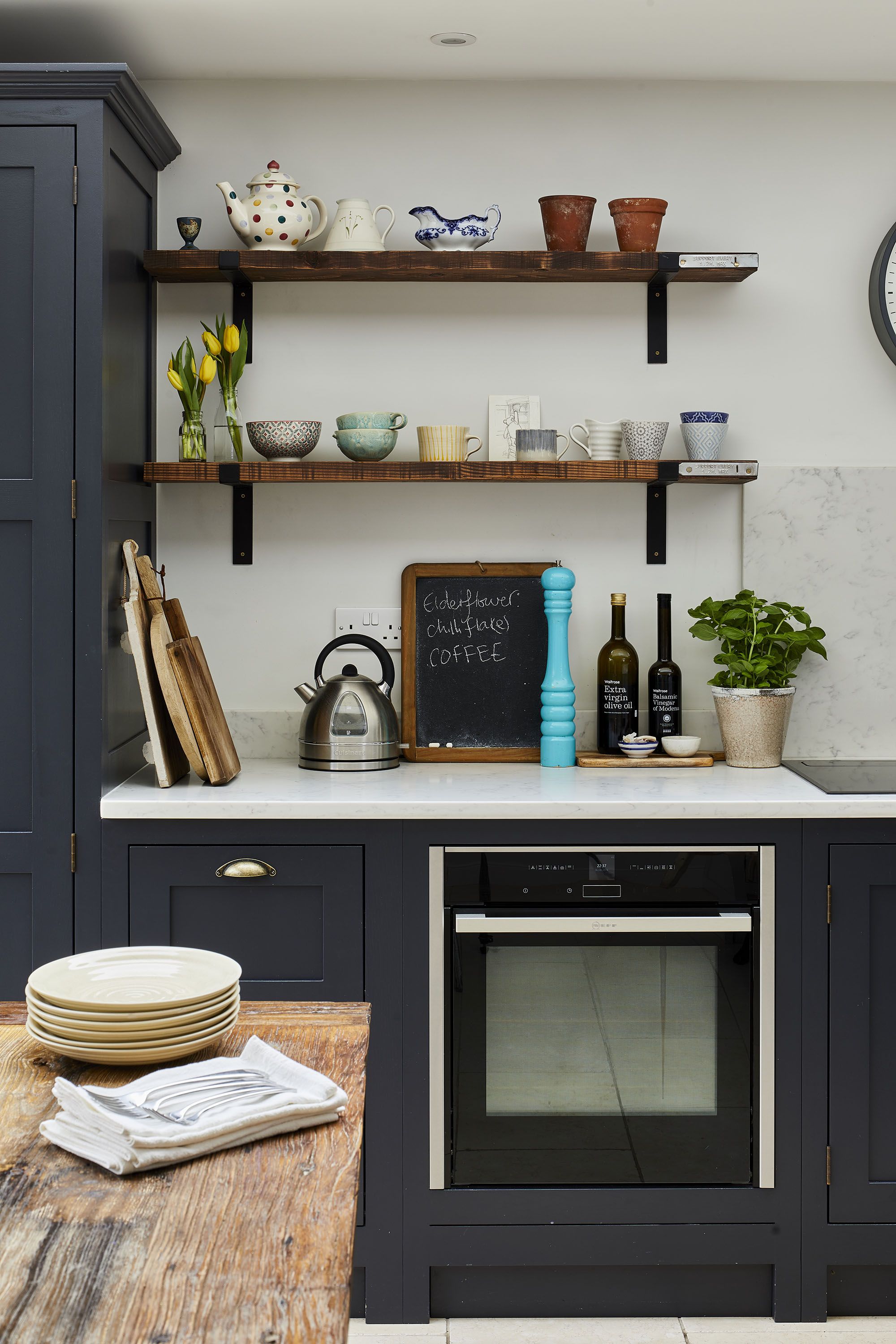 (Image credit: Chris Snook)
Ceramic kitchen worktops
A great alternative to real marble, ceramic worktops with a marble-inspired finish make a luxurious addition to a kitchen
Specifications
Average price per sqm: £350
Maintenance : Easy – clean up spills quickly and avoid bleach
Reasons to buy
+Highly durable and heat/moisture-resistant+Easy to maintain
Reasons to avoid
–Prone to scratches–They can crack 
What's ceramic like as a kitchen worktop material?
Ceramic worktops are popular because they're versatile and super hygienic. It's an extremely hard-wearing and durable surface which is resistant to water, mildew, mould and bacteria. Prices start from £350 per square metre. 
Ease of cleaning
Make sure you clean away any spills straight away to prevent staining. Use a damp cloth and warm water for cleaning and if needed, use a mild acidic detergent. Avoid anything that contains bleach. 
Best kitchen worktop for DIY fitting
If you're sufficiently handy and confident in your skills, you could fit a wood or laminate kitchen worktop yourself to save money. Stone, quartz and solid surfaces will require you to get someone in for a professional installation. Bear in mind that a stone like granite is heavy, so cabinets must offer sufficient support.
Ideal for revamping your kitchen yourself, the Skogså oak worktop from Ikea (below) can be cut to length and the edges covered with the strips included, so you can easily size it to fit. Its top layer of oak gives it interesting individual grain and colour variations. Particleboard beneath the timber makes the design less sensitive to kitchen humidity. It costs £200 for L246cm.
Where to buy the best kitchen worktops
Specialist natural stone and composite worktops are usually included as part of a bespoke fitted kitchen and supplied by the cabinetmaker. However non-specialist laminates and some timber worktops can be bought in standard sizes or by the metre, then cut to size and fitted by a tradesperson or you, if you are fitting your own kitchen.
Maintaining and cleaning kitchen worktops
Copper kitchen worktops
Copper worktops also work well as a kitchen worktop material as they are naturally antibacterial and antimicrobial. Bear in mind, however, that they can discolour and develop a patina. Although for some people this could create more of an appeal, it depends entirely on the look you are going for. 
Kitchen worktops are big investments so, once installed, make sure you know how to care for them – the kitchen supplier will usually advise. For impenetrable man-made composites and laminates, soap and water or a mild detergent is all that's required, but wooden worktops, which are easily damaged, will need oiling at least once a year.